In 2022 AMAs, Machine Gun Kelly Talks About His Love For 'The Office'!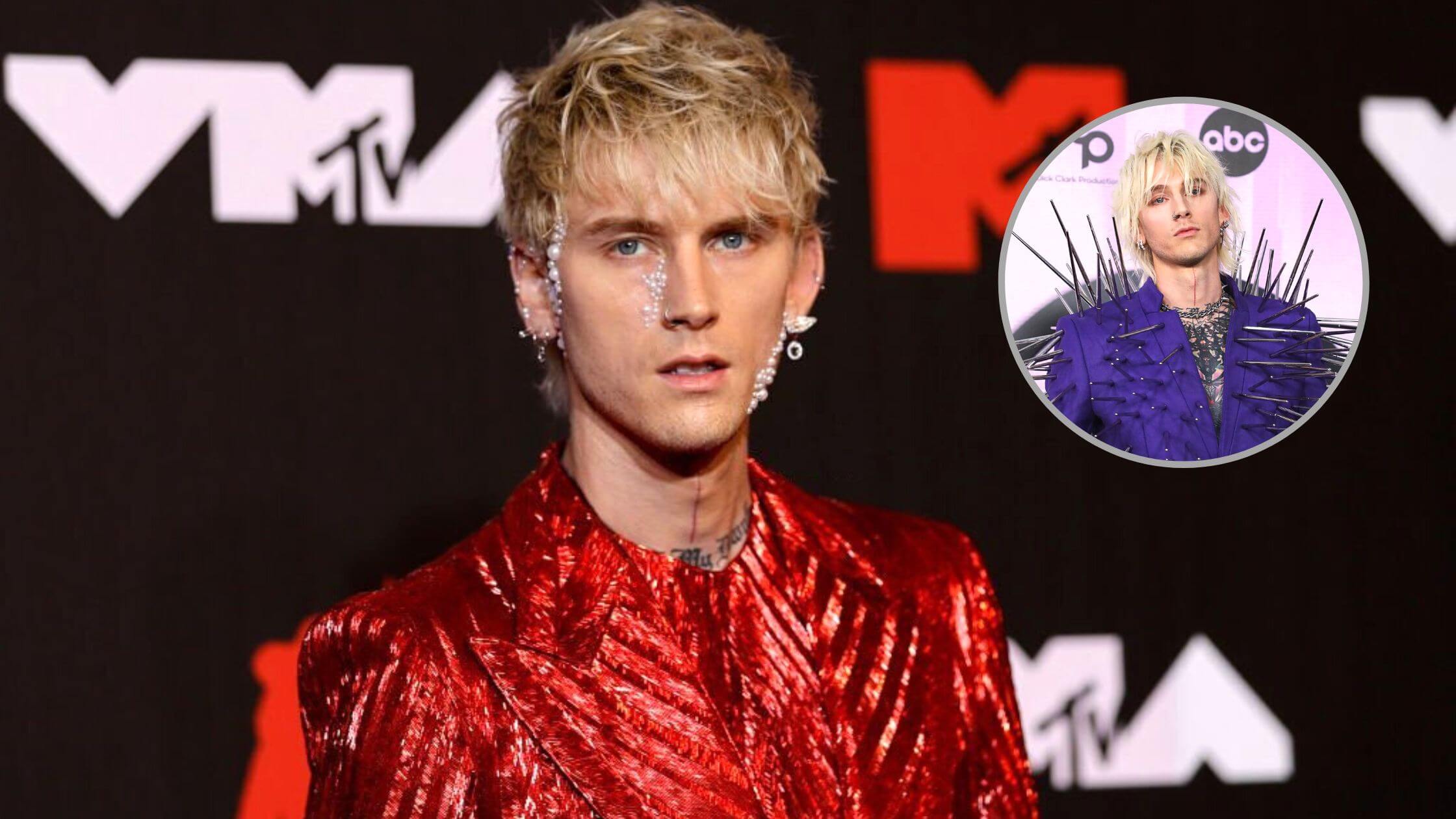 Machine Gun, the "Papercuts" singer Kelly was seen wearing a spiky purple outfit and openly admitting to being a fan of the TV show "The Office." Given the context of an AMA, it is both unusual and adorable. Additionally, people were talking about his outfit. However, one might have to get killed for just trying to hug Kelly in that outfit.
The tacky purple color did look good on him with the blonde hair look. Why do you ask? Why? Because his tuxedo coat is covered in obscenely large steel spikes protruding from every direction. As they call "fashion," it most likely has the potential to harm someone in an instant physically. Kelly arrived at the 2022 AMAs red carpet on Sunday wearing the "World's Best Boss" mug designed by Michael Scott.
When speaking with Kenzie, a Billboard columnist, Kelly talked about how much he loves the show. After spotting the rock star's mug, Kenzie was compelled to inquire about MGK's favorite character on the show. He enjoyed the show so much that he could not settle on a single choice. He picked all the names in the front while selecting the favorite, indicating that he liked the entire cast. Kelly says that he wants everyone who comes out of The Office.
Olivia Newton-John receives tribute from Pink at AMAs
Pink performed one of Olivia Newton-songs John's at the AMAs in memory of Newton-John, who passed away in August after a protracted battle with breast cancer. Earlier in the evening, Pink also performed and sang her brand-new song.
Pink gave a heartfelt tribute to Olivia, the late singer, and actress, as she recalled their interactions. Pink acknowledged how iconic Olivia Newton-John was and how lucky and honored she felt to be able to sing her. Next summer, following the AMAs, Pink will embark on a stadium tour of North America.
A recent project by MGK was "Taurus"
The rap-rocker Machine Gun Kelly, better known to his fans as MGK, has indeed managed to hold his own in about a couple extra roles for film and TV, showcasing a skanky on-screen stage presence within undoubtedly constrained parameters. The significantly more artistic "Taurus" is where we see him return to the rockstar as a rockstar well.
After expressing his love for the TV program and talking with Kenzie, Kelly veered off-topic to discuss his role in the movie "Taurus." The quasi-biographical film Taurus, which debuted last week on November 18 and featured Kelly as Cole, was released. In addition to playing a prominent role in the movie, MGK also contributed as an executive producer, lyricist, and screenplay advisor.
When asked about the experience of filming the movie, Kelly provided a very ambiguous response. Working along the storyline of the film, according to MGK, was quite depressing. Furthermore, anyone who disagrees with this should see it for themselves. The actress Megan Fox, who plays Mae, his ex-wife in the movie "Taurus," is reportedly a performer.
>Related: Check Out The Full List Of Winners At The American Music Awards 2022!
Talking about his early rap career in a different interview
MGK spoke about his most recent project, Taurus, and rumors that he was taking a break from rapping in a Q&A session with The Hollywood Reporter at the SCAD Savannah Film Festival. While discussing his newest film, Taurus, he clarified that, contrary to popular belief, he never abandoned rap music in favor of his albums with a more substantial pop-punk influence.
MGK continued by saying that media outlets frequently attempt to downplay his accomplishments in rap music. He also stated that he worked extremely hard on his songs. Kelly continued by saying that preconceptions about his work frequently make him minimize talking to the press.