Cardi B Facing Legal Action Over Racy Marge Simpson's Halloween Costume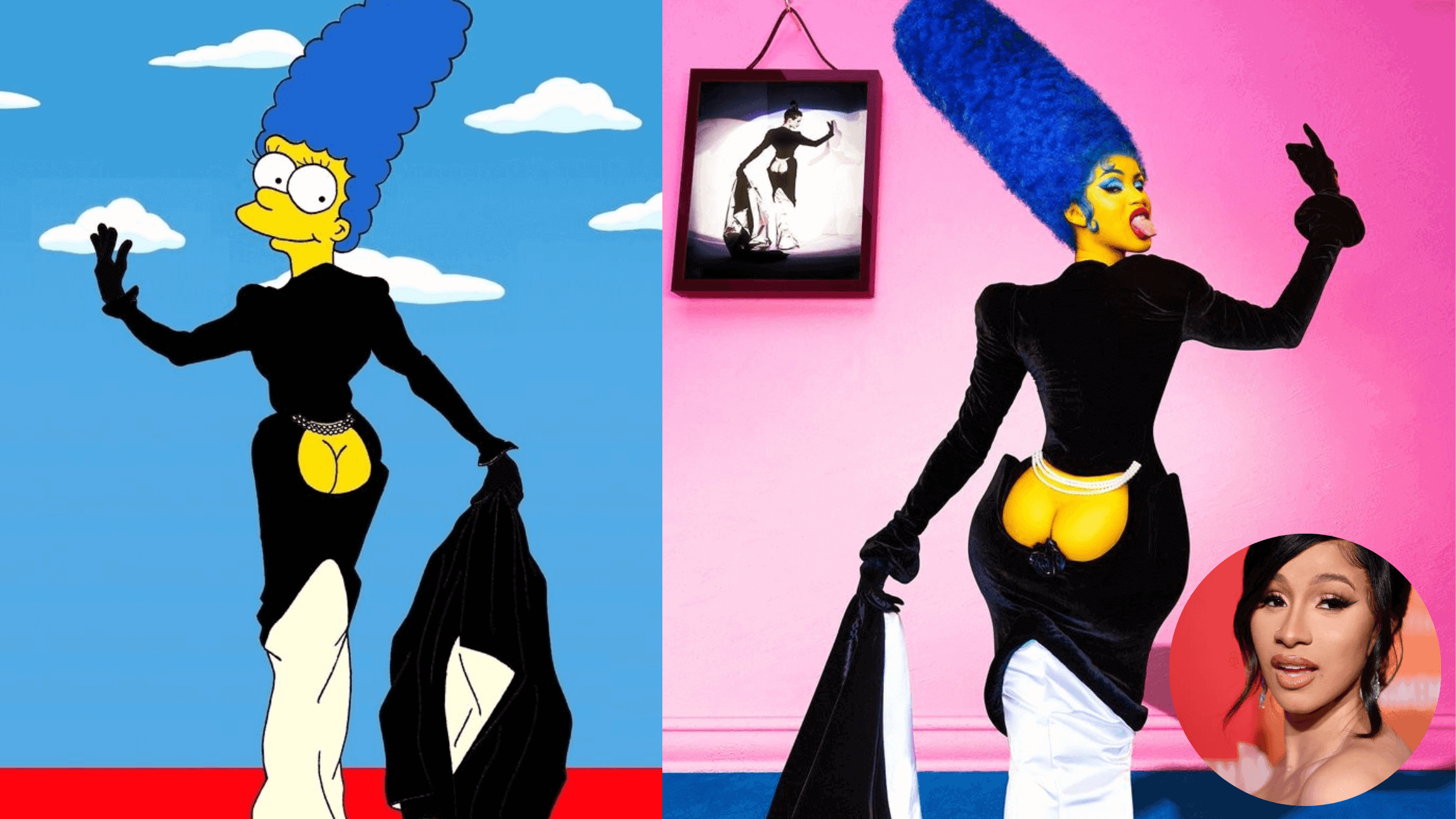 In a recent spate of events, Cardi B faces legal action over her Marge Simpson Halloween costume. Fashion designer Thierry Mugler is the inspiration, behind the outfit, which has raised quite a few eyebrows.
For the unversed, Pop artist aleXsandro Palombo created a slightly different look in the year 2013 as a part of the series, Marge Simpsons Style Icon. He has filed a lawsuit against Cardi B, for emulating the outfit. Attorney Claudio Volpi specializes in intellectual property laws.
According to aleXsandro Palombo, Cardi B has crossed and violated copyright laws, by emulating the same. Additionally, she has been charged with using the same, for business purposes. Thereby, she runs the risk of both monetary compensation and defamation.
The Creation Of Palombo
Palombo reached out to the musician through his publicist. The first people from Cardi B's team who were informed about the copyright infringement were her stylist, photographer, and publicity team. The photographer, Jora Frantzis, happened to reply, saying that the star was not aware. Moreover, the photographer also said, that Cardi B would be more than happy to add the credits to all images released in the same costume.
After this initial communication, Palombo requested the team to link the event's images to his Instagram page, giving him due credit, but the same did not happen. No lawsuit seems to have been filed yet, but Palombo's attorney has sent a legal notice to the team, consisting of the stylist, photographer, and publicity team.
The team is supposed to release a follow-up post on the same within seven days, failing which, Palombo would initiate legal action as well as compensation for the same.
Cardi B – The Star
Cardi B has this habit of being in the news all the time. Last Halloween was no different. She dressed up as one of the characters from Simpson's family, and she bared her ass as a part of the design.
Cardi B is a popular American rapper and also a songwriter, who is quite famous and renowned the world over for her iconic songs. She happens to have worldwide recognition and is now supposedly in legal trouble.
Some of the most popular songs from her career include MotorSport, Want My Love Back, Heaven on My Mind, and South of the Border.
She is also quite active on social media and just released her racy pictures on her official Instagram handle. The internet went Ga-Ga over her Marge Simpson look, but someone did not take too kindly to her posts. Palombo happens to be an Italian street artwork artist who created the iconic look way back in 2013.
All those who have watched Simpsons over the years know Marge Simpson as a doting mother, a violated wife, and a bad driver. However, she was never really considered a style icon. But, Palombo who is known for his flamboyance, highlighted the character with a new look. He re-imagined her way back in 2013, in one of the most iconic dresses.
The Iconic Creation
One of the designers, Thierry Mugler created the iconic dress in 1995, which inspired Palombo to try it on Marge Simpson's character. So, the absolute creation of Marge Simpson and the iconic dress is a landmark of sorts in his career. It was a liberating image that depicted the hidden, outrageous, and colorful side of all women.
Thus, Palombo has taken this issue very seriously. So, it is apt that he will sue the musician if she does not issue a counter-post within the stipulated time. The Butt-baring Simpson's Halloween costume has created quite a stir in various circles, and all the noise does not seem to dim, for whatever reasons.
Shone Palmer
I've been writing about LGBTQ issues for more than a decade as a journalist and content writer. I write about things that you care about. LGBTQ+ issues and intersectional topics, such as harmful stories about gender, sexuality, and other identities on the margins of society, I also write about mental health, social justice, and other things. I identify as queer, I'm asexual, I have HIV, and I just became a parent.