Ovarian Cyst "The Size Of An Apple" Hailey Bieber Talks Openly About It!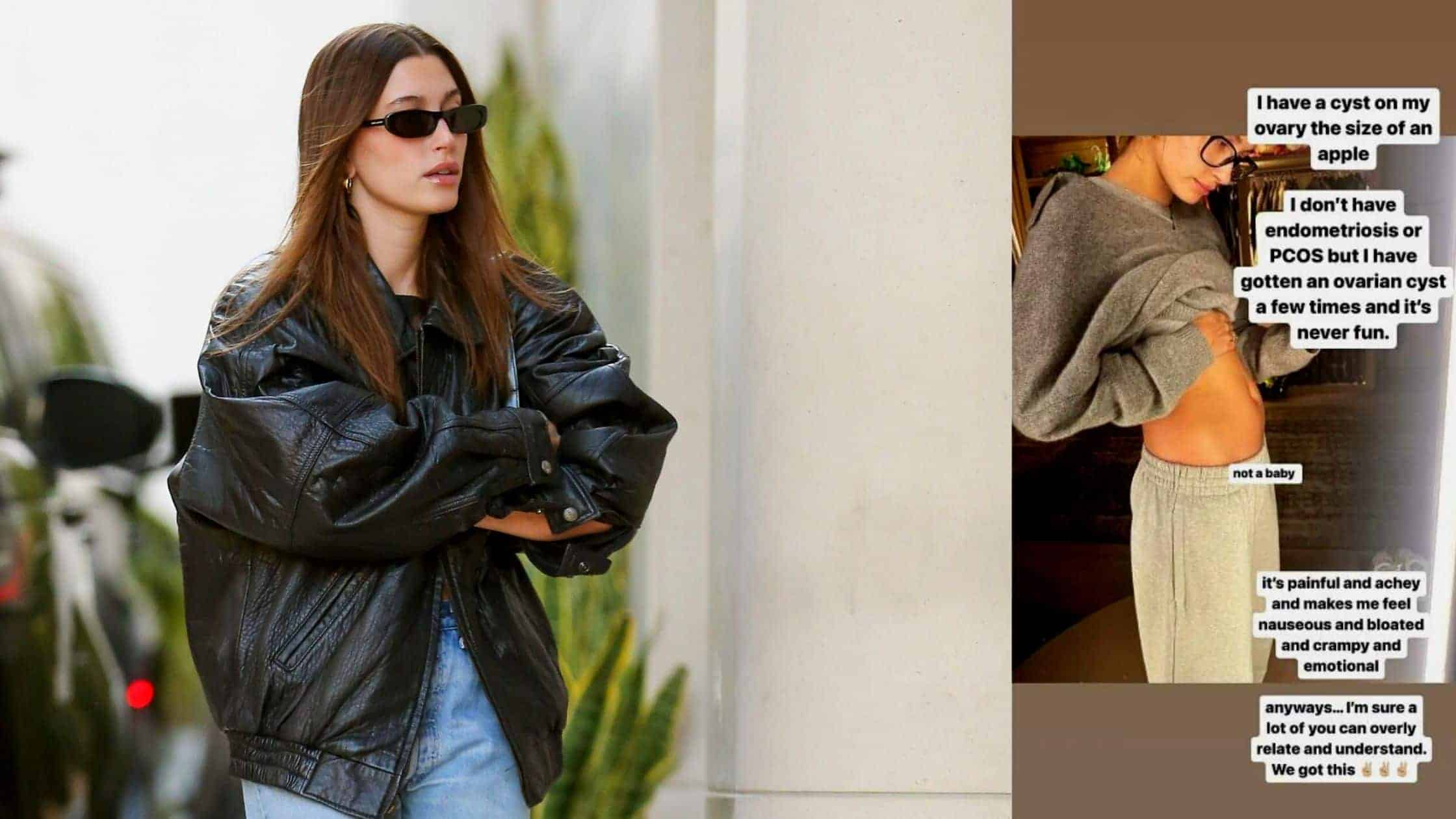 Hailey Bieber posted a distressing health update on social media to set the record straight about her medical problem not being a pregnancy. Hailey is hailed as a great businesswoman because she created Rhode Beauty and is well-known for being Justin Bieber's devoted wife.
Following the diva's recent disclosure of a health issue, the public assumed she was expecting a child. It seems that she shared a photo about it on her Instagram Stories. Hailey is seen in the photo tugging her sweater to reveal her torso.
The enlarged spot, she later indicated, was an ovarian cyst rather than a fetus. As it seemed in the post, the cyst was fairly enormous, and because the couple hasn't yet decided whether to try for a baby, it is only reasonable to expect it.
Neither PCOD nor endometriosis describes Hailey Bieber's condition. Ovarian cysts are what Hailey's ailment is known as, and she has frequently admitted to having them. For those who do not know, particularly our gentlemen readers, endometriosis is a condition that affects the uterus and is brought on by uterine tissue that spreads outside the uterus.
On the other side, PCOS—Polycystic Ovarian Syndrome—is characterized by the growth of cysts along the ovary's outer edge. In Hailey's situation, neither the nature of the cyst nor the cause of the problems was disclosed. She only gave a glimmer of her struggle, detailing how intensely uncomfortable it makes her feel.
Information About Hailey's Past Health
Hailey opened out to her fans about her experience with the cyst, which she described as the size of a ripe apple. She claimed that it hurts and that the agony can occasionally be so intense that it makes one sick.
Hailey, the wife of Justin Bieber, has been candid about experiencing health problems in the past. Her previous health issues, including those from earlier this year that required hospitalization, were in the headlines. When asked about her "mini-stroke" in April, Hailey revealed it. This stroke made her more susceptible to heart problems, which she later learned about. Hailey claimed she recovered well after a procedure to repair the hole in her heart.
Hailey has shown courage by enduring this medical hardship and continuing the adventure. She frankly discussed her feelings on the procedure in a public YouTube video with the viewers. That, according to Hailey, is the most important thing she truly felt, along with relief that she and Justin were able to solve the problem.
As a result of their combined efforts, the medical staff, cardiologists, and surgeons could complete a challenging procedure and close the wound. She was ecstatic to finally have the chance to put this situation behind her and live her life. The cyst sadly materialized.
Can Ovarian Cysts Cause Death?
Having an ovarian cyst is awful, as Hailey has just been dealing with it. They merely cause transient bloating and cramps and are uncomfortable. They are typically safe, as the professionals advise. However, this is one possible risk, and we must first examine what an ovarian cyst is to comprehend it.
In essence, ovarian cysts are sacs filled with fluid, which is an abnormal condition. These fluids can occasionally build up inside or on the surface of an ovary. It usually takes a month or two for this fluid to subside after causing abdominal swelling.
They are safe in the vast majority of situations. However, if the sacs rupture at some point, there may be a serious risk to the body's overall health and the ability to conceive and carry out other reproductive functions.
All we can do at this point is hope that Hailey will be as strong as she is and endure this terrible circumstance. It will eventually go away if she takes good care of herself and follows the recommended medical procedures.
More: Mindy Kaling Proudly Displays Her 40-Lb, Losing Weight Wearing Versace Outfit
Shone Palmer
I've been writing about LGBTQ issues for more than a decade as a journalist and content writer. I write about things that you care about. LGBTQ+ issues and intersectional topics, such as harmful stories about gender, sexuality, and other identities on the margins of society, I also write about mental health, social justice, and other things. I identify as queer, I'm asexual, I have HIV, and I just became a parent.