Will Smith's Oscar Slap: Revealed On Trevor Noah's" The Daily Show"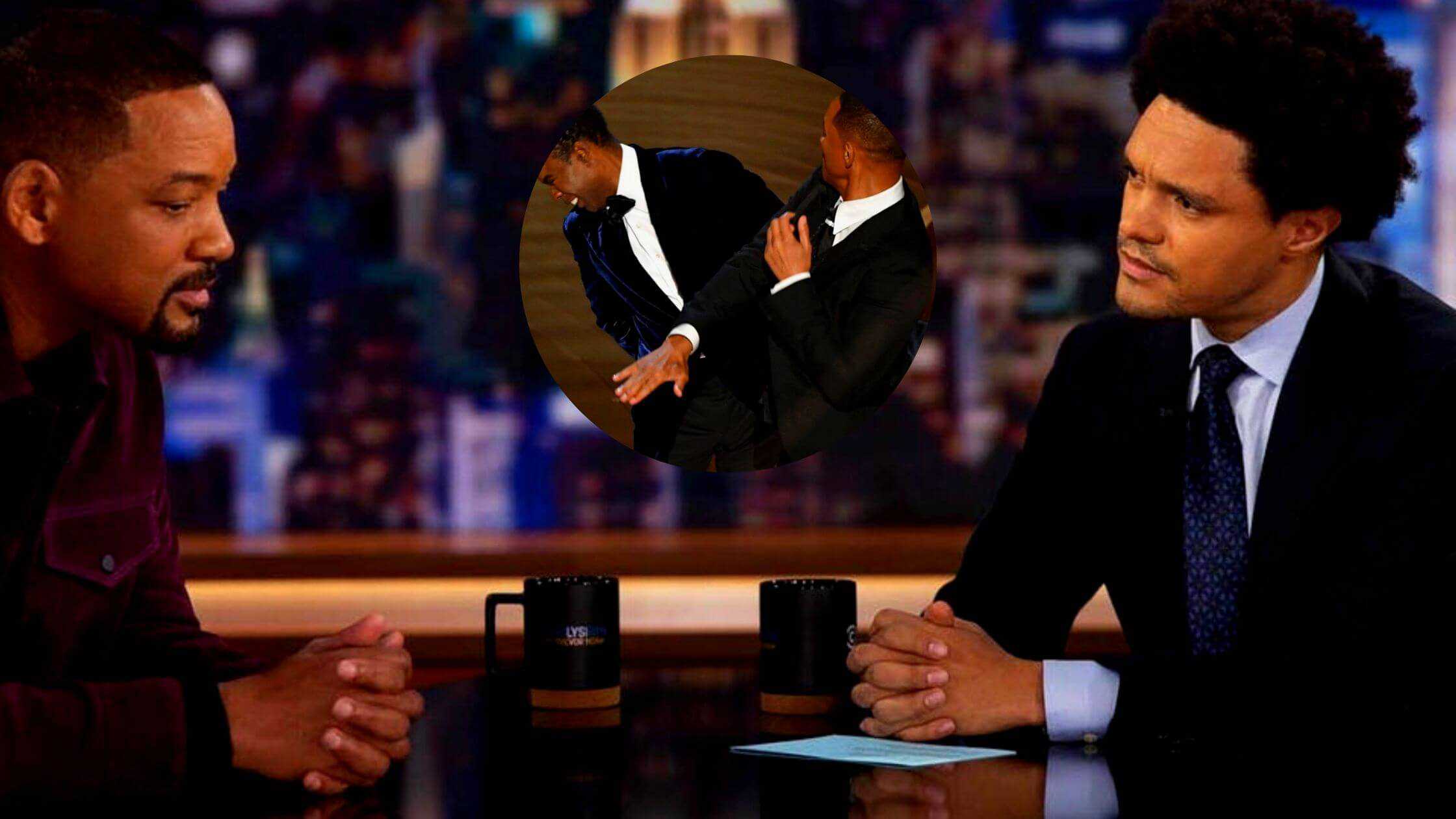 Will Smith was featured on Trevor Noah's" The Daily Show" on Tuesday, which marks Will's first mainstream interview after his violent outburst at Chris Rock during the Academy Awards in March this year.
The actor displayed remorse for his unacceptable behavior and termed it as one of his "horrific nights".
The "Hollywood Golden boy" who was later banned from the Academy after winning his first Oscar for his role in King Richard, is now promoting his new movie "Emancipation".
Revelation Of Slap Incident
As Will's first public talk show after the shocking incident, he was obviously expected to address the issue in The Daily Show.
Will was back in town after a 30-hour flight from Bhutan where he was shooting for a Natgeo show. After talking about Emancipation for a few minutes, Trevor finally addressed the Oscar-bout referring to it as "simultaneously one of the best days of your life and one of the worst days of your life". Trevor asked Will what the journey has been like since that day.
Will began his reply by referring to the incident as a "horrific night" and claimed that there were certain nuances and complexities to the issue but admitted that he just "lost it" at the end of the day.
Will Smith claimed that he was going through a lot of things that night, but failed to provide any context and added that it doesn't justify his behavior at all. Yet he resorted to the obvious out used to justify one's guilt by stating "hurt people hurt people"
Trevor led the conversation and offered support to his friend by stating that "I know it's not who you are, I think everybody can make a mistake" which brought resounding applause from the live audience in the show and momentarily teared up Will's eyes.
Trevor went on to tell Will Smith to his face that what he did was effed-up. "I love Chris and I'm friends with him, I love you and I'm friends with you, but that was effed-up!".
Will again referred to the abuse as the result of rage that he had been bottling up for a really long time. He was again moved to a few momentary droplets of emotion, "Why are you trying to Ophrah me" he said, as he recounted the instance later after the night with his 9-year-old nephew. "Why did you hit that man," asked Will's nephew which was so difficult for him to answer and brought back an emotional response.
However, despite the emotional and deep direction that the conversation flowed on, Will still did not seem to lose his sense of purpose near the end of the interview where he cleverly segued into plugging his new movie.
As they were talking about resentments, Will Smith suddenly interrupted Trevor and talked about how Emancipation was a "masterpiece" and how one of the best works done by Antoine Fuqua and his team is going to be tainted based on a horrific decision on Will's part.
More: Here Are Trevor Noah's Mom And Dad: Patricia And Robert Noah
What Happened After The Oscar Bust-Up?
Will Smith was issued with a decade-long ban from the Academy following the loathsome slap on Chris Rock. The incident sparked serious conversations about the role of violence in public displays of anger and perhaps tarnished the Hollywood Golden Boy's image forever.
On the 29th of July, Will Smith released a video answering questions about slapping Chris Rock during the Academy Awards ceremony.
He replied to some of the frequently asked questions he received after the incident like "Did Jada Pinkett tell him to do it?" to which he said no, and "Why didn't you apologize to Rock during his acceptance speech later on?" to which he said it was a blur.
Will has publicly apologized to Chris Rock and expressed his remorse following the incident.
Chris Rock has mostly remained silent, although he briefly referenced the incident during a stand-up in March claiming that he was still processing what happened and that he would talk about it at some point.
Shone Palmer
I've been writing about LGBTQ issues for more than a decade as a journalist and content writer. I write about things that you care about. LGBTQ+ issues and intersectional topics, such as harmful stories about gender, sexuality, and other identities on the margins of society, I also write about mental health, social justice, and other things. I identify as queer, I'm asexual, I have HIV, and I just became a parent.