Sensational Appearance Of Kate Middleton At The Diplomatic Corps Reception At Buckingham!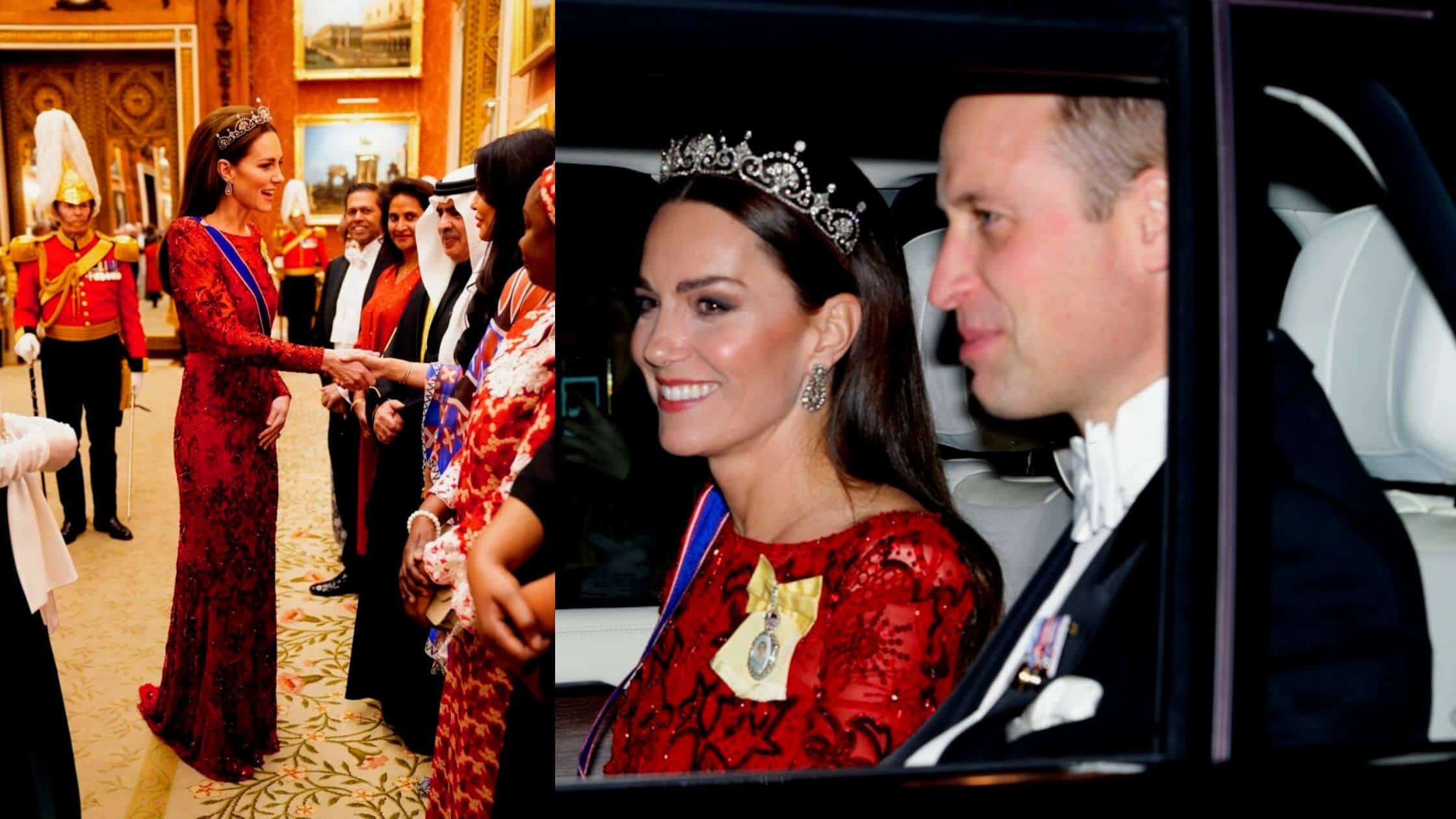 The Princess of Wales, Kate Middleton has made a ravishing appearance after being back to the UK from a trip to the United States, and her elegant and stunning photos are already making a sensation in the press!
She made her sensational appearance at a reception which is held annually for the members of the Diplomatic Corps at Buckingham Palace on December 6, hosted by King Charles and Queen Consort Camilla. The last reception for the members of the Diplomatic Corps held in December 2019 was hosted by the late queen, Queen Elizabeth II.
Kate Middleton Is In Princess Mode At Buckingham Palace
For the event, she was dressed up in a red gown with Queen Elizabeth's Royal Family Order badge and other royal jewels such as the "Papyrus Tiara", and diamond earrings. The tiara was made from a diamond and pearl necklace that belonged to Queen Elizabeth, gifted to her by King George VI in 1923.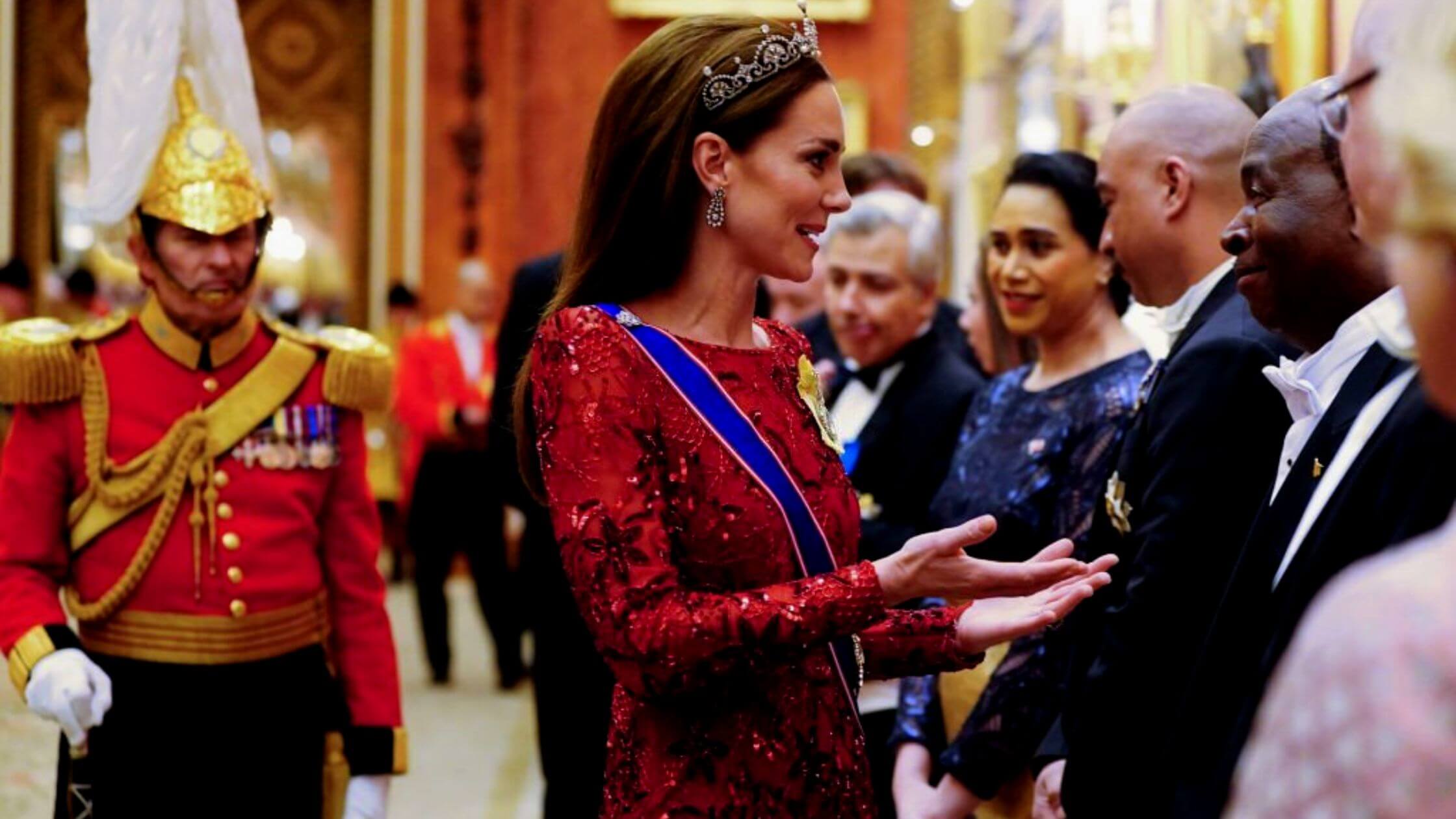 The Queen who apparently didn't like the design of the necklace had it transformed into a tiara, which now belongs to Princess Kate. She was last seen wearing the tiara in 2015 for a banquet, with Xi Jinping, the president of China.
She came to the event along with Prince William and caught the attention of the guests immediately because of her royal outfit as the Princess. King Charles and Queen Consort Camilla, who wore Belgian Sapphire Tiara, also came to the event in royal style and caught the attention of guests.
Prince William and Princess Kate had visited the United States for the first time after a long interval of almost ten years. They arrived in Boston on November 30 for a prize awards ceremony held on December 2.
For the event, the Princess had worn a green Solace London gown while the Prince wore a blue velvet blazer. She had also made a statement at the event that it would be environment-conscious to not buy new clothes for the event, which was an endorsement of sustainable fashion.
Prince William had tweeted that he would like to express his gratitude to the people of Boston for the tributes paid to the late queen, Queen Elizabeth II. During their short trip to the US to attend the prize ceremony event, the royal couple also visited Harvard University.
For their US trip, Kate and William hadn't brought their children Prince George, Princess Charlotte, and Prince Louis. Before the event in Boston, the royal couple had attended a banquet at Buckingham Palace meant to honor the president of South Africa.
>Read: St. Edward's Crown Is Being Modified For The New King Of England
Prince William and Princess Kate got engaged in 2010, and the engagement ring which William put on Kate had originally belonged to his mother Princess Diana. They were married in April 2011 with a global audience estimated to be around 300 million.
Kate Middleton is involved in a number of charity works involving the welfare of young children and creating awareness about mental health issues. She is also interested in fashion, sports, and photography, and is involved in various sports ventures to raise money for charity. She had been consecutively listed as Time magazine's "100 Most Influential People in the World" in the years 2011, 2012, and 2013.
Shone Palmer
I've been writing about LGBTQ issues for more than a decade as a journalist and content writer. I write about things that you care about. LGBTQ+ issues and intersectional topics, such as harmful stories about gender, sexuality, and other identities on the margins of society, I also write about mental health, social justice, and other things. I identify as queer, I'm asexual, I have HIV, and I just became a parent.