Shania Twain Creating Headlines Again: She Swayed In An Iconic Look In The People's Choice Awards!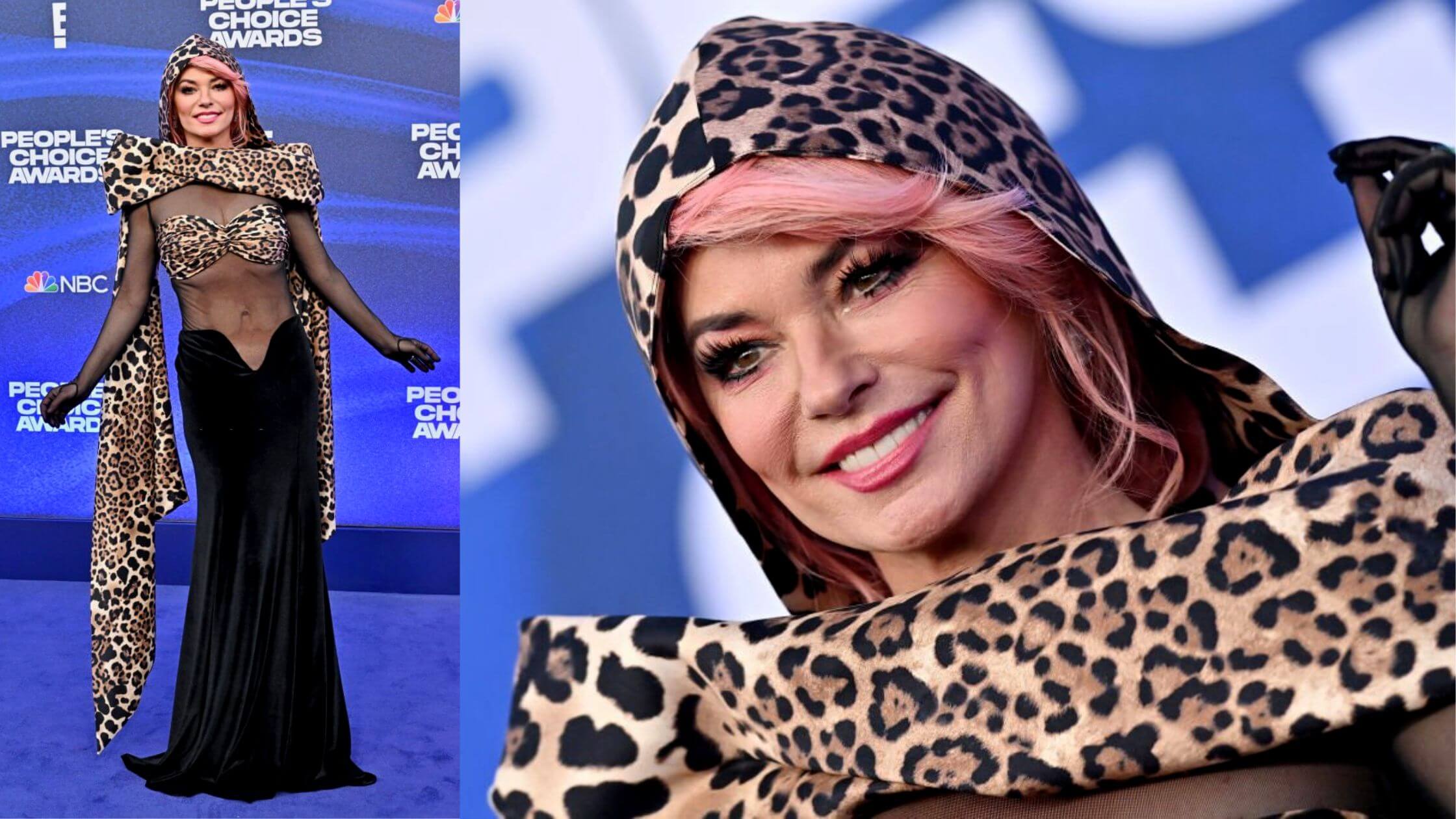 The Queen of Country Pop, Shania Twain is at it again. This time at the People's Choice Awards, the Canadian Singer and Songwriter got into the viral books for her dashing attire which has a golden history.
The singer, who took the stage at the 2022 People's Choice Awards on Tuesday, appeared on the red carpet in Santa Monica, California, wearing a look that was strikingly similar to the leopard-print outfit she wore in the late-1990s sensational music video for her song "That Don't Impress Me Much." A black velour skirt that hugged Twain's hips and flowed to the floor completed her daring fashion. Likewise, Shania completed her matte-finished complexion with pink lips and fluttery lashes to complete the look.
With that wistful leopard dress, Shania Twain completed the circle of her career, remarked countless fans and admirers.
At The 2022 People's Choice Awards, Shania Twain Wore A Sheer leopard dress
Later on in the event, Shania not only entertained the crowd with a medley of her greatest hits, but she was also given the Music Icon award, which she fully and utterly deserves. Nothing could top it off on a night like this more effectively than a memorable fashion choice.
Over the course of her decades-long career, Shania has amassed over $100MIL in worldwide record sales, 44 hit singles, and five Grammy Awards, making her one of the most successful acts in music history.
The diva, 57, donned a custom Rodarte dress with sheer sleeves, a corresponding peek-a-boo panel that displayed her abs, and a black velvet skirt. The garment, of course, had a hood.
Although Twain has worn animal-print clothing before, one of her most recognizable looks is from the "That Don't Impress Me Much" video, which we have already mentioned. Twain wears a full set of leopard-print clothes in the music video for the song about female empowerment, including pants, a bra top, and a hooded jacket.
While speaking at the event, Twain expressed her gratitude for being invited and honored on the red carpet. "It's just lovely. It's exciting to be getting on this stage and kicking butt out there", she remarked.
Twain continued by reflecting on her incredible GRAMMYs experience. She told ET about the '90s award show, where she performed "Man! I Feel Like A Woman!" and won "You're Still the One" and best female country vocal performance, "That dress represented that experience, so she is just happy to see it alive again."
>Related: 2022 People's Choice Awards: Major Highlights Of The 48th Edition [Exclusive]
On another occasion that day, she was seen teasing the Deadpool star Ryan Reynolds "OK, so you're Ryan Reynolds!" in a playful manner. The star, who was present to accept the People's Icon award later that evening, was cut off by the cameras as she said that sassily. From the audience, Reynolds mouthed, "Oh my God, me?!"
Twain received the much-revered Music Icon Award at this year's People's Choice Awards. The singer, who is embarking on a massive world tour next year, will also release a new album called "Queen of Me" in February. Likewise, she is scheduled to perform a medley of her greatest hits, as well as the brand-new song "Waking Up Dreaming."
While at the event, Twain encouraged her young audience as she wrapped up her speech. "All I have to say is, "Giddy up, kids. Accept your uniqueness and crazy ideas. Simply be brave.", posing an inspiring note.
Let's keep in mind that there is strength in numbers, we are all in this together, love is love, and when a door slams in your face, take a freaking run, leap at your door, and kick it down! she said as she gave her closing remarks. "You won't regret it", she highlighted.
Considering all her grandeur, one can confirm that age is indeed a number for Shania Twain and she is the evergreen "Queen of the Country Pop".