Meghan Markle Wore A Diamond Ring For Ripple Of Hope Award Gala 2022: Guess Whose It Is?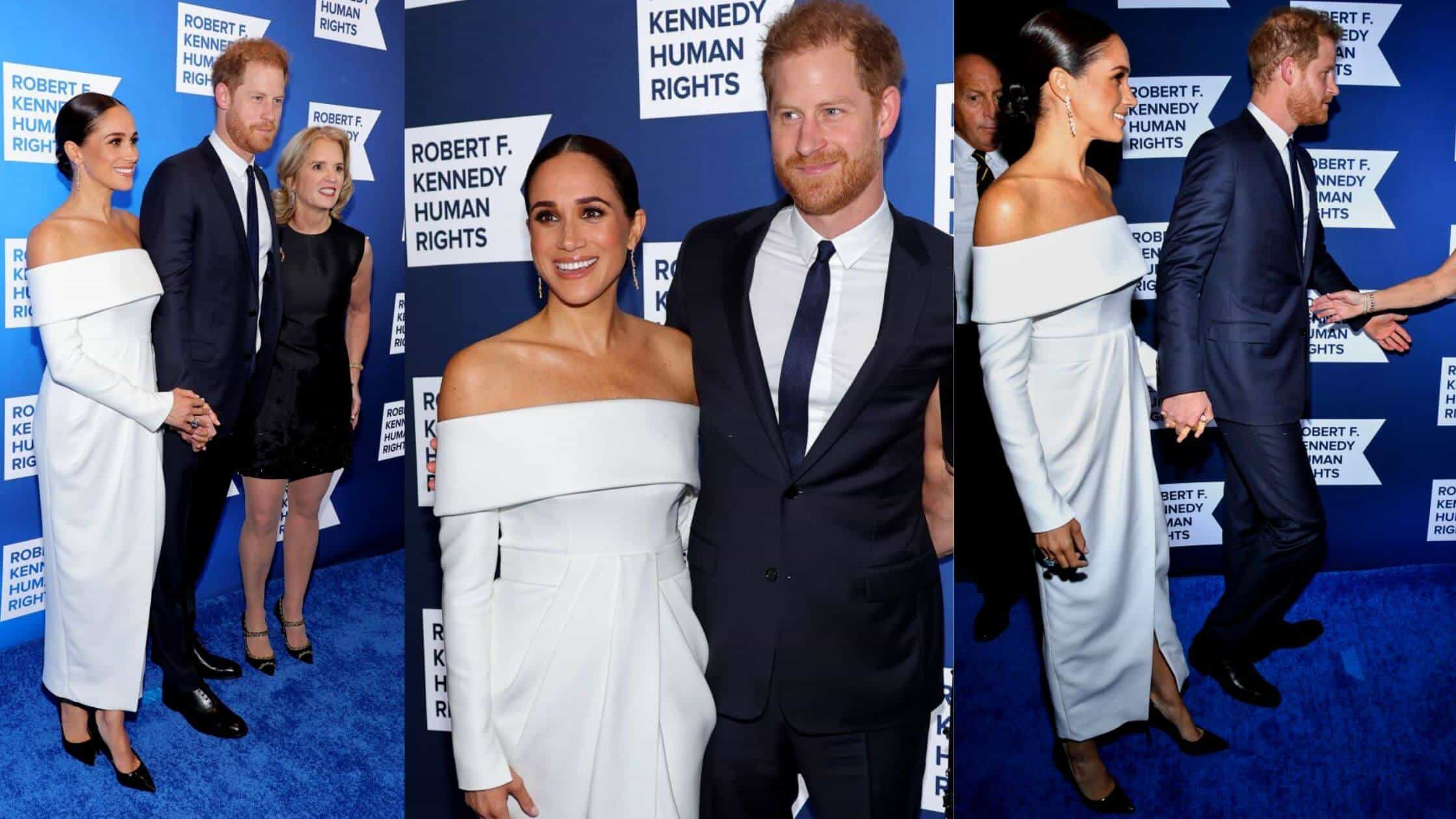 This week is remarkable for the duke and duchess of Sussex. The news about their relationship and bond became viral on social media two days ago. Meghan Markle and her husband Prince Harry are again welcomed by the media with their presence at the Ripple of Hope Award Gala on Monday night. At this time, Meghan is spotted with a special piece of jewelry that previously belonged to Princess Diana.
The entry of Meghan Markle and Prince Harry is highlighted. They attended the Robert Kennedy Human Rights Ripple of Hope Awards Gala in New York City, US. Both the couple was honored with the award for their excellent work on mental health, racial justice, and other social services through their foundation named 'Archwell'.
Gorgeous Look Of Meghan Markle
Meghan's stunning look was highlighted in the event, especially her costume, she wore a white off-shoulder dress with a thigh-high slit. Her black heels and the dress with black clutches added extravagance to her appearance.
Apart from this, an exceptional ornament stood out from the rest. Of course, Meghan's alluring blue ring attracted everyone's attention. The ring is familiar to us. Because this is not the first time she wore this beautiful ring. She used this ring at her wedding reception.
A kenning stone palace official declared that the ring was gifted to Meghan Markle by her husband Harry on their wedding day. The aquamarine ring actually belonged to Princess Diana. The ring is remarkable.
Diana specifically ordered this blue ring in 1996. She needed a ring in order to replace her engagement ring after her divorce from king Charles 3. Maxwell Stone of UK jeweler, Steven Stone said that, Unfortunately, Princess Diana wore this ring on two occasions before her tragic death.
What's the specialty of this ring is the most discussed question. Meghan Markle's engagement ring is special. It contains three precious stones. The two diamonds in her ring belonged to Princess Diana. Her engagement ring was designed by the duke of Sussex and created by court jewelers Cleave. The ring is considered to be the royal sapphire for the ages.
Meghan Markle and Prince Harry belong to the royal families. However, both of them decided to step back as senior royals. In a statement, they announced to resignation from the royal position and split their time between the UK and North America.
Their works are highly remarkable. Both of them have worked in several fields. These remarks invited them to the Robert Kennedy Human Rights Ripple of Hope Awards Gala in New York City.
>Related: Sensational Appearance Of Kate Middleton At The Diplomatic Corps Reception At Buckingham!
Meghan Markle is noted for her stunning outlook and the precious ornament that she wore at the Ripple of Hope Awards. Her white off-shoulder Louis Vuitton gown is paired with an iconic piece of jewelry. The discussion was based on the magnificence behind this ornament. The gem has belonged to Meghan for four years now.
She remembers the day she got this precious piece from prince Harry and debuted it as" something blue". The jeweler described this piece as "no doubt priceless". He also added an aquamarine ring of equivalent size costing around $98,000.
"The specialty of the ring is it symbolizes harmony, serenity, clarity, and tranquility," Stone said. Maybe these reasons may influence prince Harry to give this precious ring to his beloved.
Shone Palmer
I've been writing about LGBTQ issues for more than a decade as a journalist and content writer. I write about things that you care about. LGBTQ+ issues and intersectional topics, such as harmful stories about gender, sexuality, and other identities on the margins of society, I also write about mental health, social justice, and other things. I identify as queer, I'm asexual, I have HIV, and I just became a parent.