Heidi Klum's Optical Illusion Dress In Avatar 2 premiere: Like Flowing Water!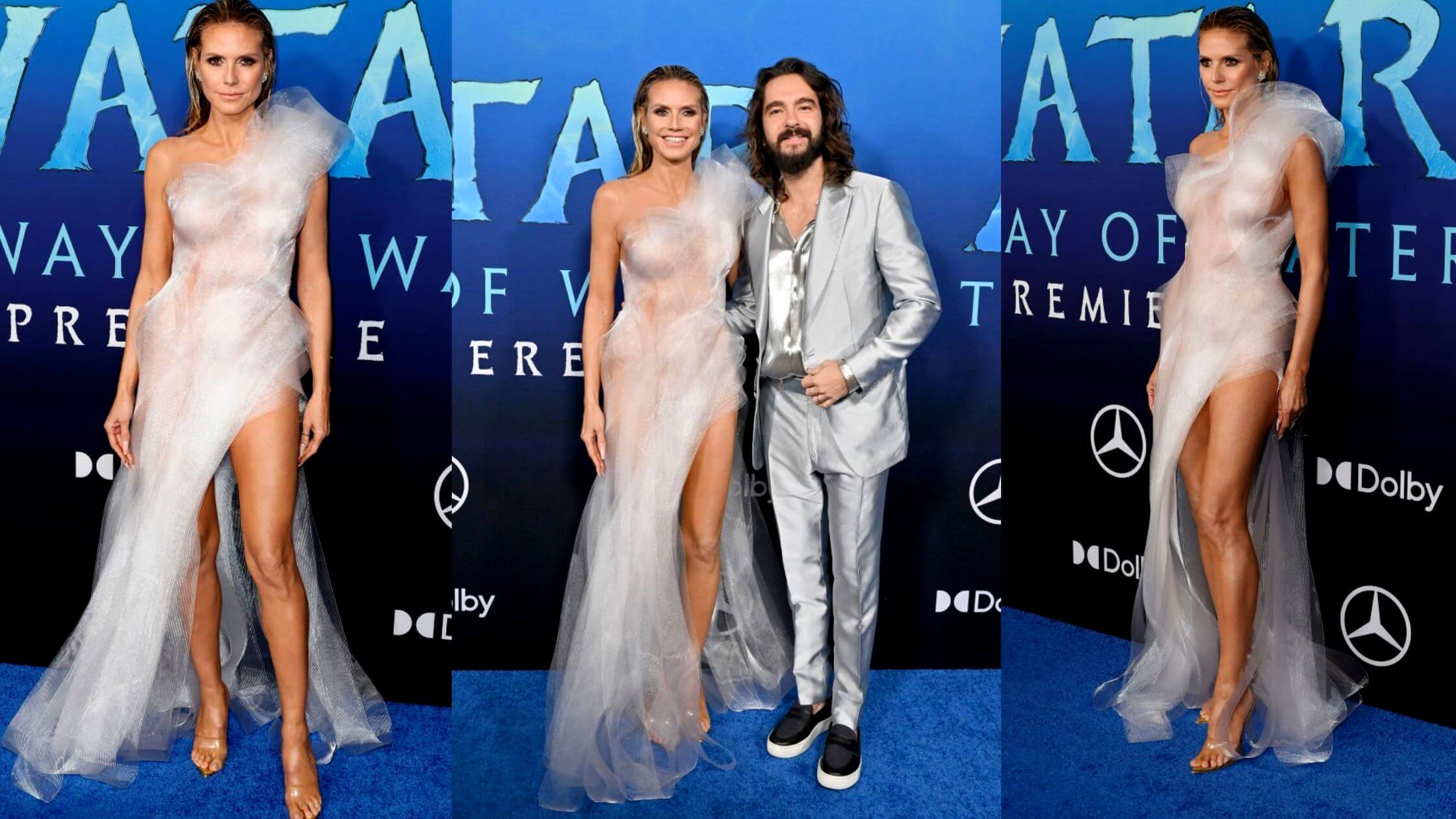 Heidi Klum made her stylish entry wearing an illusion gown on the Avatar 2:The Wave of Water red carpet. The epic movie famously celebrates CGI imagery and 3D as a gimmick highlights the optical illusion, imagination, and technology.
Heidi mirrored the qualities of the film wearing a glittering white gown with a silver-tone dress that resembles the flowing water.
Lever Couture tulle design created the sculptural look dress with one shoulder, asymmetrical bottom which is cut into strips of thick fringe and thigh-high slits. She paid for her sheer gown with a diamond-encrusted stud, and clear heels and styled her hair with a sleek hairstyle effect making her the center of attraction on the red carpet.
Heidi Klum's Optical Illusion Dress Made Her Appear To Be Moving Water
The pieces of the dress created a feel of the illusion of moving water and the total attire look appeared as if she had just stepped out of the pool. Her husband accompanied her wearing a metallic silver suit with matching black sneakers which goes well with her attire.
Both the stars appeared with a stunning look that stoled the whole event and received many comments saying that this was one of her best looks.
Klum on Wednesday shared a video of the artist Angelic hicks, as she recreating the model's look. In the clip, she puts clear tape on top of a pair of black heels, before pushing the model's hair back to match the hairstyle with the down.
She raps the ripped pieces of saran and wraps them around the body in order to replicate the different aspects of Klum's illusion dress. The dress looks transparent and her body is almost visible. Klum praised the work of the artist by commenting below the video "Love this". She also tagged the artist and Leve courter in her post.
The star dedicated her red carpet look to the Avatar theme which enriches her beauty. She made a major wave of Avatar which truly brings out the theme of the movie. 49-year-old Klum is well known as the queen of Halloween who recently appeared wearing a giant warm costume while her husband Kaulitz dressed up as a fisherman during the annual Halloween party.
Klum is an American fashion icon who has been featured on the cover of France, German, Portuguese, and Spanish Vogue magazines. She also appeared in several fashion magazines which include Marie Claire, Elle, InStyle, Glamour, and Russian Harper's Bazaar magazines.
At the age of 18, she entered the 'Model 92" German beauty contest, in which out of 2,500 contestants Klum won the top prize. She launched her modeling career in 1993, her breakthrough came when she appeared on the cover of Mirabella magazine in 1994.
>Related: Neytiri (Zoe Saldana) Will Return To Earth In James Cameron's 'Avatar Sequels
In 2002 she launched her swimsuit calendars for the millennium in the US and one for Europe. Apart from her modeling career, she hosted many adventurous programs for the Discovery Channel and did several supporting film roles as well as spots in video games.
Heidi's Halloween costume was the most-talked-about celebrity costume of 2022 with a hyper-realistic "rain worm". Her fashion sense made her an iconic figure in the industry. Her premium and trendy look share the world with innovative ideas and she always manages to look sexy having unique attire.
The model gave more importance to their appearance and she believes that her daily style matters and its answers to the question "which person do I want to be today?" In her opinion clothes lead her through the day and bring her into the mood in which she likes to be. It shows the strength and power of fashion which is an unavoidable factor in her life and career.
Shone Palmer
I've been writing about LGBTQ issues for more than a decade as a journalist and content writer. I write about things that you care about. LGBTQ+ issues and intersectional topics, such as harmful stories about gender, sexuality, and other identities on the margins of society, I also write about mental health, social justice, and other things. I identify as queer, I'm asexual, I have HIV, and I just became a parent.