Amazing Valentino Ensemble Worn By Selena Gomez At The SNL After-Party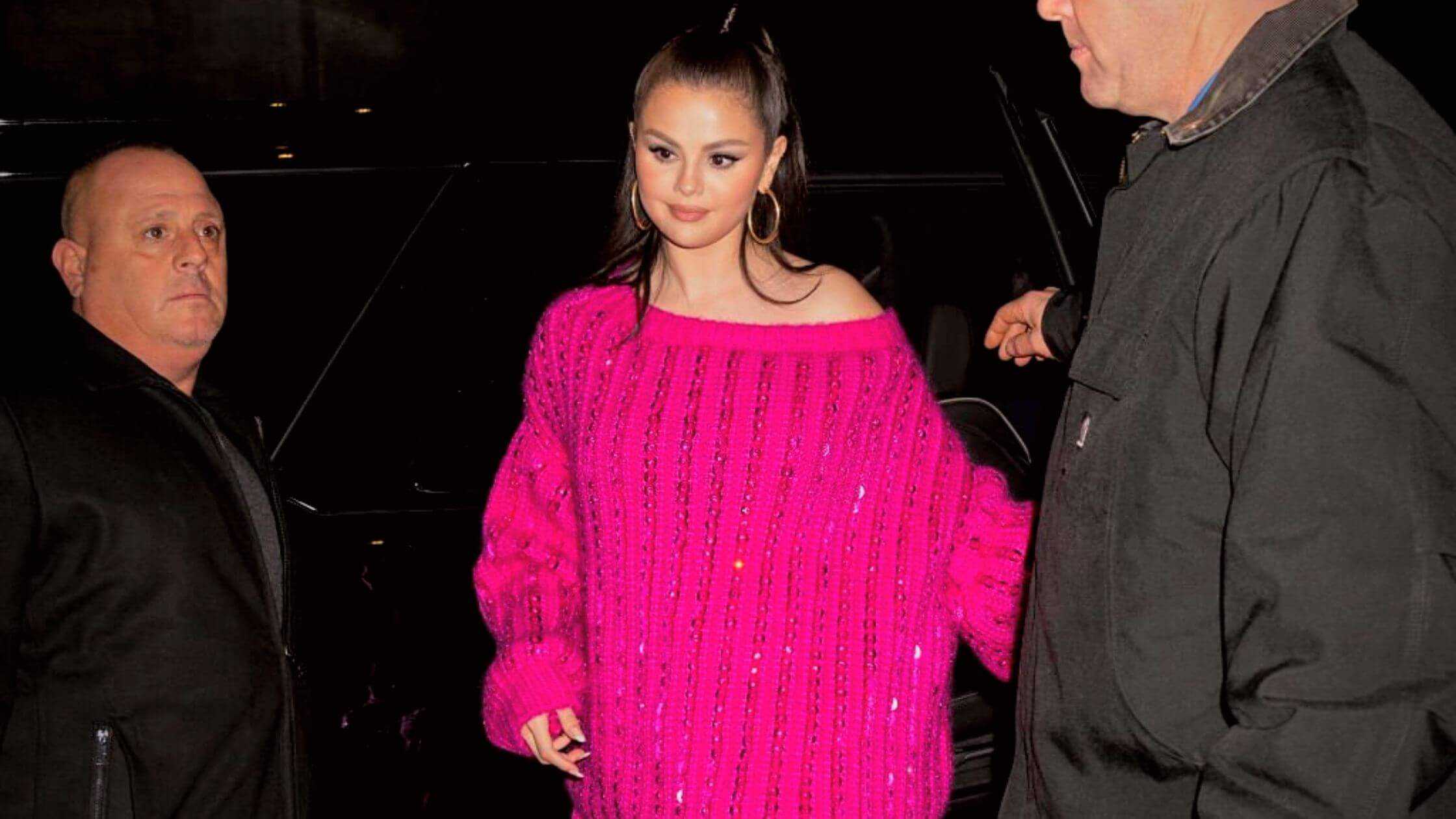 This is a name that most will be aware of in the music and showbiz industry. The actress and singer seem to be making the news more often these days.
Gomez started her illustrious career through a children's show and is still going strong. She has also been in the news for her relationship with music star Justin Bieber.
Well! She is all over the fashion and party news once again. This time, she is in the news for her fashion sense and drama. Those who want to read more such exciting things about her, read on.
The Valentino Attire For An Afterparty
So, the winters have arrived and in style. One cannot distance oneself from sweaters and cardigans, but one that is priced at $6,700 seems to be out of reach for the masses. Selena Gomez did just that in style.
Hollywood is known to experiment with colours all too often. When the whole world is going mad over black, stars choose to remain exclusive. Black is one of the colours that seem to be a winter staple, as it keeps one warm.
But the stars this time, chose colours such as bubble gum pink, electric blue, and Barbie pink for their winter wardrobe.
A few days back, at the SNL After the party, Selena Gomez sported an all-pink attire. It was a great combo of a hot pink sweater, stockings, and shoes.
Furthermore, the sweater from the designer Valentino costs a whopping $6,700, though. It came with shimmer and sequins, to complete the look. Her shoulders played peek-a-boo from the off-shoulder side, with puffy sleeves.
However, she was not the only one at the Saturday Night Live After party. Barbie-themed clothes seem to be the flavour of the season, and many others sported the look with elan.
Who Else Wore Pink At The Party?
Valentino is iconic, in its true sense. Moreover, the brand is famous among the stars today, due to its chic ensembles. The Designer, Valentino Clemente Ludovico Garavani, is Italian and a top favourite.
Valentino is now a global fashion empire. The brand boasts a clientele list with names like Audrey Hepburn and Jacqueline Kennedy. The brand's red evening dress garnered a lot of fan following to date, and now the hot pinks.
Mindy Kaling also happened to sport pink at the party. She paired satin pink pants with a pink sweater. Many of you may have already caught her in this combination on her Instagram handle.
Read More: Scarlet Johansson Reveals She Was "Being Groomed" To "Bombshell" Roles
Pink seems to be a lifestyle staple for the stars this season. Zoey Dutch also sported the same colours. She also managed to wear a Valentino skirt down under. Many young girls will soon be following suit, it seems.
All those, who are in love with this fashionable colour and sweater, should check online. There is a huge range that is available online at lower prices. They are not somewhere near the costumes made by the iconic brand, but they are worth a try.
The Sherwin Lightweight Pullover priced at $37 approximately seems to be one of the top picks. There are quite a few others as well, like the Zesica Ribbed V-neck Sweater, which is priced around the same range.
If you can shell out a bit more, similar pieces are available in dozens without Valentino's touch, of course.
Most of the pieces that one can find online are acrylic-based and also have crochet design works. One can also buy sweaters in other colours online.
Several other celebrities are enjoying the trend, like Gigi Hadid. So, if one wants to party this winter, then these hot pink sweaters are a must. Get that style today.
Shone Palmer
I've been writing about LGBTQ issues for more than a decade as a journalist and content writer. I write about things that you care about. LGBTQ+ issues and intersectional topics, such as harmful stories about gender, sexuality, and other identities on the margins of society, I also write about mental health, social justice, and other things. I identify as queer, I'm asexual, I have HIV, and I just became a parent.