Marilyn Manson Sexual Assault Lawsuit Filed By Model Ashley Smithline Rejected By Judge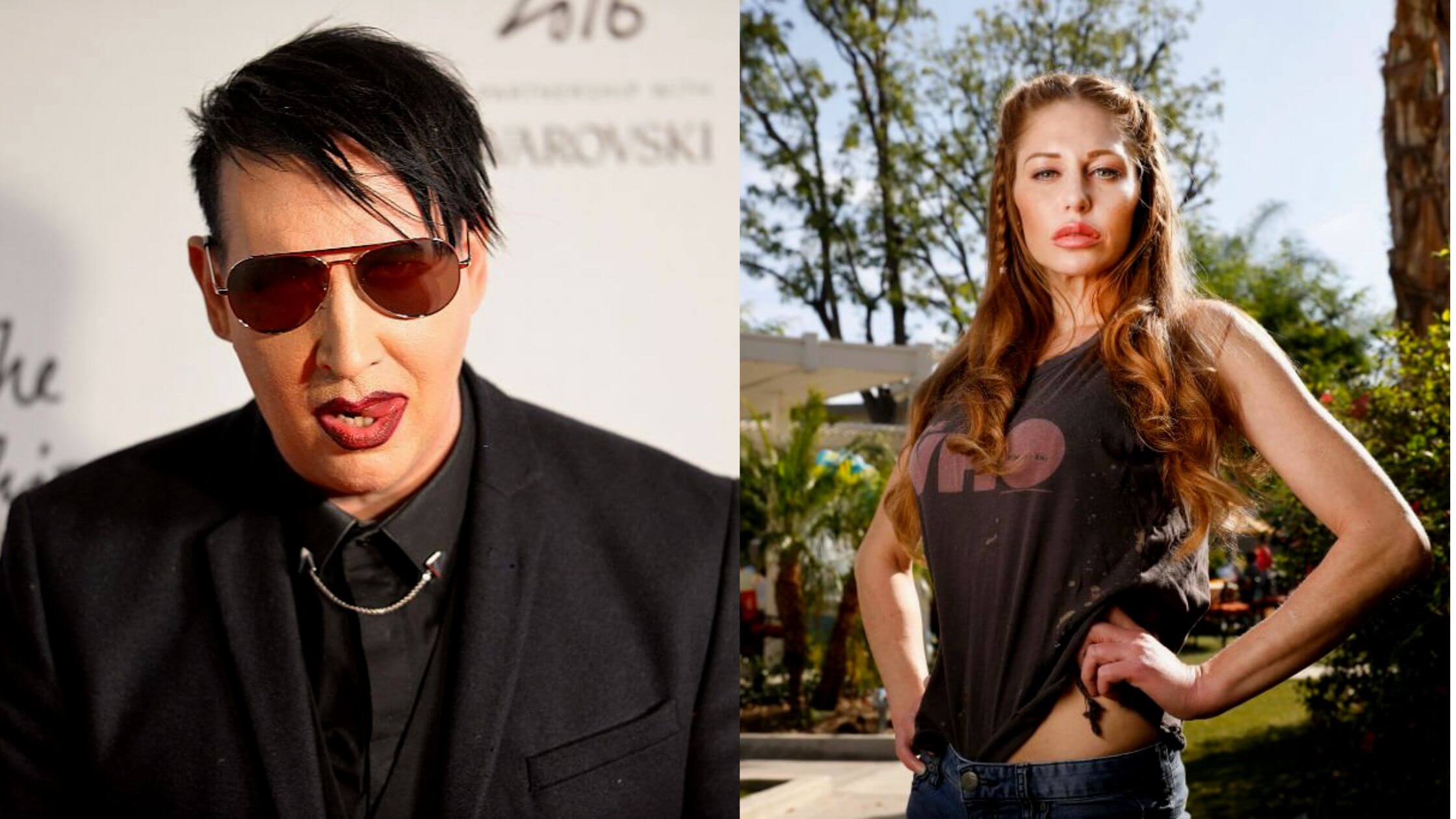 After two years of legal war, a Los Angeles District Judge has dismissed the sexual abuse case against the American Rock singer Marilyn Manson by model Ashley Smithline.
The case, which was filed in June 2021 was dismissed as Smithline couldn't find a new lawyer after her previous attorney Jay Ellwanger had left the case.
Smithline was the fourth woman to launch a lawsuit against Manson and she accused Manson of inflicting psychological, physical, and sexual abuse while she was in a two-year relationship with the singer.
However, Manson denied these accusations and said that the relationship between him and Smithline lasted only for a week and there was no instance of abuse.
US District Judge Fernando L.Aenlle-Rocha dismissed the case on Tuesday without prejudice, which meant that Smithline can file a lawsuit against Manson in the future when she finds a lawyer to represent her in court.
Detailed Descriptions Of Various Manson Abuse Incidents
The following paragraph contains graphic descriptions of sexual violence and it might be triggering for some readers. Reader discretion is advised.
In a graphic description of several instances of abuse by Manson, Smithline said that one of the first instances of violence was when her ankles and wrists were tied behind her back and Manson was raping her.
In another instance, Manson forcefully covered her face with a pillow and inflicted knife wounds on her shoulder, stomach, and inner arm. Smithline also accused Manson of causing a hairline fracture to her nose and creating scars in her body by carving his own initials.
According to the Los Angeles County Sheriff's Department, they had investigated the sexual assault allegations against Manson and turned over the case to the District Attorney's office for filing possible criminal charges against the accused.
The Special Victims Bureau, which handles sexual and physical abuse cases of children and felonious sexual assault cases of Adult victims at the Los Angeles Sheriff's Department reported that they had done an extensive nineteen-month investigation on Manson.
In another case, Marilyn Manson was sued in April 2021 by Esme Bianco, an actress who is known for her role in the series Game of Thrones.
She had accused Manson of sexual assault and battery. Bianco recalls the incidents as a series of violent encounters made by Manson. But the Rock singer continues to deny such allegations brought out by several women in the past couple of years.
Bianco stated in her lawsuit that Manson had invited her from the United Kingdom to Los Angeles and offers to give her work. Once she moved into the Goth Rocker's Hollywood apartment in 2011, she was not allowed to eat or sleep without Manson's permission.
Also Read: Several Cosby Show Actors Have Accused Bill Cosby Of Sexual Assault
Currently, the Bianco case has been kept on hold by the same Judge who had handled the Smithline case.
On the other hand, Manson had filed a lawsuit against actress Evan Rachel Wood and her former girlfriend, Ilma Gore accusing them of defamation, and causing mental and emotional stress among other allegations. This case is also pending under the Los Angeles Superior Court. Manson's attorney.
Howard King, however, welcomed the decision of Smithline to dismiss her claims without seeking any sort of compensation. He also said that Smithline had been manipulated by some people who have their own agendas against Manson.
Smithline had come out in public with allegations against Manson in early 2021 and said this was an important decision for her because she was living in constant fear till that time.
She also pointed out that she wants to move on in her life and heal from the abuse that was inflicted upon her by Brian Warner (real name of Marilyn Manson) by making him accountable for all his actions.
Around fifteen women had been allegedly assaulted by Manson and he had denied all allegations to date.
Shone Palmer
I've been writing about LGBTQ issues for more than a decade as a journalist and content writer. I write about things that you care about. LGBTQ+ issues and intersectional topics, such as harmful stories about gender, sexuality, and other identities on the margins of society, I also write about mental health, social justice, and other things. I identify as queer, I'm asexual, I have HIV, and I just became a parent.