Captain Marvel, Brie Larson Blown Away Fans With Faux Tattoo Sleeve Post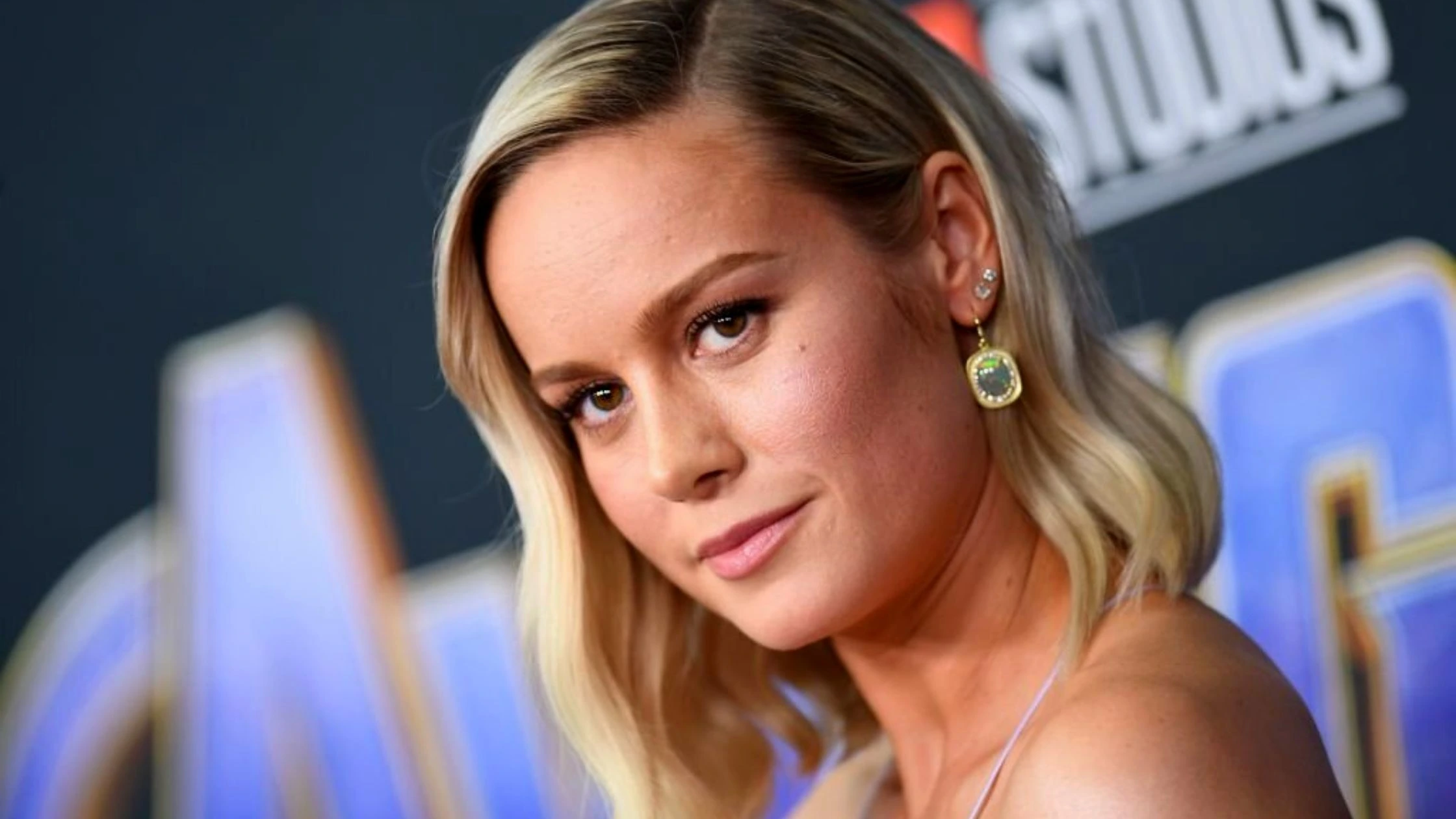 Captain Marvel stuns her fans with the all-new bold look. The actress left a carousel of images on her official Instagram post with the comment, "What it's like you've never seen temporary tattoos before."
Earlier this week, the Captain Marvel fame, Brie Larson posted some pics which at a first sight, astounded the fans. In the selcas, the actress seemed to be wearing an olive-toned bra with a bandana tied around her neck which is paired with jeans.
It is not her attire which astonished the fans but rather she was showing off her arm full of fake tattoos. At first, the tattoos seemed real, and only after going through the caption, it was clear that they were temporary.
She faked her fans with the tattoos and her post even received sumptuous attention from around 621,000 fans and followers.   
Fans' Comments Are Flooded Under The Post
Fans were going crazy over the actress' new look and some even encouraged her to make the faux tattoo into a permanent one.
Others commended that the body art seemed so real and had never seen any fake tattoo look so good. The comment section under the post was overflowing with the love from Marvel Comic fans all over the globe. 
The Academy Award winner posted a series of photos of a sleeve tattoo that read, 'Don't try to fix me, I'm not broken.'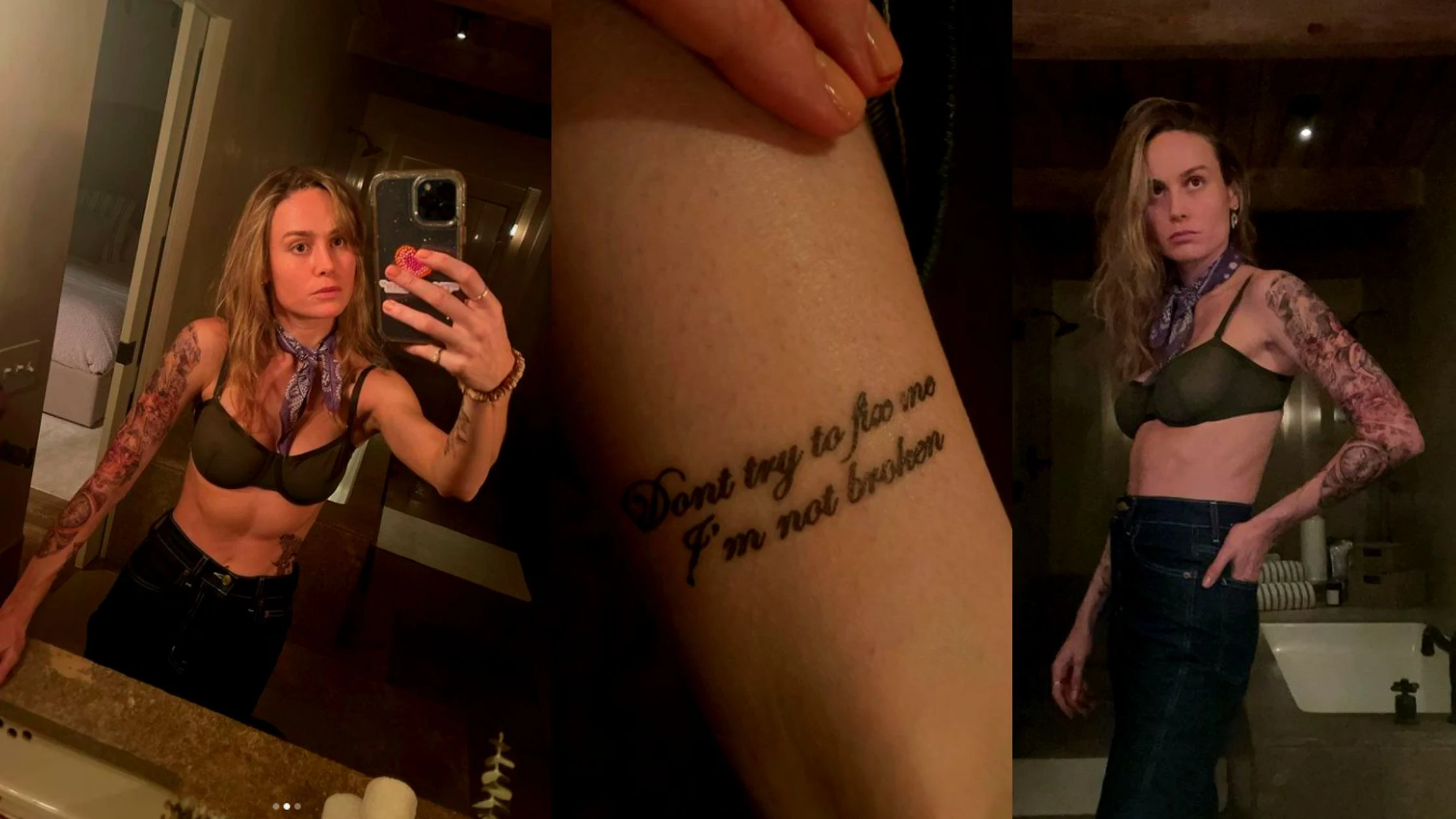 Although there were positive comments flooded, a few negative comments, as usual, were also included in the comment section. Some of them went, 'Don't do that to yourself please.' others were of the opinion, 'Thank god those are temp.'
However, the actress hasn't replied to any of the comments and hasn't responded on whether she is planning on making the faux into a real permanent one. 
Larson, born in Sacramento, California, United States on October 1, 1989, started off her acting career in 1998 through a comedy sketch on The Tonight Show with Jay Leno.
Initially, she appeared in supporting roles in comedies throughout her teenage years and later expanded her career with leading roles in a myriad of blockbusters.
Besides her acting career, the 33-year-old actress even dabbled in a music career. She released her first album, 'Finally Out of P.E.' in the year 2005. 
By 2013, Larson made her breakthrough appearances in Hollywood which include Short Term 12, an American independent drama film. Later in 2015, the actress even won the Academy Award for Best Actress for playing a kidnapping victim in the drama, 'Room' directed by Lenny Abrahamson and written by Emma Donoghue.
Apart from this, she is also a recipient of numerous other accolades including a Golden Globe Award, and a Primetime Emmy Award. In 2019, she was named among the 100 most influential people in the world by Time Magazine. 
The 2017 American monster film, Kong: Skull Island, was her first big-budget film. Thereupon she starred in Marvel Cinematic Universe superhero films as Captain Marvel in the 2019 Captain Marvel and Avengers: Endgame. 
Larson never settled as an actor alone; rather she preferred to work in every field in Hollywood. She has co-written and co-directed two short films and even made her feature film directorial debut.
Also Read: Jeremy Renner Shared A Post Captioned "Missing My Happy Place" 
Apart from the entertainment industry, she is also a gender equality activist. She even supports sexual assault survivors and speaks on social and political issues currently faced by the country.  
Now, coming back to the rebellious look of the actress in her recent Instagram posts, it appears to be an act for her upcoming movie role. Some fans in the comments even pointed out that it could be for her upcoming film, an installment of the Fast & Furious series, Fast X.
Earlier in 2022, the franchise star Vin Diesel and the Captain Marvel fame hinted about the chance for an upcoming installment.
She even commented about her excitement about joining the Fast & Furious family. Even actor Vin Diesel showed his contentment in welcoming the actress into their mythology. 
Since, the actress hasn't responded to any of the assumptions by the fans, all that we could do is wait for an official announcement if something is cooking up behind the curtains.