Rita Ora Finally Confirms She And Taika Waititi Are Married
So now it is confirmed! The rumor that has been swirling over the internet for umpteen days has finally been confirmed with a "Yes" when the stupendous British singer-songwriter made it official. People were tremendously sure about something was brewing up between them, and even speculated that the duo has been married. At last, all those speculations have finally become true with a single Yes and now Rita Ora is finally the Mrs of the resounding New Zealand filmmaker Taika Waititi. Let us have an exhaustive look at this new beautiful couple and learn more about their relationship.
Rita Ora And Taika Waititi Are Married!
It is absolutely a piece of happy news that after heavy hard speculations, the much-celebrated duo has been married. During one of the latest interviews, Rita Ora finally answered the question about her marital status. She added: "Yes, you know, here we are. Everything happens for a reason, people. I am officially off the market".
She was so exultant to reveal this great news that finally she got married to the love of her life, in an intimate surreptitious ceremony. So after she confirmed that they have got married, people were much keener to ask whether she takes Take Waititi's last name.
So the utterly amazing singer replied, "I have definitely thought about it, I have worked very hard for this Ora name, I have to say. But I do believe in sharing the journey. I don't know, I haven't really kind of decided yet".
Moreover, she just shared a few glimpses of their private ceremony, and it was as fabulous as she sounded. The highly talented singer exclaimed that her wedding was just undeniably perfect, in the way she wanted and it was pretty much sweet to have an intimate ceremony as she had planned for a long.
But for her fans, she accentuated that she would make it a grand function, indeed a big party one fine day. So people across the globe could see this iconic pair gleaming with love when they arrange a magnificent party.
Rita Ora And Taika Waititi Relationship Timeline
Taika Waititi, the prolific, Thor: Love and Thunder director, and the amazing singer Rita Ora sparked rumors back in April 2021. The sole reason for the rumor mill to produce such a rumor was when the duo walked together on their first red carpet in August.
The couple never failed to appear together in public, and embracing on red carpets to attending several award shows and events even made the rumors so strong. Even though both of them appeared together at numerous public events, both of them have managed to make their romance under wraps. Even though social media took their relationship as a hot topic of discussion, neither of the couples ever even spoke about it or made a comment on it.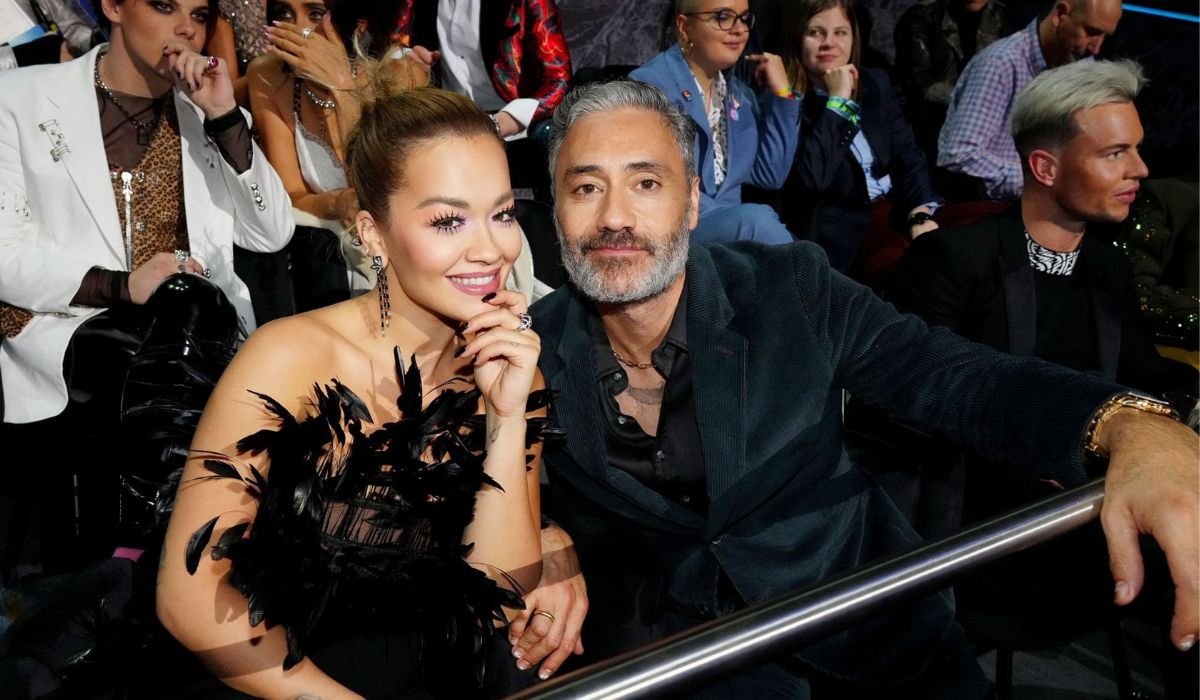 It was recently that their wedding rumor started to swirl around the internet when the two were spotted wearing the same matching gold wedding bands on their fingers. So when the hawk-eyed people spotted these rings, the social media platforms were crammed with their wedding rumors.
Before meeting Rita Ora Taika Waititi was married to Chelsea Winstanley in 2018. They have been married for seven years and decided to part ways albeit they share two children together. So in the meanwhile, Rita Ora had her share of relationships before she ended up with Taika and her recent relationship was with the filmmaker Romain Gavras.
Even if we try to trace the exact origin of their relationship, it would be in vain it was on Valentine's Day 2022, that the duo revealed that they have been seeing each other for the past four years. When the singer posted a beautiful picture of Taika hugging her and it was indeed a sensational photo on social media at that time.
On August 18, 2021, the singer celebrates Taika Waititi's forty-sixth birthday filled with many decorations and sweets, and it was a star-studded event with celebrities including, Ashley Benson, Rami Malek, Jodie Turner-Smith, Charli XCX, Paris Jackson, and Kristen Stewart.
After this, the pair appeared in several great grand events, and each time they appeared their fans were so thrilled to bits to see the happy pair. On February 14, 2022, Taika Waititi posted a Valentine's Day tribute to Rita Ora which was so overwhelming and beautiful. The duo appeared together in the Critics' Choice Awards on March 13, 2022, and it was in this event Taika Waititi won the award for best director in the International talent category.
July 5, 2022, in the premiere of Taika's important film Thor: Love and Thunder, the couple shared a beautiful kiss publicly and the pair was dazzling in the spotlight with their ardent love.
It was back on August 12, 2022, that Taika Waititi and Rita Ora's marriage was confirmed by a source. The resounding singer added that her relationship with Taika is indeed a fairytale and he was the prince charming of her life undoubtedly.
Also Check: Robert Redford Wife: All About Sibylle Szaggars Age, Net Worth And More
Shone Palmer
I've been writing about LGBTQ issues for more than a decade as a journalist and content writer. I write about things that you care about. LGBTQ+ issues and intersectional topics, such as harmful stories about gender, sexuality, and other identities on the margins of society, I also write about mental health, social justice, and other things. I identify as queer, I'm asexual, I have HIV, and I just became a parent.