Kim Kardashian Seen In SKIM Valentine's Day Lingerie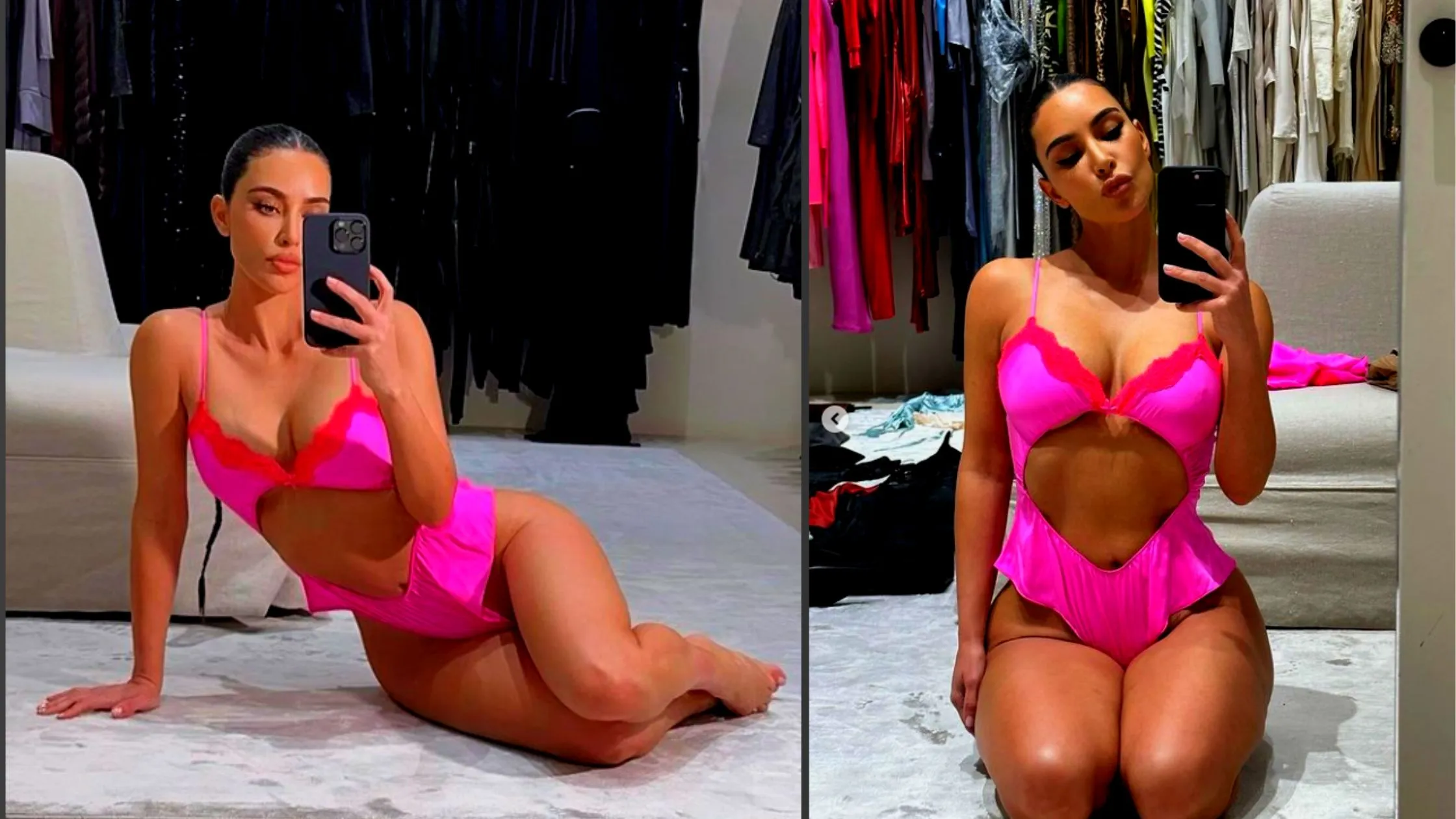 Kim Kardashian is back on the floor as she has posted a bewitching photo in lingerie and made her fans sweltering. The enrapturing reality star is no stranger to fashion and flaunting her sculpted body.
Recently she casually posted a hot pink underboob-baring cutout teddy from her shapewear brand's Valentine's Day shop, and loads of her fans were spellbound by this coruscating beauty icon's riveting look.  Let us dwell on and explore Kim Kardashian's new look in lingerie. 
Kim Kardashian Flaunts Her Sculpted Body In Pink Lingerie
The series of mirror selfies where the reality star flaunts her mesmerizing body in gleaming pink lingerie.
She captioned the post, "Shop @skims Valentine's Collection" and she posed on the floor where we could see her massive closet and she shared a trio of photos that flaunted her jaw-dropping figure. 
She posed in her signature pout face and wore the lace trim silk teddy lingerie as a way of announcing the latest collection of lingerie on the upcoming valentine's day. But most of her followers did not find the product much affordable and worth it because of its material.
Plenty of customers expressed their unimpressed reviews in the comment section and they considered this product as a 'tacky" design and most predominantly they were utterly disappointed by the "cheap" material. 
One person exclaimed that "Looks like something you would buy from Shein for $9". People flocked to the comment section to rave about their unimpressive to see this cheap material lingerie and when we scroll through the comments the disappointment is pretty explicit.
Plenty of people raved about how incredibly uncomfortable this lingerie is and they are wondering how Kim Kardashian could do this sort of promotion.
There is no doubt that Kim Kardashian is indeed a drop-dead gorgeous sexy and attractive reality star and her sculpted physical stature is way too bewitching.
ut this new lingerie specially made for this valentine's day really made her beauty fade as it garnered inexplicable negative remarks. 
One person in the comment section stated how flop the Skims Valentine's day looks are by referring to its previous year's outfits. And added that this sort of lingerie is literally embarrassing and it is not at all worthy enough to try it.
The highly influential and prolific socialite and mother of four shared three riveting photos in this lingerie where she posed a photo on her knees, and the last she made her signature lips pouted, kissy face. A bunch of her fans were really exultant to see her in this spicy look, but the lingerie that she chose really had a bad impression on her exquisite looks. 
This fluorescent pink color radiated her tanned skin and made her even more gleaming and appealing and her beautiful abs looked taut and perfectly chiseled. So many of the fans became profoundly unimpressed because of this new appearance.
Recently, Kim Kardashian's younger sibling Kendall Jenner also shared some of her steamy pictures in new lingerie on her Instagram story. Moreover, Kim's other sister Khloe Kardashian also shared some snaps in the same way, a bunch of fans deeply found their Skims garments totally unimpressed.
In addition to these unimpressed fans, many customers were also deeply dissatisfied with Skims products. They raved about the company's repugnant "no refund policy" and very inexpensive clothes.
Moreover, many of the products in the company were ripped items and many of the customers have exclaimed about this inefficiency of Skim products. 
One of the customers back in 2022 reviewed that: "Bought a bodysuit for over $60 for my daughter in April. She opened it at the end of July or early August for her birthday.
She wore it three times and never washed it and the fabric ripped heavily. They refuse to refund their faulty product. Should not spend 60 plus for something you can only wear three times". 
The company responded with lame excuses that the alleged customer was outside of the return time frame and also the particular item was used. Amidst these lame excuses, plenty of customers were inexplicably dissatisfied with the products and the company's policy.
>Related: Kim Kardashian Flaunts Her Curves In A Little White Bikini 
How Did Kim Kardashian Become Famous?
As we all know, the most sophisticated American socialite was unknown until 2007, but suddenly her name was crammed all over the internet when her sex tape with then-boyfriend Ray J was leaked. 
This attention made the Kardashian family land in a reality television show and garnered a bunch of fans across the globe. She was thriving hard to make her career steep, and as a kind of a blessing in disguise, the name Kim Kardashian started to reverberate in the nook and corner of the world when the sex tape was leaked.
The astounding businesswoman, media personality, and socialite were born on October 21, 1980. Kim Kardashian's personal life is also a massive topic of discussion as it was a public rollercoaster of issues.
She married the rapper Kanye West and has four children including, North West, Chicago West, Psalm West, and Saint West. As of 2023, the net worth of this enigmatic personality is around 170 crores USD. 
Kim Kardashian and her family appeared in the television series Keeping Up With The Kardashians. Later she was very much active on her social media and thus enhanced her exposure.
Apart from these shows, she is an actress also. Kim Kardashian has acted in some movies including Disaster Movie, Deep in the Valley, and Temptation: Confessions of a Marriage Counselor.