Kendall Jenner Ditches Her Lingerie In Her Latest Instagram Post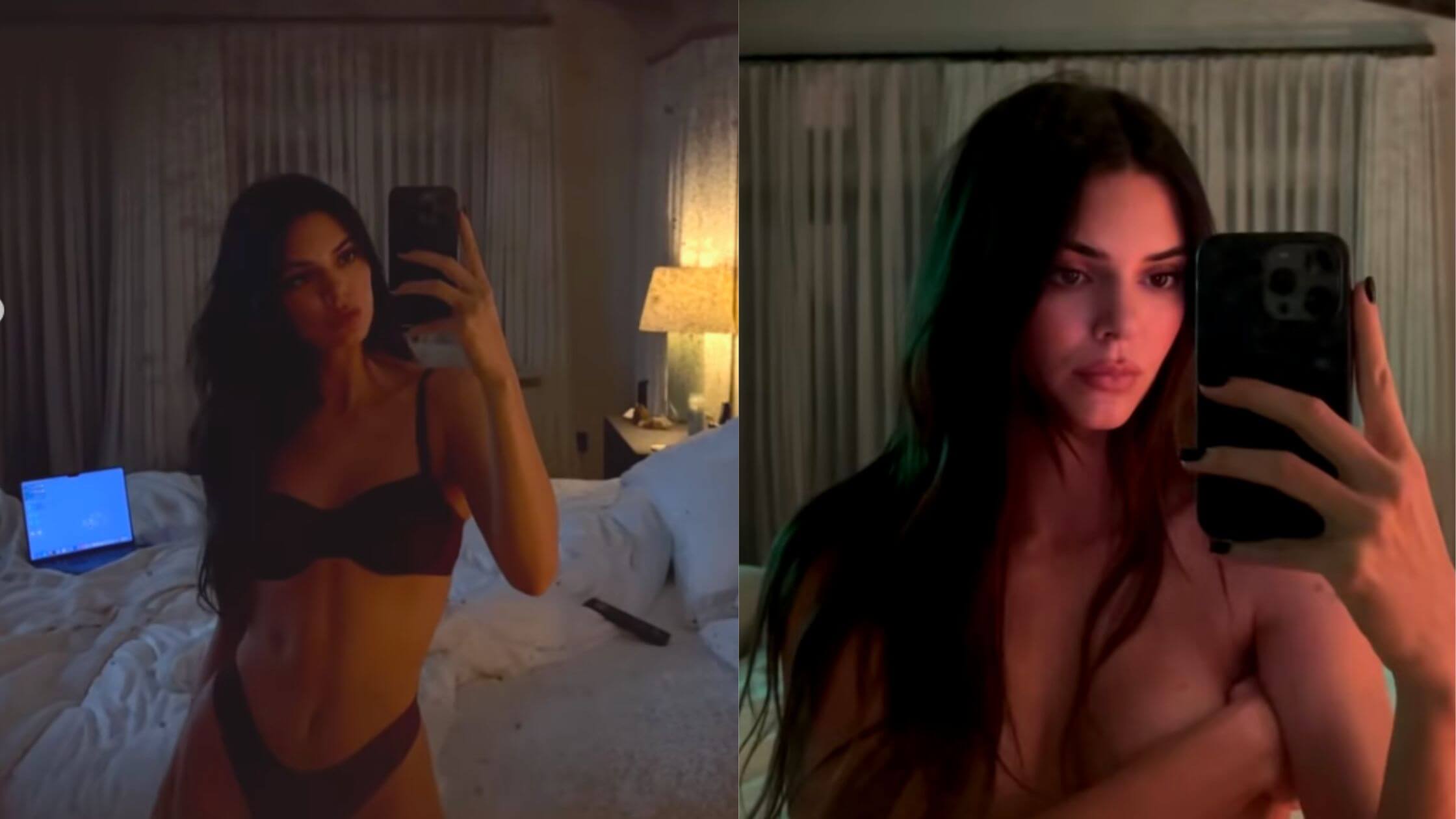 As we all are aware, the Jenner family's unique attention-seeking behavior in their efforts to delight ‌fans with their glamorous beauty is incomparable. Recently, the internet was hit by a tsunami when Kendall Jenner decided to go topless on her Instagram, with several sensual and eye-catching photos and videos.
On Tuesday, Kendall uploaded a series of videos of her self-posing and showing off her model figure to her 267 million followers.
Kendall Jenner's Mesmerizing Videos That Blow Your Mind
In the first clip, she was seen wearing a set of lingerie that matched her raven-colored hair, while humming a mysterious song that is inaudible and tucking her hair away from her face, behind the ears to reveal her shiny earrings which seem to be Diamond.
In the second video clip, she was filming herself in front of a mirror, while her bedroom and unmade-fluffy bed can be seen reflecting. She was wearing the same set of lingeries and tossing her hair out while moving her glutes slightly to the right, revealing her curved modeled framework.
In the third clip, things escalated rapidly as she got rid of her strapped bra. The viewers could see her posing in the mirror holding her phone with one hand and covering her breasts with another, while she twiddled her hair to uncover her shiny earrings.
In the final video clip of the post, she was back with her top revealing her flawless figure while tossing her hair out and adjusting the matching underwear. In the final post, she uploaded ‌a blurry picture of herself while the frame-adjusting icon can be seen popping out on the screen.
Floods of comments and likes were pondered over the post, as her sisters Kim Kardashian commented "Actually perfect" while Kylie Jenner posted "Perfection", following Kendall's "gnight" caption in the post. Khloe Kardashian didn't hold back as she called out, "Sexy m*** f****" in the comments.
She received lots of praise from fans and her close friends for her as they poured love on her in the comments section. Meanwhile, some of the fans were discussing Kendal's ex-boyfriend, NBA star, Devin Booker.
One person asked "How did Devin booker choke this relationship?" while another replied, "Dbook fumbled the bag". However, reports suggest that the couple decided to split over their struggle to overcome their busy and tight work schedules.
Meanwhile, her other ex-boyfriend, the famous basketball star Ben Simmons seems to be moving on from his break as he began dating the 33-year-old actress Eiza Gonzalez. The couple had been earlier spotted leaving a sushi restaurant together.
The witnesses believe that they were accompanied by friends as well; they are quite confident that both the couple were also seen together.
It is believed that the couple has been dating for "a few months" and the duo has been trying to keep a low profile ever since then.
Moreover, the couple has been seeing for only the past few weeks, and the sparks between the duo might light brighter as they spend quality time together.
>Related: Ben Simmons And Eiza Gonzalez's Relationship Rumors: Kendall Jenner's Ex Back With New Relation
Kendall has been widely active on social media, as she allows her fans to sneak peek into glimpses of her social and personal life. She often shares her routines on how she handles her anxiety, which include journaling, taking deep breaths, and exposing herself to sunlight.
She is also very fond of sound healing, which is a practice that allows using of different frequencies and vibrations to harmonize the brain and improve physical and mental health. In addition to this, she is highly sensitive about her health as she workouts to maintain her health.
Regarding her struggles with anxiety, she revealed in her Instagram post "My anxiety has been on 100 lately. I've come to a place where I don't feel bad about it. She continued that "I am finding ways to help me, start my day off with a calmer, more positive mindset. That being said, I wanted to just spread my good vibes.
Shone Palmer
I've been writing about LGBTQ issues for more than a decade as a journalist and content writer. I write about things that you care about. LGBTQ+ issues and intersectional topics, such as harmful stories about gender, sexuality, and other identities on the margins of society, I also write about mental health, social justice, and other things. I identify as queer, I'm asexual, I have HIV, and I just became a parent.