Heidi Klum Shared Nud* Intimate Photos of Herself & Husband Tom Kaulitz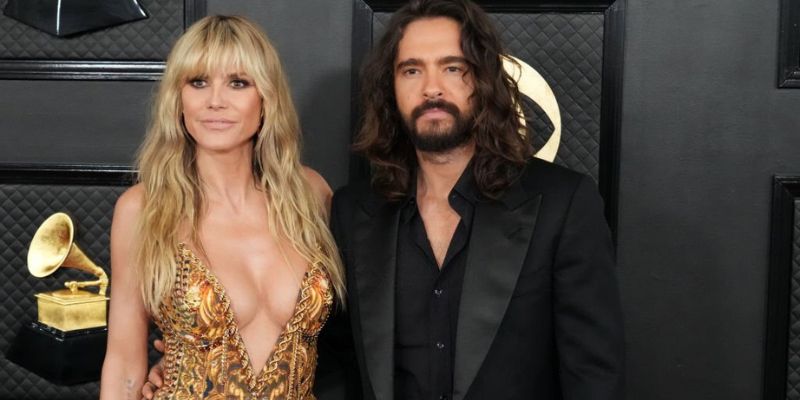 Heidi Klum has never been one to avoid showing some skin, and her most recent picture to Instagram is not an exception to this rule. The supermodel celebrated the fourth anniversary of her marriage to Tom Kaulitz by posting a series of highly personal photographs of the couple on her Instagram account, which caused her followers to be awestruck.
The Instagram post includes a carousel of photographs and video clips, the first of which depicts the couple making out in bed. Other images and video clips in the post include: We are left wondering who is filming at this point because the camera is so near to their faces as they are closing their eyes, which raises the question of why this is happening.
The other photograph that sheds light is located towards the very end of the slideshow. A room full of heart-shaped balloons is created around the couple as they embrace one another in a passionate kiss while they are completely nak*d and surrounded by the balloons. With the message "Love of my life," Klum managed to convey the intensity of her feelings.
The photographs are evidence of the couple's profound love for one another, and Klum is overjoyed to participate in their happiness as they commemorate the passage of another year together. In spite of the fact that they are separated by 17 years in age, the judge on America's Got Talent is convinced that they are meant to be together and doesn't give it any thought.
"As of late, I've been getting more frequent reminders of my age from individuals other than myself… People are curious and asking a lot of questions regarding the fact that my boyfriend is a significant number of years younger than I am. "That's basically the only moment when age appears to be thrust in my face and I have to offer an answer for it," she said regarding the age difference before they were even engaged in an interview with InStyle. "If I'm being honest, I don't really give it much thought otherwise.
While worrying will only cause you to age more quickly, you shouldn't spend too much time stressing about what other people think; instead, you should focus on living a joyful life.
The public display of affection shared by the pair has elicited a range of responses from their supporters as well as their detractors. Others have condemned the photographs as being inappropriate and needless, while others have applauded the pair for their love and openness in sharing their relationship. It is essential to keep in mind, however, that Klum and Kaulitz are both consenting adults who are able to show their love in whatever way that they feel is appropriate for them.
Also Read Heidi Klum's Optical Illusion Dress In Avatar 2 premiere: Like Moving Water
In addition, Klum has been an outspoken supporter of the body positivity movement and has persistently pushed back against the beauty standards of the fashion business. Her candidness regarding nudity is a manifestation of her conviction that people of all sizes and shapes should feel at ease in their own skin. She is of the opinion that this should be the case. Not only does Klum use this opportunity to celebrate her love for her spouse, but she also uses it to send a strong message about the importance of being comfortable in one's own skin.