How Long Does Binance Advanced Verification Take? The Steps To Verify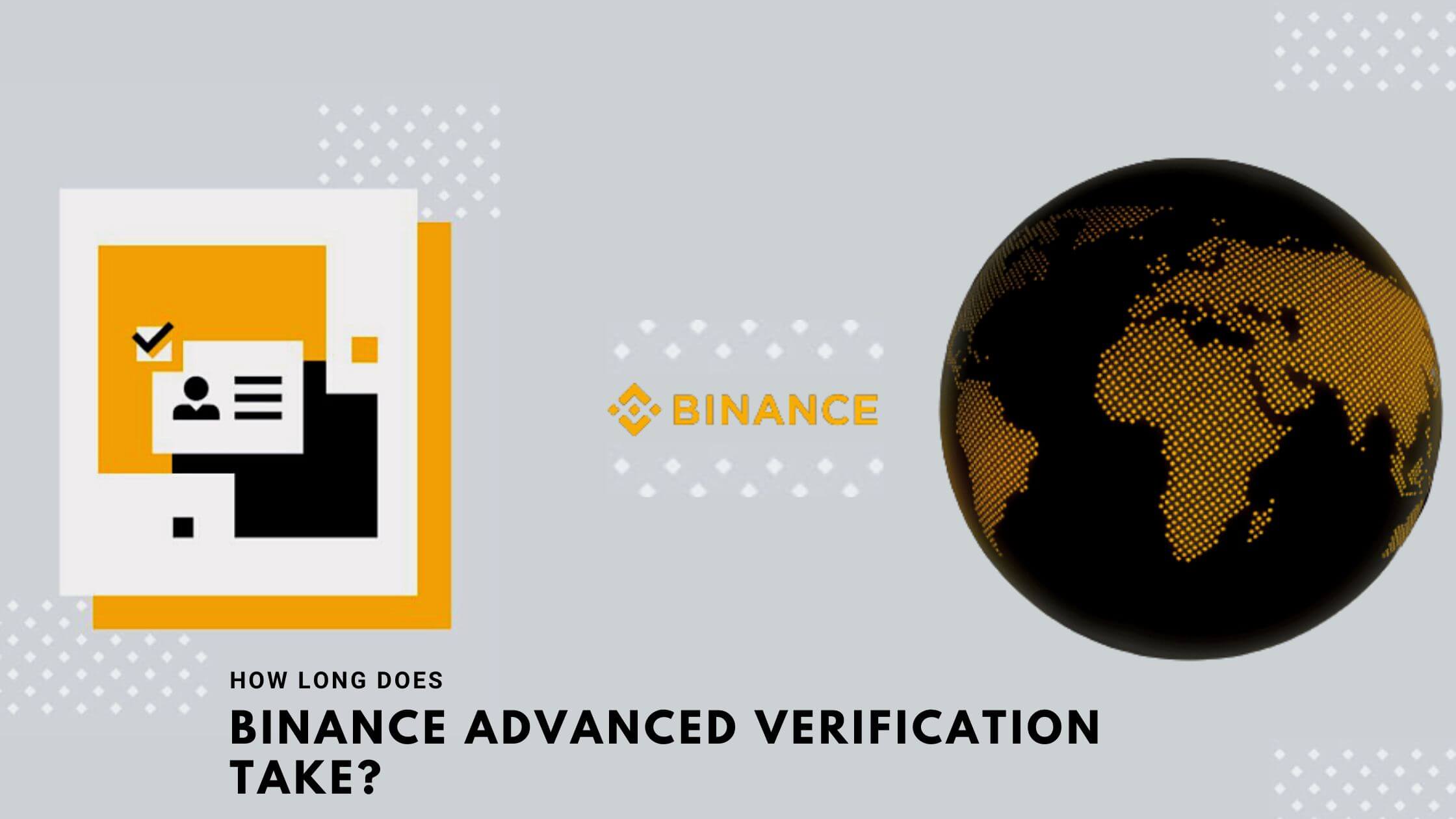 Binance is the largest crypto exchange with millions of users worldwide. With the increase in the user base emerges questions related to the account opening.
Binance follows a certain process to allow people to open an account with them. One of the most recently asked questions is related to the time taken for the Binance advance verification.
Read this article till the end to know all the relevant details related to this prominent question.
What Is Binance Verification?
Binance is a centralized exchange that operates in different parts of the world. As this exchange is registered as a company, government officials demand a certain verification process for the Binance users. The reason behind this is to avoid illegal activities using cryptocurrencies.
One of the main objectives of such a verification process is to restrict activities related to money laundering. To effectively follow this, the government has made knowing your customer(KYC) mandatory for crypto exchanges.
Once the users complete the KYC and other identity verification, the government need not worry about the chances of misuse of crypto and its technology. The verification process varies according to the person's country. We'll discuss the documents required later in this article.
Binance has set a proper verification process that will provide the government-required data of the user. Also, users' data is protected, which helps them trade more conveniently.
Now let's get into the steps you can follow to complete the Binance advanced verification process.
Steps to Complete Binace Advanced Verification
You can follow the steps below to complete your Binance account verification.
Step 1
Go to the official website of the Binance exchange. Then sign in using your user credentials. New to Binance? Don't worry; you can create a free account with Binance in a few simple steps.
Once you log in to the Binance platform, select the "User Center" that can be found between the 'notification icon' and 'Orders.' Once you click the user center, a list will expand on your screen. From that list, select "Identification."
The identification section consists of three levels of verifications: basic, intermediate, and advanced. Your basic verification is completed while creating the account using your mobile number and email verification. Before getting to advanced verification, it's mandatory to complete the intermediate verification process.
Read More: How To Add A Polygon To Metamask? Step-By-Step Guide
Step 2
The second step involves the verification of personal details. You cannot go through the advanced verification process without completing this verification. Next, click "Verify."
Then you need to choose your country of residence. You can select your country from the list of countries provided. This part is very important as the policies change based on government regulations. Binance US or Binance America provides services to the citizens of the USA.
Now you need to fill in all your basic personal information. Once you complete filling in your details, you must submit your government-issued IDs. You can use these IDs for verification purposes. You must also submit your bank statements and a government-verified document with your address proof.
At last, you need to complete a face verification using your mobile or web camera.
Your intermediate verification is completed. Now let's check the advanced verification process.
Step 3
Now you need to choose an ID issued by government officials. The ID can be your driver's license, national ID card, or international passport. You can choose any of these to proceed further.
Once you choose an ID, you must upload a photo of the selected document. It is mandatory to submit both sides of the selected document. You can use the format to submit the documents, including PNG, JPEG, and PNG. Also, note to keep the file size below 5 MB.
Step 4
In this step, you need to upload your profile picture. The photo format and size are similar, as mentioned in the third step. Finally, you need to complete your facial verification. During facial verification, it is advised to avoid wearing glasses and hats.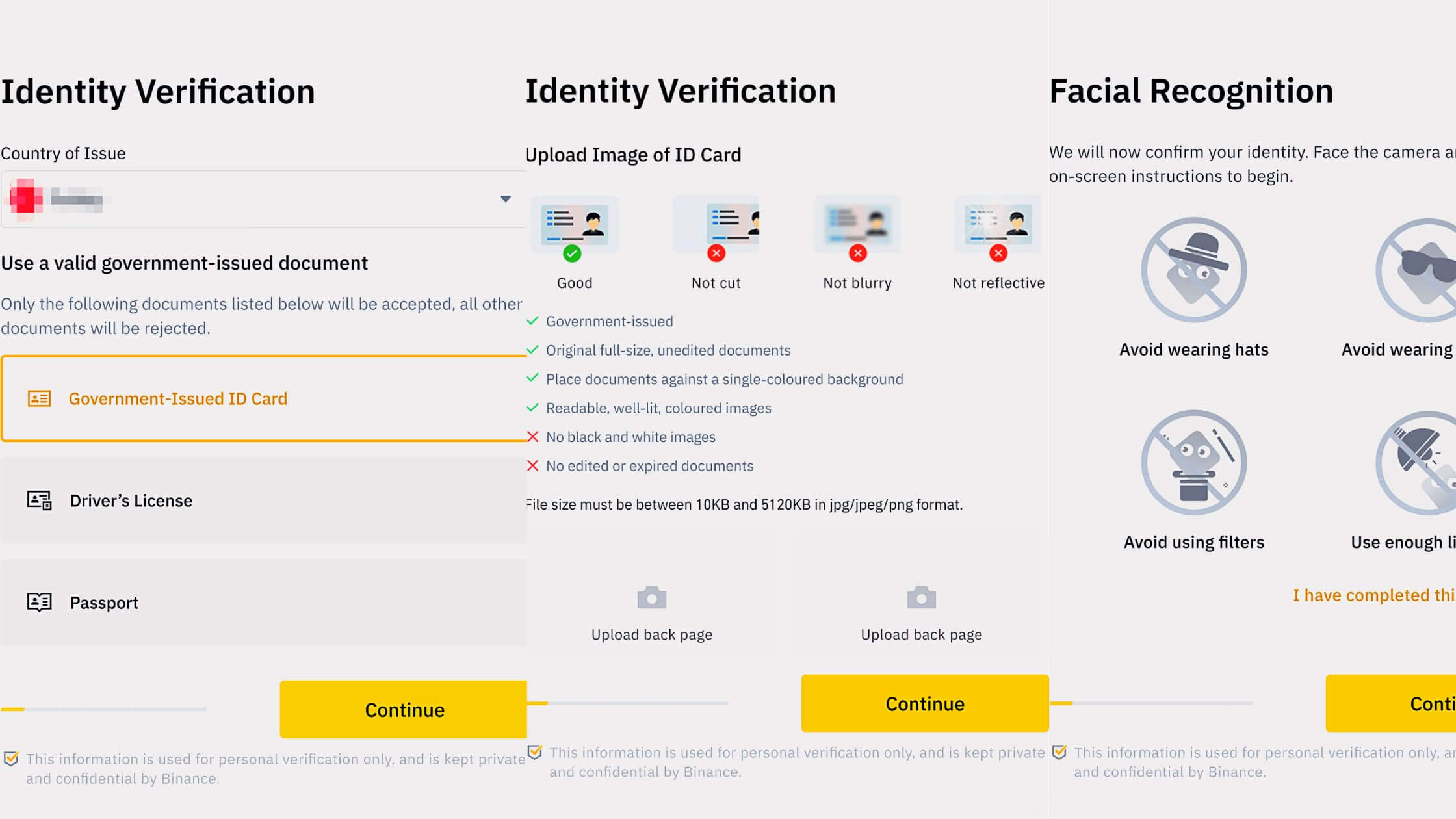 Once the facial verification and documents are submitted, Binance will take three business days to send the verification result. You'll receive your result at your registered email address.
Step 5
When you receive a positive verification result, you can go again to the personal verification page to complete the process. Now, click "Verify Now," which can be found below the 'Advanced' section.
Provide your complete residential address in the dialogue box provided. Ensure to enter the address details as mentioned in your official document. Then, upload a document that mentions your address. Here, you can use utility bills or bank statements.
At last, click "Confirm." Binance will take up to 10 business days to verify your documents.
As you now understand, the process involved in the Binance advanced verification. It will hardly take 10 to 15 minutes to complete if you have all the necessary documents.
Why is it important to verify on Binance?
Completing the verification process helps Binance to provide the government with trading details to prevent illegal activities such as money laundering. Moreover, the verification process helps you to gain an extra protection layer. This protective layer will help to add more security to your account.
The purchase and withdrawal limit on the Binance platform also increases upon completing the verification. Let's take a look at it.
The basic, intermediate, and Advanced verification processes help unlock new Binance features.
Suppose you complete only the basic verification using your mobile number and email ID. In that case, you can only buy $300 worth of cryptos. Moreover, your withdrawal limit also stays at $300. In addition, you can only withdraw a maximum of 2 BTC daily.
If you complete the advanced Binance verification, you can buy and sell cryptos worth $200K daily. Moreover, your monthly deposit and withdrawal limit increase to $2 million. In addition, your crypto daily withdrawal limit increases from 2 BTC to 100 BTC.
So, take some time and complete your advanced Binance verification to enjoy the maximum benefit from the Binance exchange.
Conclusion
You can follow the simple steps mentioned in this article to complete Binance's advanced verification process. It will take a maximum of 15 minutes to complete all these processes.
Apart from getting verified, advanced verification also offers premium features of Binance.
Harry Aston
Harry Aston is a technology writer with a Master's in Computer Science from MIT. He has over 5 years experience simplifying complex tech topics like AI. His writing makes emerging technologies accessible for mainstream readers. Harry aims to educate people on AI's potential to improve society.