Missouri football star could be first openly gay NFL player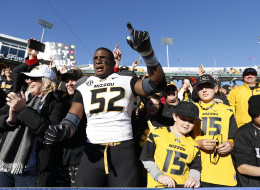 Former Missouri defensive lineman Michael Sam, named a first-team All-American after the 2013 season, has publicly come out as gay. The college football standout is eligible for the 2014 NFL Draft and is poised to become the first active openly gay player in the league's history. He spoke publicly about his sexuality for the first time to The New York Times and ESPN on Sunday.
"I am an openly, proud gay man," Sam told ESPN.
The 24-year-old from Hitchcock, Texas revealed to both outlets that he had come out to his teammates during a preseason football practice before the Tigers' 2013 campaign.
"I understand how big this is," Sam told ESPN. "It's a big deal. No one has done this before. And it's kind of a nervous process, but I know what I want to be … I want to be a football player in the NFL."
A 6-foot-2, 255-pound senior who was voted co-defensive player of the year in the vaunted Southeastern Conference for the 2013 season, Sam made his announcement just two weeks before the NFL Scouting Combine begins on Feb. 22 in Indianapolis.
"We admire Michael Sam's honesty & courage," the NFL said in a statement released on Sunday, via Ian Rapoport of NFL.com. "Michael is a football player. Any player with ability and determination can succeed in NFL."
Sam recounted for The New York Times the moment when he came out to his teammates during a team-building exercise at preseason practice last year.
"I looked in their eyes, and they just started shaking their heads — like, finally, he came out," Sam said.
After coming out to his teammates and coaches during the preseason, Sam starred on the field as the Missouri rolled to a 12-2 record and a 41-31 win in the Cotton Bowl. Given the type of year that Sam had, he was rated as the 12th-best outside pass rusher available in the upcoming NFL draft by ESPN Scouts Inc. and projected to be a mid-round selection. With the NFL's readiness for its first active openly gay player an open question, Sam's draft position will be watched closely in May. Several unnamed NFL personnel members interviewed by Sports Illustrated after Sam's announcement believed that coming out would adversely affect his draft stock.
"I don't think football is ready for [an openly gay player] just yet," an anonymous NFL player personnel assistant said, reported Pete Thamel and Thayer Evans of Sports Illustrated. "In the coming decade or two, it's going to be acceptable, but at this point in time it's still a man's-man game. To call somebody a [gay slur] is still so commonplace. It'd chemically imbalance an NFL locker room and meeting room."
The general manager of one NFL team told Peter King of Sports Illustrated that he believed Sam would not even be drafted after coming out. Meanwhile, GLAAD President Sarah Kate Ellis contended that the leadership displayed by Sam should make teams eager to have him on the roster.
"By rewriting the script for countless young athletes, Michael has demonstrated the leadership that, along with his impressive skills on the field, makes him a natural fit for the NFL," Ellis said in a statement. "With acceptance of LGBT people rising across our coasts — in our schools, churches, and workplaces — it's clear that America is ready for an openly gay football star."
Should any NFL executives or coaches with questions turn to Missouri head football coach Gary Pinkel for answers then they will likely hear about Sam's desire to keep the focus on football and the example he set for this teammates.
"We're really happy for Michael that he's made the decision to announce this, and we're proud of him and how he represents Mizzou," Pinkel said in a statement. "Michael is a great example of just how important it is to be respectful of others, he's taught a lot of people here first-hand that it doesn't matter what your background is, or your personal orientation, we're all on the same team and we all support each other. If Michael doesn't have the support of his teammates like he did this past year, I don't think there's any way he has the type of season he put together."
One of Sam's former teammates at Missouri, Trey Hobson, was also among those expressing support for him on Twitter.
Shout out to my former Teammate Michael Sam. Though its old news to us its a Great move by a great guy. Wish u much success in the future!

— Trey Hobson™ (@TreyHob21) February 10, 2014
Never cared if Michael was gay… As long as he put that pass rush on the QB and made my job easier i didnt give a damn…

— Trey Hobson™ (@TreyHob21) February 10, 2014
Sam had been planning on coming out publicly before the NFL Draft but he had initially intended for the news to break after the NFL Combine, according to Outsports' behind-the-scenes look at the announcement. His plans were accelerated after unnamed scouts at the Senior Bowl in January were asking about his sexuality.
"At the Senior Bowl, it was the first question I got from the scouts almost every time," one of Sam's agents, Joe Barkett, told Outsports. "He didn't feel there was an agenda behind the question other than trying to determine if the word on the Internet was true. "They would ask about spending time with him, were there girls around? Who is his girlfriend? They didn't ask that about another client, Tom Hornsey. They only asked it about Michael."
Wanting to come out on his own terms, Sam altered his initial timetable, eventually speaking with ESPN and The New York Times on Sunday. After the news broke, Sam took to Twitter to thanks those who helped him in coming out.
I want to thank everybody for their support and encouragement,especially @espn, @nytimes and @nfl. I am proud to tell my story to the world!

— Michael Sam (@MikeSamFootball) February 10, 2014
While Sam was thankful for the support he received, Athlete Ally Youth Programs Director Akil Patterson was among those noting the impact that this pioneering decision could have on others.
"Having played Division I football as a closeted gay man, I recognize the game-changing potential here for athletes everywhere, " Patterson, a former standout offensive lineman at the University of Maryland, said in a statement. "If Michael Sam can navigate this transition into the NFL as an out man of color, it will open doors for young people everywhere, particularly in football. More athletes will feel comfortable being true to themselves at a younger age and that will translate into better performance on the field and in the classroom. I think we have the capacity to go from one trailblazer to a large community of players within a surprisingly short period of time."
Although several former NFL players have come out after retiring and it was widely presumed that there are currently gay players in the league, there has never been an openly gay player. In April 2013, veteran NBA center Jason Collins came out with a first-person piece in Sports Illustrated. The 35-year-old was entering free agency and did not find a new team for the 2013-2014 season. A month later, former U.S. national soccer team player Robbie Rogers became the first active openly gay player in a major professional North American team sport when he stepped onto the field for the L.A. Galaxy of the MLS.
(Editor's note: This post originally appeared on SDGLN media partner HuffPost Gay Voices.)