Best Gay Bars In San Francisco – Top 10 Places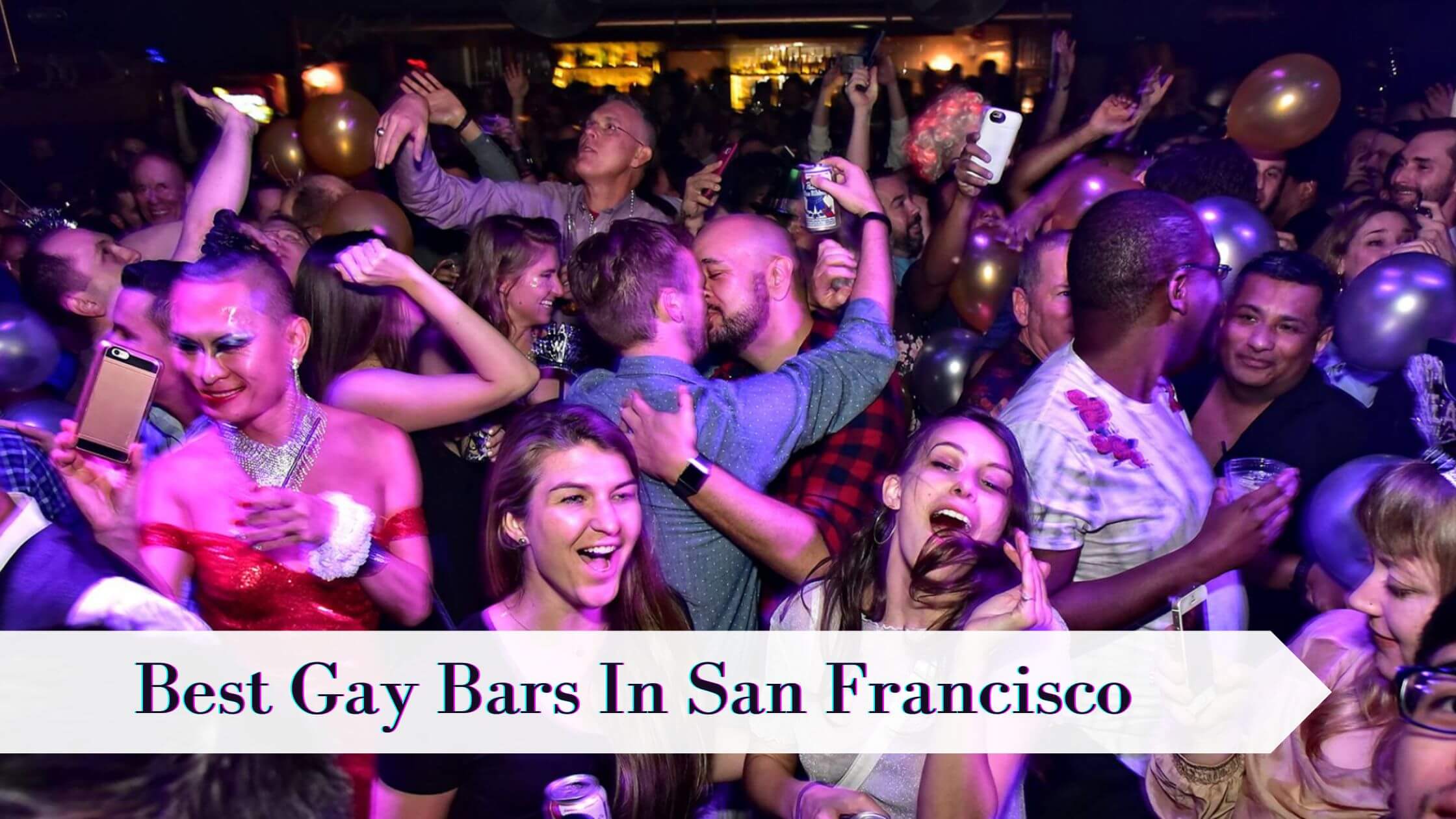 San Francisco is a gay-friendly metropolitan city in the United States and is home to the largest gay community in the state. The city has its importance in the history of American LGBTQ rights and activism alongside New York City.
The 10 Best Gay Bars In San Francisco – 2022 Guide!
And it also has many nicknames and is called the gay capital of the world. Not only this, but the LGBT culture is also active within companies that are in Silicon Valley, located within the southern San Francisco Bay Area.
It is not only famous for the history of the gay community, but it is also the house of famous gay bars. These bars draw a large number of tourists every year.
If you are in search of some of the best gay bars in San Francisco then you are on the right page as we have listed out the best ten gay bars on the streets of San Francisco.
Where Do Gay Guys Hang Out In San Francisco? Top 10 Gay Bars
SF Eagle
The Cinch
Oasis
440 Castro
Aunt Charlie's Lounge
Hi-tops
El Rio
Lone Star Saloon
Last Call Bar
Twin Peaks Tavern
1. SF Eagle
SF Eagle bar opened as a gay bar, but gradually became an attraction for legendary bikers. The bar in the center of the LGBT Cultural District is a civic treasure.
It is mostly visited by tough daddies on Sunday afternoons for Sunday beer busts- the great beer busts of the area. There are also punk shows and karaoke nights on random weeknights where everyone is seen from leather-clad bears to tiny twinks to party-hardy gays.
On Thursday nights, there are performances of Live music for quiet people and there are wild unexpected parties on Friday and Saturday nights for party animals featuring lube wrestling to gaymer nights.
Sunday to Thursday- Noon to Midnight
Friday and Saturday- Noon to 2 a.m.
Yes, you are right. The bar stays open throughout the week.
398 12th street, San Francisco, CA, 94103.
There is a weekly benefit available in the club, giving you barbecue and Miller Lite in the company of muscle daddies for just $15.
Apart from it, there are no other special deals on its website, but you can sign up for the SF Eagle newsletter, and get notified of special events, weekly shows, and performances by visiting thesfeagle.com.
mail: [email protected]
Instagram: sfeagle
There is no Facebook or Twitter account available for SF Eagles.
2. The Cinch
The Cinch, a perfect place to bring old gay friends and make new ones, has a grand gay history in the city.
The Cinch is the only gay bar standing on Polk Street back in the 60s and 70s, making it the second oldest bar in San Francisco.
It is the last remnant of San Francisco's forgotten gayborhood. It still remembers its Old Guard roots but is no longer restricted to leather daddies.
If you want to watch a popular San Francisco 49ers game then the Cinch is the perfect destination for you. And if you are a party lover, then you would love to visit this bar on the weekends.
Open Everyday: 6 am to 2 am
Street Address 1723 Polk St San Francisco, CA 94109
On Wednesday, there is a Trailer Trash Special deal in the bar which gives you $5 PBR with a shot of good whiskey, free pool, and free popcorn.
Facebook: The Cinch with 2.4k followers
Instagram: @thecinchsaloon
Mail: [email protected]
3. Oasis
Oasis is a club and a cabaret theater opened in a former gay bathhouse in 2015 by SF drag legends Heklina and D'Arcy Drollinger. It is one of the best nightclubs for queers and gays in San Francisco.
And its name truly carries weight with the varieties of dance parties, comedy, and live theater, making its programming incredibly versatile.
The 8,000 sq. foot club has popular interpretations of classic TV shows like Sex and the City, The Golden Girls, and Buffy the Vampire Slayer.
On Saturday, the comic electric shows everything from Disney princesses to pop stars. This bar lures high-profile acts with affordable covers that might not have come to these streets if there would be no Oasis.
Thursday: 6 p.m. to 12 a.m.
Friday and Saturday: 6 p.m. to 3 a.m.
298, 11th St. San Francisco, CA, United States
There is a promise of an unforgettable night, but no special deals available on the website of the bar. However, you can keep checking for future deals on its website.
Instagram: @theoasissf
Twitter: @sfoasis
Facebook: SF Oasis
4. 440 Castro
The 440 Castro first opened as Bear Hollow in 1979 and has the history behind its name.
After Bear Hollow, it simply came to be known as The Bear by 1985. Later the bartender-turned-owner Philip Turner named it Daddy's in 1996.
After the death of Philip, the bar was sold to business partners- Doug Murphy, Gordon Boe, and Mark Wilson renamed 440 Castro in 2005. The bar is cruisy, cheap, and dark, where men have zero privacy.
There is a special event – Underwear Night held on every Monday from 9 pm to 2 am. This infamous party is about the clothes check and special drinks with a motto come on down and show off what you have got.
Everyday: 12 p.m. to 2 a.m.
440 Castro Street, San Francisco, CA, United States
We have three days for your special deals
First is on Tuesdays- grab any of your favorite beers for just 3 bucks. Yes, you read it right, only for $3.
On Wednesdays, they provide you with an offer of buying any cocktail and receiving a wooden nickel good for your second drink.
On Fridays from 4 pm to 9 pm, there is a special for the 2-for-1 Wooden Nickel returns. You can buy your favorite cocktails and get a Genuine 400 Wooden Nickel for your second drink.
The 440 Castro is not on Instagram or Twitter. Only have a Facebook account
Facebook: @440castrosf
5. Aunt Charlie's Lounge
Aunt Charlie's Lounge is one of the most lurid guys in the city with its long-standing drag shows on Friday and Saturday.
However, reservations are suggested for these events. On Tuesdays and Thursdays, there are events of DJs spin power-pop, retro homo bar classics, and others.
The location of the bar narrates the story of pre-liberation days of raids and hustlers, which you should go and see.
You can have any strong drink at cheap rates as this place is known for its cheap rates and dancing.
A special program is organized by the bar on Thursdays and in the pride month – Tubesteak is a cell phone free to maintain the bad old days of the discotheque.
You can enjoy this event beyond midnight in Aunt Charlie's Lounge which introduces young gays to the disco era's deepest cuts.
Monday to Friday: 12 p.m. to 2 a.m.
Saturday: 10 a.m. to 2 a.m.
Sunday 10 a.m. to 12 a.m.
133 Turk St., San Francisco, CA, United States.
There is no mention of any special deals in Aunt Charlie's Lounge on its website. However, you should visit their website and click on the ruby red shoes to see Hot Boxxx Girls' stuff. It is fun.
There is no social media account of Aunt Charlie Lounge Bar.
6. Hi-tops
The idea of opening an LGBT sports bar but here we have one- Hi-tops. The opening of Hi-Tops filled the gap in people they did not even know existed, and it became an instant classic for them.
The place is known for its sports, craft cocktails, full menu, and games.
You can expect tons of yelling, fist-pumping, and spilled drinks as it is a sports bar. This is not your usual quiet place, even if the Giants take a night off.
Monday – Wednesday: 12 pm – 12 am
Thursday – Friday: 12 pm – 2 am
Saturday: 11 am – 2am
Sunday: 11 am – 12 am
2247 Market Street
San Francisco, CA 94114
We are glad to inform you that free whiskey shots are distributed by boys in jockstraps on Thursday nights.
If you are visiting, then Thursday night is the favorable night as who does not like to grab a free whiskey shot? Right?
There are gift cards available, but no further information is there on the website. You can visit this place and ask the bartender about it. They would love to help you.
Instagram: @hitopssf
Twitter: @HiTopsSF
Facebook: @Hi Tops SF
7. El Rio
El Rio, a Leather Gay Bar that opened in 1978, is a must-go bar for the crowd. The bar proudly draws and welcomes all the colorful cross-sections of the city.
This is a place where you can unwind in any corner of it- then it can be the huge and inviting patio, shuffleboard and pool tables area, or the dance floor where karaoke kings, bands and DJs, and burlesque perform during the night.
In warmer months, you would love to join the dance parties, salsa, and bluegrass bands performing live, competitive bar games, and others.
There is a Sunday afternoon drag show- Daytime Realness, happening every third Sunday of the month. You might want to go and watch it once.
Wednesday and Thursday: 5 p.m. to 12 a.m.
FRIDAYS: 4 p.m. to 2 a.m.
SATURDAYS: 3 p.m. to 2 a.m.
SUNDAYS: 3 p.m. to 9 p.m.
3158 Mission Street, San Francisco 94110
There are no special deals available on the website of the bar. You can keep checking their website to find any in the future.
Mail: [email protected]
Instagram: @elriosf
Twitter: @elriosf
Facebook: @elriosf
8. Lone Star Saloon
The Lone Star Saloon opened in 1989 as a bar for old gay hippies, not at its current address but on the corner of Howard. Initially, they used to serve beer and wine.
After six months after its inauguration, the bar was struck by the Loma Prieta earthquake and this led to its opening at its current location at 1354 Harrison St.
The bar became and still is an attraction for big and bulky guys who were motorbikers. The Lone Star is a place that would either be overcrowded or have no person in the bar at all.
You can visit during those happy hours if you want a quiet and peaceful place. And if you want to meet the party crowd, then you are welcome at weekend parties.
Monday- Saturday: 4 p.m. to 2 a.m.
Sunday: 2 p.m. to 2 a.m.
1354 Harrison St, San Francisco, CA, United States, California
On Wednesdays, different cocktails available at the Civic Center Farmers Market are served. If not, then it is a beer-and-a-shot-dive.
Email: [email protected]
Instagram: @lonestarsf
Facebook: The Lone Star Saloon
Twitter: @lonestarsf
9. Last Call Bar
The Last Call Bar was opened in 1971 and has been working since then.
This place is best if you want to have some peaceful time near the blazing fireplace on foggy days with 80's favorite hit playing in the background. If you want that, then this place will keep you there until the last call rolls around.
It is a must-visit for peace lovers between 12 p.m. to 7 p.m. as they are the happy hours.
Open Daily – 12 pm – 2 am
3988 18th St. San Francisco, CA 94114
No special deals are available on the website of the bar.
Email: [email protected]
Instagram: @lastcallbarsf, @_nomchompsky
Twitter: @thelastcallsf
10. Twin Peaks Tavern
Twin Peaks Tavern was first built in 1883 as a saloon and cigar shop and later turned into a bar in 1935 after serving as a storefront for years.
The bar, called the gateways to the Castro, turned into a gay bar when two lesbians- Mary Ellen Cunha and Peggy Forster bought this property in 1971 and got the liquor license in 1972.
Now, it is a historic site, a national treasure, and the first gay bar to feature plate-glass windows.
It is so widely loved that the regular queues appear as early as 8 a.m. The bar is not cheap, and music might not always be playing inside.
Sitting at the table on the balcony is great, but there is unique fun in people watching and observing the nearby Muni entrance at rush hours from the table near the Twin Peaks's window.
Monday – Wednesday: 12 P.M. to 2 A.M.
Thursday – Saturday: 8 A.M. to 2 A.M.
Sunday: 10 A.M. to 2 A.M.
401 Castro St., San Francisco, CA, United States
No information about the special deals is available on the website of bar.
Email: [email protected]
There is no mention of any social media account on the website of the Twin Peaks Tavern.
Conclusion: What You Should Know Before Going To A Gay Bar
At the end of this page, you are fully aware of some of the best gay bars in San Francisco.
You can visit them as per their timings and have some fun as life is not only about work but also about enjoying it.
And who knows you might find your soulmate there and have a historical gay bar love story that would last for a lifetime.
You can also find some of your future friends and best friends there and all it takes is to dress up as your personality and dive into the crowds of the gay bar.
Also Read – Best Gay Bars In Las Vegas – 9 Best LGBTQ-Friendly Bars & Clubs!
Shone Palmer
I've been writing about LGBTQ issues for more than a decade as a journalist and content writer. I write about things that you care about. LGBTQ+ issues and intersectional topics, such as harmful stories about gender, sexuality, and other identities on the margins of society, I also write about mental health, social justice, and other things. I identify as queer, I'm asexual, I have HIV, and I just became a parent.