6 Best Gay Dating Sites & Apps For LGBTQ+ In 2022!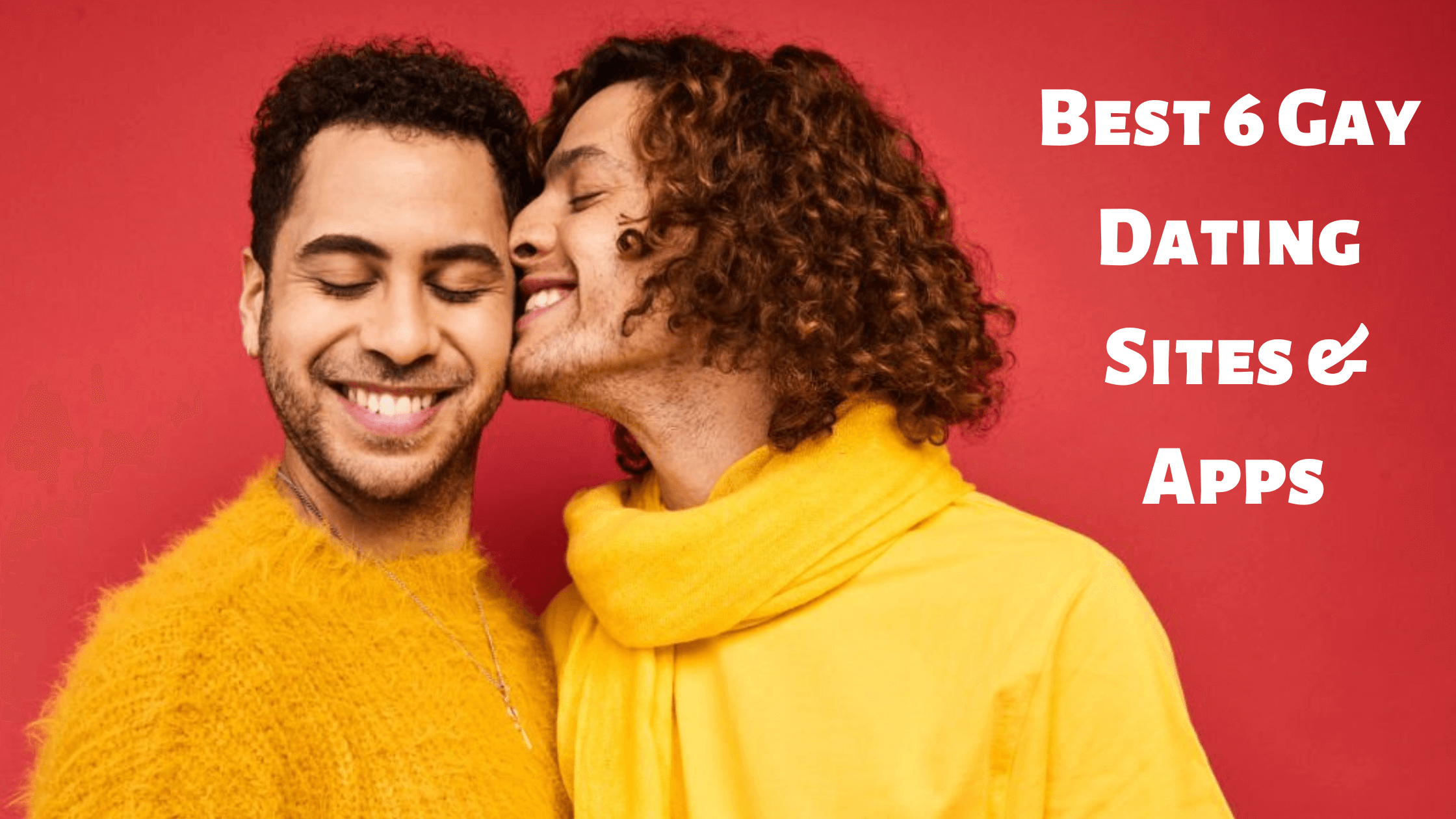 This article is intended to list the best gay dating sites and apps operating in 2022. These sites or communities will make it easier for you to meet LGBTQ+ people. All of these platforms have become very popular in recent years.
The success behind these platforms is the advanced technology driving to forming of bonds between people of similar interests.
Top 6 LGBTQ+ Dating Sites And Apps In 2022!
When you start using any of these best gay dating sites and apps for finding a suitable partner, you will have many options.
Many gay dating sites and apps also incorporate the facility of video chat which is a great way to check if you can develop chemistry and match with other people. Plenty of these sites and apps are reasonably priced, whereas some are absolutely free.
Let us know more about the best gay dating sites and apps that are popular in the present times.
List Of 6 Best Gay Dating Sites & Apps
1. OkCupid: One of the most used dating sites for people of all sexual orientations
OkCupid offers twenty different orientation options and 22 gender options for the members. This great dating app is equally suitable for gays, lesbians, Trans, bisexuals & pansexuals. This platform has been rebranded recently, and the company is more focused on advertising and spreading the word that this platform is now all-inclusive. Thus, this is perfect for both straight and cis people.
Pros:
This platform is suitable for every gender and people with all sexual orientations.
This app is very user-friendly.
This platform has a huge user base. So, you will have a lot of choices.
Cons:
You may find a few straight folks using this platform.
2. HER: A perfect dating app for queer and lesbian women
One of the new and very successful dating apps for queer women is HER. This online platform is available to use without any cost and can be downloaded from Google Play and Apple App Store. This is a strong platform for queer women to find like-minded friends and dates.
Using your Instagram or Facebook account, you can usually sign up on this app. You can easily go through the several profiles & find partners of your choice in your area. This app is a place for coordinating and finding queer events like meetups and parties.
User profiles show your names, photos, physical attributes and sexual preferences. This is much like the Tinder app. Once you like a person, you can chat with them in the messaging component of the app.
Besides creating a dating profile, you can post information about your daily life and likes and dislikes. One of the unique features of this app is the indication of "relationship mode", where you can indicate whether you are looking for a date or friendship.
There are also a few paid features that you can opt for after you download the app. Overall, HER is a safe online dating platform for queer women where they can connect for various purposes.
Pros:
This app is a dedicated platform for queer women.
This app has friendship and matching requests.
This app also functions similarly to feed on social media.
Cons:
You can log into this platform using only your social media account.
You need to pay to use the premium features.
3. Grindr – A trusted and one of the best dating apps for queer and gay men
Grindr is considered to be one of the most popular and trusted apps for the purpose of gay dating. This essentially can be considered to be Tinder for gay dating. This is user-friendly and very easy to create a profile in this app.
Grindr has now been tagged more as a hookup app rather than a dating app. However, Grindr does not restrict the options, and you can choose to connect with a fairly big pool of gay and bisexual men on this app.
There will definitely be a chance that you will find someone sharing similar interests and mindset. You can create a profile for free on this app for basic use, but there are a few premium features for which you need to subscribe to the premium version.
When talking about popularity, there is hardly any other app in the LGBTQ+ category that matches Grindr. You can hardly find any gay or bisexual man who hasn't tried this app. So, you can imagine its vast popularity.
Pros:
This app is extremely popular amongst gay, trans, bi, and queer people.
This is very easy to sign up in this app.
The app is free to use.
Cons:
You have a chance to find several fake profiles on this app.
4. Bumble – An effective community for the LGBTQ+ relationships
Bumble can be a great app for both heterosexual and gay dating. This app has become very popular amongst users as Bumble is well-known for its community monitoring, and in case of any harassment case, strict actions are taken. Although this app is more effective as a hookup app than a dating app, this is considered to be one of the safest online dating platforms.
Pros:
The community is being constantly moderated 24/7 to check for any discriminatory language.
The users here are typically looking for a date.
This app has a larger user base with settings that can be counted as gay-friendly.
Cons:
Some users feel that this app is more women-centric.
5. Scissr – A popular free hookup and dating app for gay women
A team of lesbians, for the convenience and welfare of the lesbian community, designed this app. This app promises to provide a safe space for queer, dyke, lesbian, gay, and bi-curious individuals. There is a common gripe with this lesbian dating platform: its login system.
Those individuals who are not yet out in society and are still in the closet can choose to be more private when it comes to mentioning them on social media. You need to sign in with your Facebook account on this app. However, this will not be posted on your Facebook account and can only be tracked by WLW users. There are no membership charges, and thus the app can be used for free.
Pros:
This app is specifically designed for the usage of gay women.
This app can be used for free.
You can very transparently state here what you are specifically looking for.
Cons:
You need to sign in with your Facebook account compulsorily.
6. Tinder – The dating app with the largest user base
Tinder is found to be a dating app with the largest user base. Users of all gender and sexual orientation use this platform to find hookups and dates. You can find a partner of your choice on this app.
There is no such strict community monitoring in this app. So, the users may sometimes face bullying and harassment. In case any individual user is subject to such kind of bullying or harassment, they may block as well as report the user instantly.
This popular dating platform is hypothetically good for anyone. Some recent changes allow you to choose your gender identity as Straight, Lesbian, Gay, Demi sexual, Asexual, Queer, Pansexual & Questioning. You may also opt to choose from a wide range of gender identities.
Pros:
Individuals of all genders & sexual orientations can use this app or online platform.
This app is one of the biggest dating apps of today's time.
Cons:
This app does not provide the desired personalized experience.
The profile on this app is usually very limited.
Are gay dating apps safe?
Gay dating apps will always be safe for you, provided you follow the below-mentioned tips:
Conducting some research – You should not always assume that you are safe. You should do some research before you meet a person for a date. You do not have to stalk a person online, but you can check their real social media account and get to know him better before you meet him.
Ask for more photos if you are suspicious – If you feel that someone is using fake photos on their profile, you can ask for more photos to verify if the person is genuine. You can run a reverse search on Google Images. By adopting this, you will be able to find more information regarding your date, which might also reveal whether the photo belongs to someone else or to that particular person.
You should know a person better before you meet him – In case you are planning a hookup, you are certainly not going to dedicate three weeks just trading messages. But if you are searching for a relationship, you should get to know him better and make all the effort to know him well.
Finding the layers of information – Even if you meet someone right away, this does not hurt to seek more information. If your selected date has not put links to their social media in their bio, you can ask for more proof to help them scare away the fakes.
Meeting to be organized in a public place when you meet first – Even if this is a hookup, you should meet at a coffee shop or bar. This approach you in giving a chance to determine whether your date is the same person whom you expected. This will also make you feel safe.
You should inform someone that you are going on a date – Preferably inform a friend of yours that you are going on date. You can share your location once you reach the date venue. This is an extra measure of safety that you can follow.
You should not carry extra valuables when you are going for your first date – You should leave your expensive watches and jewelry back home and bring only the least cash & credit cards that you will require. If you are into bad company and run into trouble, you will not lose everything you have.
Necessary gay dating tips
When you are looking forward to dating someone from a gay dating site or app, you should necessarily follow the below-mentioned tips:
Video chatting is a must before you finally meet up – If you have found a guy on any gay dating site or app for the first time and is willing to meet up soon, you should opt for video chat before proceeding to meet up. This will ensure that your partner is up to your expectation and you have the desired attraction for him.
You should not plan your dates much in advance – When you book your date much in advance, the momentum and excitement slow down in the meantime. Also, there are chances that the date may be getting canceled due to some other urgency. So, you should plan your dates shortly after talking to a guy.
Keep in mind that sex is not the only thing on a date – This goes without saying that sex is fabulous and great. Having a good and healthy sex life is very crucial. However, in case you are looking forward to making your gay relationship last for longer than a year, you should focus on the other aspects of the relationship as well, like spending adequate time with each other, going out for outings often, going to movies together, etc.
Do not force attraction – If you feel that the desired spark between the two of you is missing anyhow, you should not try to force it on each other. In such cases, you should part ways with dignity.
Conclusion
Gay dating can be fun and fulfilling if you do it properly, following the above-discussed tips. You can find your dream date by using any of the best gay dating sites or apps enlisted in this article. You can also try multiple platforms to increase your chances of finding the perfect date or hookup you have long longed for.
Shone Palmer
I've been writing about LGBTQ issues for more than a decade as a journalist and content writer. I write about things that you care about. LGBTQ+ issues and intersectional topics, such as harmful stories about gender, sexuality, and other identities on the margins of society, I also write about mental health, social justice, and other things. I identify as queer, I'm asexual, I have HIV, and I just became a parent.