Videos Of Tyre Nichols' Fatal Police Beating Have Been Made Public In Memphis
Memphis Police Department released four video clips of police officers brutally beating Tyre Nichols who died after a traffic stop on January 11.
The four videos include clips from body-worn and surveillance cameras. In the footage, five officials brutally kicked, baton blew, and punched Nichols and he repeatedly cried calling his mother.
Videos Reveal How Brutally Police Officers Injured Tyre Nichols
Each video shows how fatally he was injured by the police officers and how long it takes time to get medical attention. The officers were charged with assault, kidnapping, second-degree murder, and official misconduct in Nichol's demise. The five officer's dismissals were confirmed last week according to the misconduct.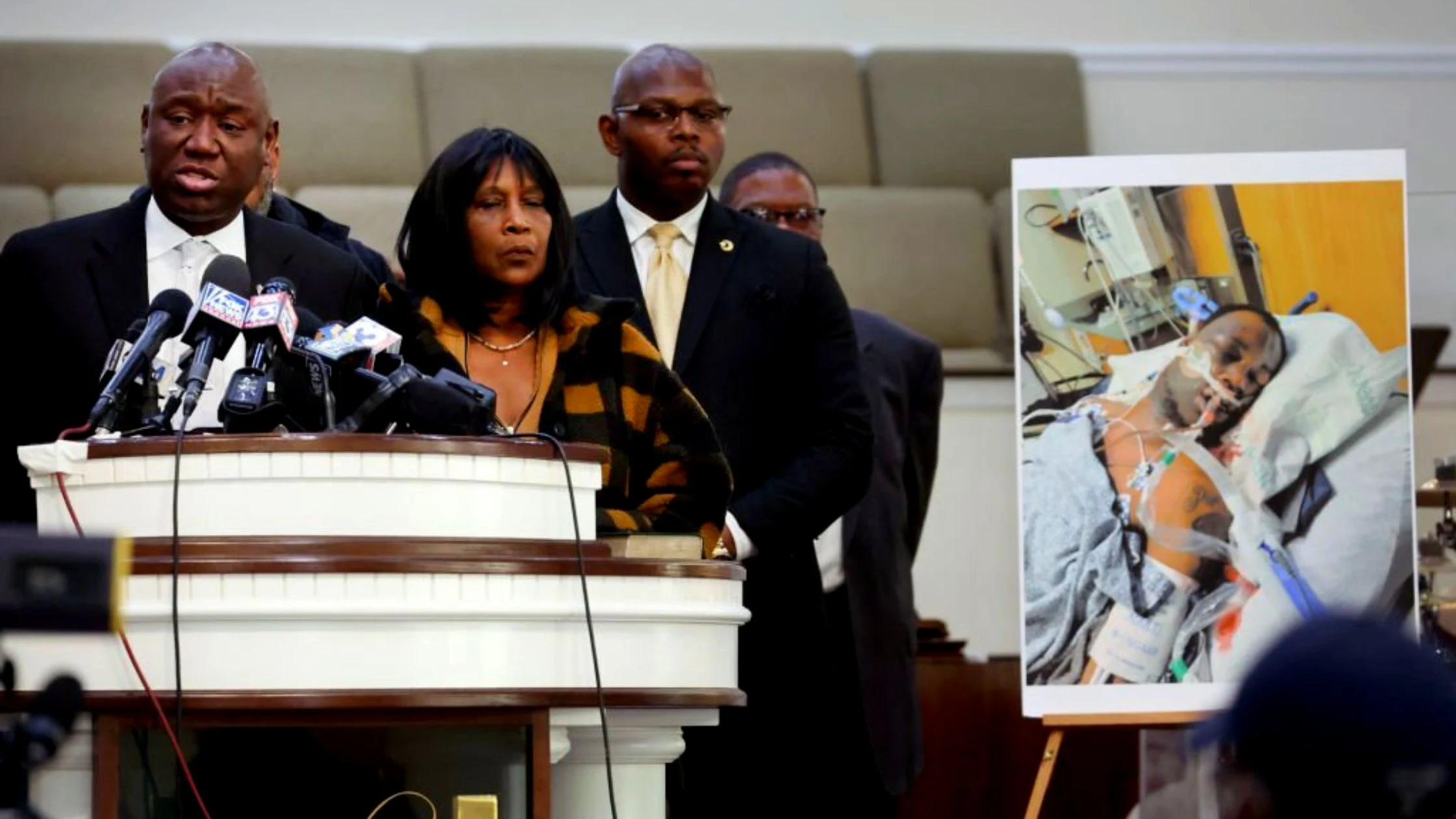 Officials revealed the motive for brutally injuring Nichols was his reckless driving through the highway. The police pulled him out of his vehicle to the road.
Nichols, 29, was hospitalized by the officers in critical condition a few hours later. He continued under medical attention and died after three days.
According to the video clips, two officers held Nichols and another officer punched him continuously on his face and body. Nicholes was stopped by the officers and beaten. Multiple officers punched him after spraying the pepper spray on his face.
Nichols was crying in the video, begging the officers. The incident occurred in his neighborhood. It was 80 yards away from his home.
According to Cerelyn C.J. Davis senior police officer of Memphis City, the video clips were inhumane and heinous. He remarked an investigation into the video clips didn't affirm the claims made by the officials.
Nichol's mother Row Vaughn Wells said in a news conference that she had viewed a few minutes of the footage and said to all parents to forbid their children from viewing the clip.
Nichol's family had privately viewed the footage on Monday. His mother hasn't gone through the full footage. She started crying when she saw her son suffer a lot to rescue escape from the officers.
There were several potential protests as a response to the video all over the Memphis community. Several schools have canceled their school activities and some of them moved to virtual classes as a protest.
Nichol's mother Wells peacefully arranged a protest in Tobey Park on Thursday night. People gathered there for a candlelight vigil. Wells said she doesn't want them burning up their cities, and tearing up the streets because that's not what her son stood for.
Protests around the City has reported. People were protesting in Dallas, Washington D.C., and Los Angelos. Three people were arrested in New York City following the protest. Violence has not been reported during the protest.
Top officials in the New York City Police Department and law enforcement agencies expressed their anger at the treatment of Nichols in the footage.
U.S. President Joe Biden was outraged when he see the video and called it horrific.
>Related: What Is Tyre Nichols's Cause Of Death? What Is The Reason Behind In This Encounter?
What Are The Video Clips Saying?
The City of Memphis released four videos on Friday at around 6 pm. In one video one of the officers arrives and points his gun at one car and shouts.
Officers held Nichols and started kicking and punching him. Through the video, Nichols tried to clarify he was trying to go home.
In the other three videos, Nichols was lying on the ground, and officers kicked his face and head. Another one beats him using a baton and we can hear the yelling of Nichols calling his mother.
In one video, Nichols was sitting against the car on the ground then the officers seemingly gathered and discussed something about Nichols and his physical condition. One of them remarked his legs are hurting and one saying the irritant they used on him affected him a lot.
Shone Palmer
I've been writing about LGBTQ issues for more than a decade as a journalist and content writer. I write about things that you care about. LGBTQ+ issues and intersectional topics, such as harmful stories about gender, sexuality, and other identities on the margins of society, I also write about mental health, social justice, and other things. I identify as queer, I'm asexual, I have HIV, and I just became a parent.