Janae Edmondson, Tennessee Teen Hit By Car In St. Louis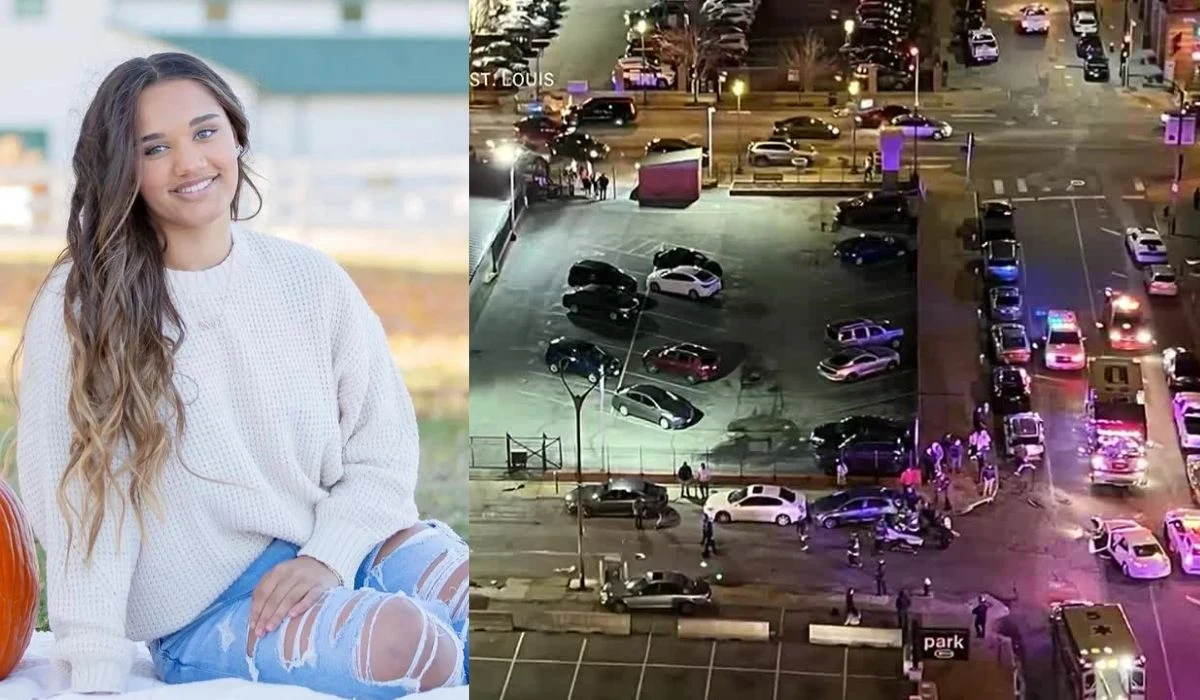 Janae Edmondson's dedicated volleyball career was cut short after a 2023 Audi Q5 ran over her on Saturday night, February 18 at 11th, and St.Charles. As a result of the collision, both her legs were critically injured and had to be amputated in order to survive.
The video from the night of the crash shows that a Gray Audi Q5 failed to yield at a sign at the interaction, collapsing into another car – a Chevy Malibu that went airborne and directly hit Janae Edmondson, who was walking to her hotel after their Day 1 of the Vollley Touirnameny in St. Louis. She was rushed immediately to the hospital.
The Culprit Daniel Riley
The police identified the driver of the Audi, whose name is Daniel Riley, and were arrested for three counts of assault, armed criminal action, and driving a vehicle without a license. Riley was involved in multiple offenses such as GPS violence, charges of robbery, and others. Records display that he had violated more than 40 counts of monitoring sessions since July 18, 2022. His sentence will perhaps increase if a court finds him guilty in Edmondson's ongoing case.
As her condition ‌stabilized, Rhonda Ross, Owner and director of the Mid-TN volleyball club stated that she needed to rest in the hospital for more than four weeks before being safely transported to a different hospital, due to the chances of risk of serious injury to her legs.
While she is progressing to be better each day, people are pondering love in the form of donations, emotions, and others. So far, more than $145,000 in funds have been raised through the GoFundMe campaign, which was initiated to support the financial needs of Edmondson and her family.
Jeff Wismer, Assistant Director of the Middle Tennesse volleyball club stated that Edmondson lost both of her limbs when she was walking down to the hotel with her family when she was struck by the car. He continued "How do you find words to explain our sorrow? We really can't. We have frustrations, we have anger." Wismer added that the words cant fulfill the sadness that the community has for Janae. As the entire community is blessed for Janae to be alive despite the circumstances.
Wismer described Janae as a wonderful and dedicated kit with an amazing family who supported her at every stage to reach success. He believes that Janae is still determined to shine through her recovery as soon as possible.
Liz Kramer, the co-chair of the St. Louis Community Mobility Committee was concerned about the horrific crashes as the streets and sidewalks in the city have not been safe. She believes that it had become worse. She pinpointed the fact how these crashes change the life of the victim and it should be addressed to the people in power and make them understand to make the city a safer place to be.
Also Read: Pro Soccer Player Anton Walkes Died In A Boat Accident
Mayor Tishaura Jones About The Incident
In addition, Mayor Tishaura Jones also declared a statement regarding the horrific accident. The mayor highlighted the accident of the 16-year-old girl who visited to compete in a volleyball tournament at America's Centre Downtown. He added that "Violence is devastating" especially when youths are involved.
He continued that his office had personally reviewed the matter with the Circuit Attorney's Office that led up to the accident. He assured that the "city must do a better job of working together to hold those who endanger our communities accountable."
In his statement, he also mentioned how traffic violence impacts the entire city. He insisted that he is committed to preventing future incidents by funding major investments in the street and pedestrian infrastructure for the city to be safe. He intends to develop in such a way that citizens are bound to be safe when "biking, walking, driving, or using public transit – as we also explore enforcement solutions."
It is also important to improve Law and Order for the culprits who perform reckless driving on the street in order to prevent horrific crashes.
Shone Palmer
I've been writing about LGBTQ issues for more than a decade as a journalist and content writer. I write about things that you care about. LGBTQ+ issues and intersectional topics, such as harmful stories about gender, sexuality, and other identities on the margins of society, I also write about mental health, social justice, and other things. I identify as queer, I'm asexual, I have HIV, and I just became a parent.