What Happened To Tekashi 6ix9ine? Rapper Assaulted In South Florida Gym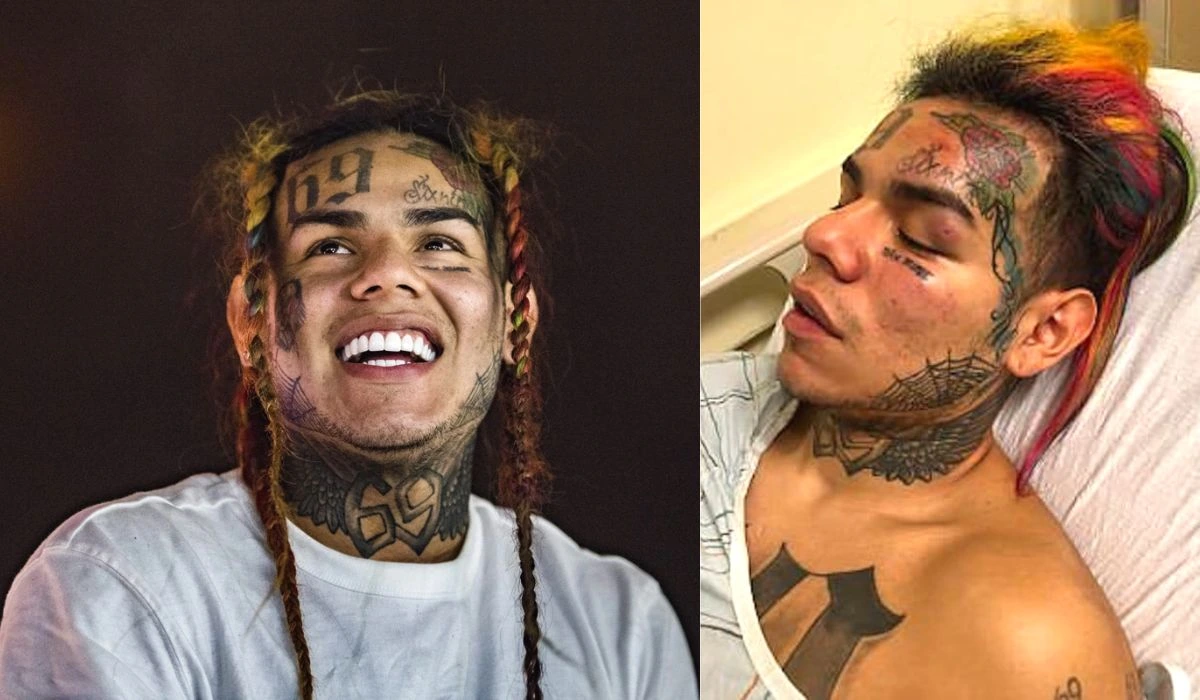 The American rapper and artist, Daniel Hernandez also known as Tekashi 6ix9ine has been rushed to a hospital in Florida after being attacked and beaten to a pulp by multiple men at a LA Fitness.A video of the attack has ‌surfaced on the internet.
The media outlet has been circulating the video so that the public can see it. In the video, Tekashi was seen defending himself from a kick. It appears that he was trying to defend his face from bruises and cuts. Unfortunately, he was badly beaten up and hospitalized following the combat with a random group of men.
The Aftermath Of The Assault
The incident came to light when a gym staff member heard the fight break out and immediately notified the manager on ‌duty. He was immediately rushed to the hospital after police and medical teams arrived at the scene.
The live photo of Tekashi 6ix9ine was obtained from the hospital. In the photo damage to his face is no trivial thing – with gashes and swelling. Along with facing his jaw, rib, and back are also injured. The man in the video attacking Daniel has not been identified yet. Reports assume that the suspect could face some severe charges.
Lance Lazzaro, 6ix 9ine's attorney ensured that he would reach the feds regarding the brutal attack on the rapper as well as seek protection – which he clearly needs. It is unclear whether this attack is related to the recent cooperation of the raper with authorities regarding the criminal charges linked to his former gang, the Nine Trey Gangsta Bloods.
Must Read: What Happened To Kyle Chrisley? Kyle Chrisley Arrested For Assault In Tennessee?
What Happened To The Nine Trey Gangsta Bloods?
Tekashi 6ix9ine was a former member of the Nine Trey Gangsta Bloods, who was later apprehended and charged with nine counts of charges related to distributing firearms, drug trafficking, and racketeering.
He pleaded guilty to the charges and was sentenced to 47 years in prison. Tekashi's prison time was reduced to 2 years after he agreed to testify against his former gang members. Tekashi cooperated with ‌prosecutors to apprehend several of the gang members.
Although it is unclear if the motive behind this attack was ‌revenge from them. Tekashi 6ix9ine has also been involved in several attacks earlier. He was once attacked and robbed by three armed thugs in Brooklyn. He reported a loss of $75,000 in custom jewelry and $35,000 in cash. Upon investigation Nine Trey Gansta Blood member Anthony was found guilty of instigating the robbery.
Another thing to be considered is that all this assault could not be a coincidence. There might be some reason for him to get beaten. To mention that Tekashi is also no saint, as he has been accused and convicted of pedophile charges.
Tekashi 6ix9ine Previous Legal Troubles
Hernandez also pleaded ‌for ordering the shootout at Chief Keef in 2018. New York Police Department unearthed that Hernandez handed over $20,000 to his associate Kintea "Kooda B" Mckenzie to shoot at Chief Keef.
Tekashi 6ix9ine also admitted to ‌years of domestic violence against his ex-girlfriend and mother of his child, Sara Molina. She revealed that the rapper beat her over the period of their relationship which lasted over seven years. Sara admitted that there were times when she used to bleed and could barely open her eyes.
At one time he raised his hands on her when he was questioned about his infidelity over a stripper he used to hang out with. She said that he dragged her pulled her hair and slapped her in front of her then-one-year-old daughter.
When past incidents unfold it is unclear who could have attacked the rapper this time. The enmity towards Tekashi may continue to grow ‌due to his feud with other artists as well as gang members.
Also Read: Where Is Maegan Hall Now? What Happened To Infamous Tennessee Cop After The Controversy?
Shone Palmer
I've been writing about LGBTQ issues for more than a decade as a journalist and content writer. I write about things that you care about. LGBTQ+ issues and intersectional topics, such as harmful stories about gender, sexuality, and other identities on the margins of society, I also write about mental health, social justice, and other things. I identify as queer, I'm asexual, I have HIV, and I just became a parent.