Nelson Piquet Comments On Lewis Hamilton: Piquet Fined Nearly $1M For Racist, Homophobic Comments About Lewis Hamilton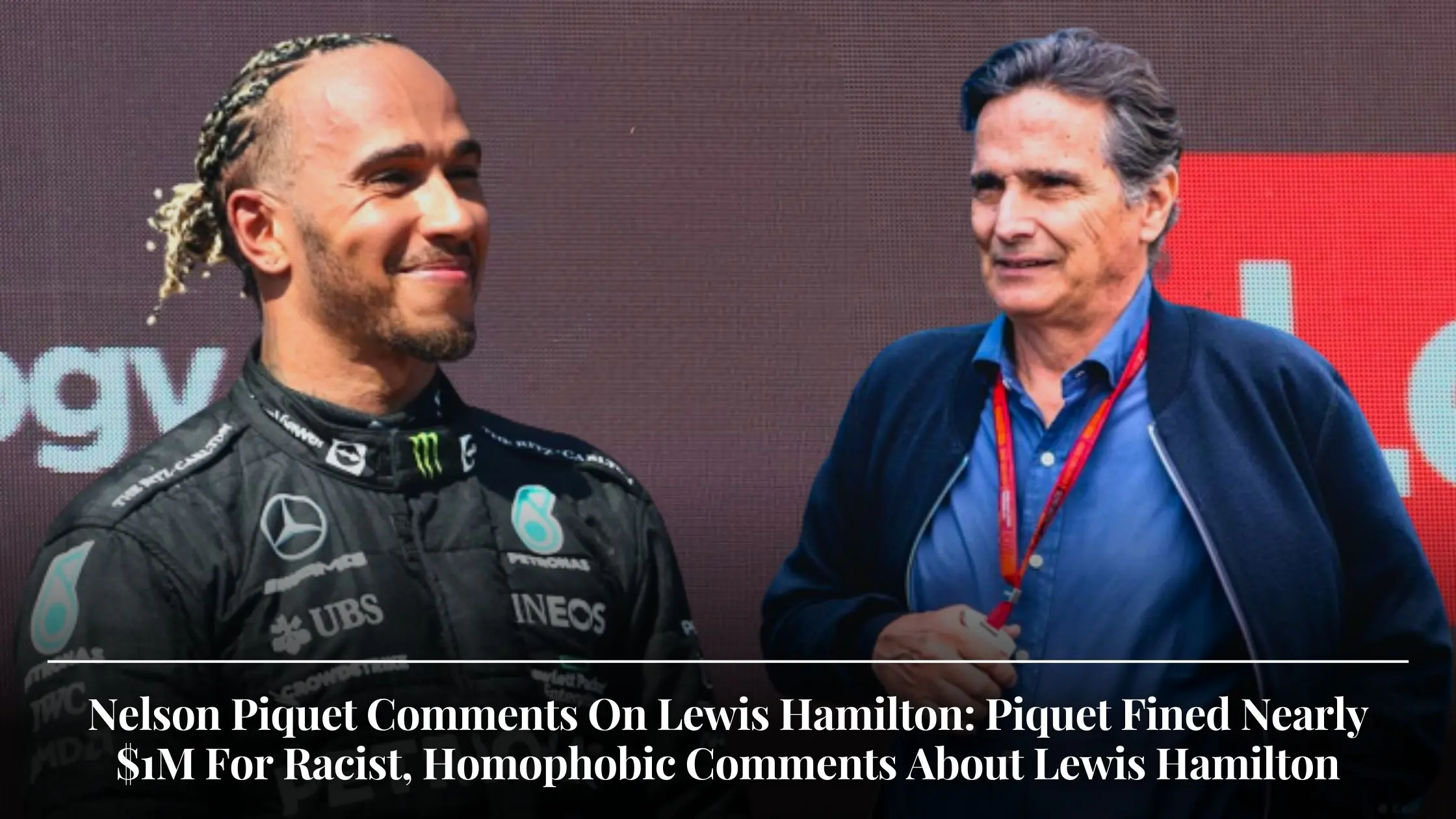 A Brazilian court has ordered three-time Formula One champion Nelson Piquet to pay $950,000 in "moral damages" as a penalty for making racial and homophobic comments about Lewis Hamilton. The comments were directed toward Hamilton.
In the year 2021, the Brazilian man in his 70s insulted Hamilton's race by calling him "neguinho," which is a racially charged epithet that translates to "little Black dude."
Piquet made slurs against racial and sexual minorities and homophobic comments in an extra interview.
On Friday, a court in Brasilia issued an order compelling Piquet to pay 5 million Brazilian reals "in collective moral damages," with the money to be used "to dedicate funds for the development of racial equality and to fight LGBTQIA+ discrimination."
Organizations that work toward racial equality and the rights of LGBTQ+ people will be eligible to receive these monies.
The complaint was brought before the judge by four different human rights organizations, and their goal is to have the fine increased by a factor of four.
Nelson Piquet Comments On Lewis Hamilton
Piquet was called out by Hamilton June, who is an honorary citizen of Brazil. Hamilton was referring to an interview from November 2021 that was posted online.
The governing body of motorsport, the FIA, as well as Formula 1, have also spoken out against the retiring driver's use of foul language.
Piquet expressed his regret to the British driver and noted that he was concerned that his words had been misunderstood after being translated.
Piquet claimed, "What I said should not have been said, and I am at a loss to explain why it was said.
But, I would like to make it clear that the word in question is and always has been used in a slangy, colloquial sense in Brazilian Portuguese as a synonym for the words "man" and "person," and that it was never meant to be insulting."
"Never in my life would I utter the words that have been attributed to me in various interpretations.
I firmly disagree with any suggestion that the way I used the word was intended to be derogatory toward a driver because of the color of his skin."
Related: Is Lewis Hamilton Gay? About His Sexuality
Piquet was caught on film making racially charged and homophobic slurs in a different interview, which was released in July.
Piquet was speaking in reference to a crash that took place during the 2021 British Grand Prix between Max Verstappen and Lewis Hamilton. Kelly Piquet, his daughter, is dating Verstappen, who is a fellow Formula One driver.
Piquet subsequently published a statement in which he apologized for the "ill-considered" racial slur and said that the phrase is widely and historically used in Brazilian Portuguese as a synonym for "man" or "person" and that he had no intention of offending anyone with his usage of the term.
The Brazilian judge Pedro Matos de Arruda wrote in his decision that "subtlety is one of the elements of modern Brazilian racism" and that the phrase in question "is not a friendly nickname."
In a prior interview, Piquet had made offensive comments against Hamilton, including homophobic and racial slurs, because Hamilton had not won a championship in the past.
The comments made by Piquet give the impression that Hamilton may have been successful had he not been gay. According to the court's finding, "Consequently, homosexuality would constitute a negative characteristic."
It is possible for the driver to contest the judgment after he or she retires.
Several fans of Formula One were angered by Piquet's support of Jair Bolsonaro, a former president with extreme right-wing views.
He gave approximately $95,000 to Bolsonaro's campaign for re-election, which ultimately was unsuccessful.