Nashville School Shooting Victims: 3 Children, 3 Adults Killed In Shooting At Nashville School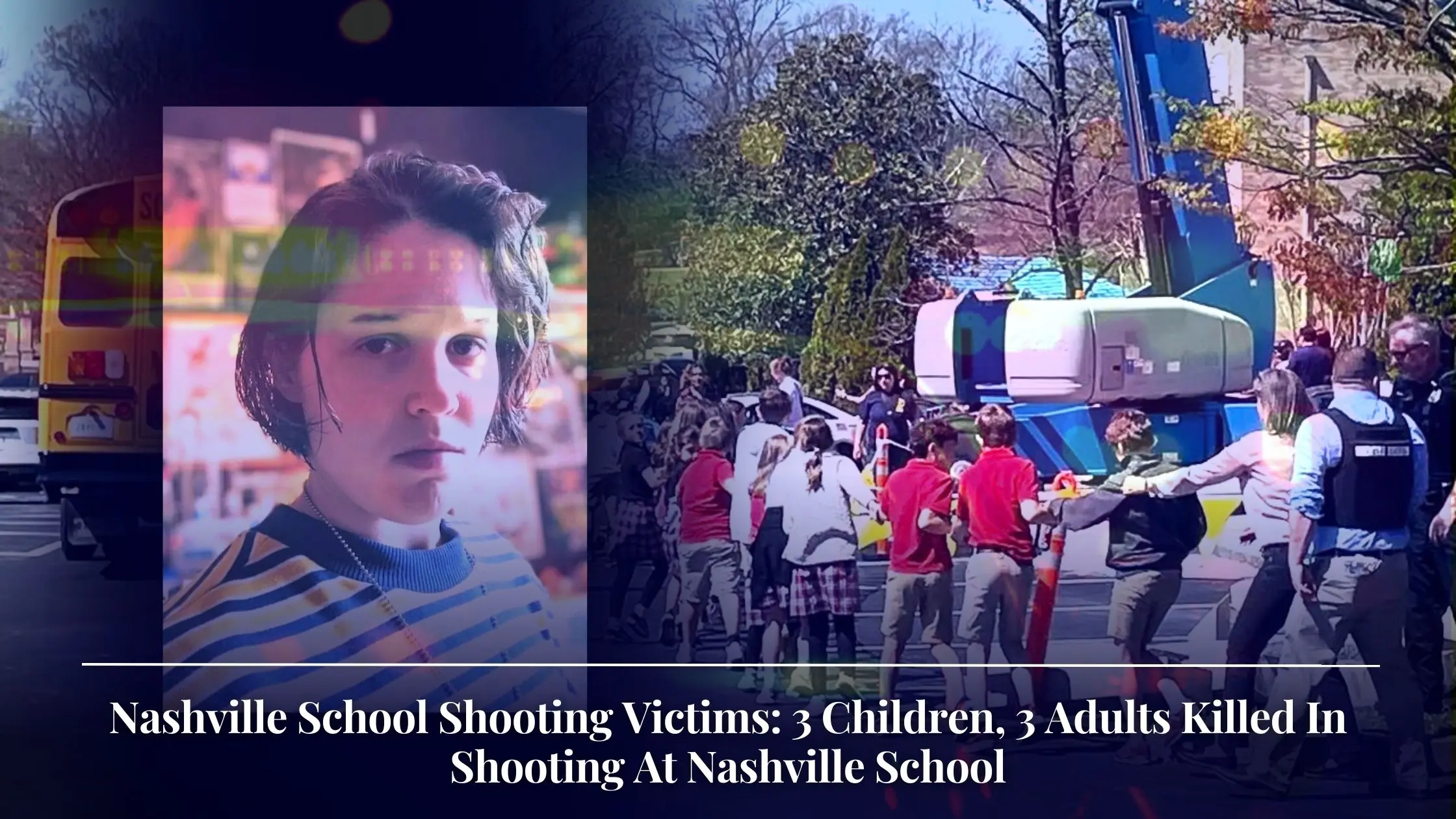 According to the officials, a lone attacker opened fire at a private Christian elementary school in Nashville on Monday, ultimately taking the lives of three children and three adults.
The officials claim that police officers opened fire and killed the suspect at Covenant School, which is located in the Green Hills district of the city.
According to the reports of the police, the suspect, a woman named Audrey Hale who is 28 years old and hails from Nashville, was armed with at least two assault rifles and a handgun.
According to Nashville's Police Chief John Drake, preliminary inquiries into the shooting pointed to it being a targeted attack.
This was indicated in the police chief's statement. The investigation showed that the gunman had attended the school at some point in the past, but Drake was unable to determine exactly when the individual may have been enrolled there.
According to the chief of police, the investigation led to the discovery of "a manifesto" as well as "plans drawn of the school in detail."
Victims Of The Nashville Shooting
Police in Nashville have named the six victims as follows: Evelyn Dieckhaus, Hallie Scruggs, and William Kinney, all aged nine; Cynthia Peak, age 61, who worked as a substitute teacher; Mike Hill, age 61, who worked as a custodian; and Katherine Koonce, age 60.
All of the victims were found dead at the scene. On the website of the educational establishment, it is stated that Dr. Koonce served as the headmaster.
Chad Scruggs, the pastor of Covenant Presbyterian Church in Dallas, is said to have a daughter named Hallie, at least according to a biography that was published online by one of his previous congregations in Dallas.
Related: Nashville School Shooting Video Footage: Surveillance Footage Revealed By Police
The Covenant Presbyterian Church is directly associated with the primary school.
Katherine Koonce is credited as the head administrator of Covenant School on the institution's official website. On BBC News, a worried father went as far as to refer to Ms. Koonce as a "saint."
A woman who is the mother of two pupils at Covenant remarked that the woman "did so much for those kids" and "now gave her life protecting them."
The source continued by saying that she was able to recall each individual student's name. "She still managed to find a way to assist them even when their families were unable to afford certain things. She made measures to keep them there."
Related: Nashville School Shooting Photos: Police Release Photos Of Three Guns Used By Nashville School Shooter Audrey Hale
On the page that welcomes visitors to the school's website, Ms. Koonce writes that the institution is "about more than merely educating our children."
She added that the mission of the institution was to "assist students in becoming who God intends for them to be."
In addition to being a mother, she is the author of the book Parenting the Way God Parents: Refusing to Repeat Your Parents' Mistake.
According to her bio on Penguin Random House's site, she has "specialized in learning, behavior, and attention challenges" and has been working in the field for over 18 years.
Mike Hill was employed by the establishment in question as a janitor. His daughter stated that her father "totally liked" his time spent at Covenant in a post that she made on Facebook using her own name.
Related: Audrey Hale Religion: Nashville School Shooter Family, And Ethnicity
On Facebook, Pastor Tim Dunavant of Hartsville First United Methodist Church expressed his sadness that he would no longer receive "those encouraging texts out of the blue" from Mr. Hill.
Mr. Dunavant stated he formerly worked for Covenant and had employed Mr. Hill over 13 years ago.
If it turns out that Mr. Hill gave his life to save others, he said, "he's the kind of guy that would do that," so he is not surprised.
Officials from the church have confirmed that Hallie Scruggs' father is Chad Scruggs, who serves as the senior pastor at Covenant Presbyterian Church.
Related: Nashville Shooting Transgender: Is She In Jail? Why She Killed Six People?
According to the police, Cynthia Peak was working as a substitute instructor at the institution on the day of the incident.
At a church service that took place just a few hours after the shooting, a senior pastor is reported to have stated that Evelyn Dieckhaus was in the third grade at the time of her death. This information was obtained from the Tennessean.
Nashville School Shooter
It was not immediately clear whether the offender was a male or a female in the immediate aftermath of the incident.
According to Chief Drake, the shooter was a transgender person. Yet, according to a social media post and a LinkedIn page, the shooter appeared to identify as a guy in recent months.
Read More: Audrey Hale: Nashville Shooter, The Trans Former Student
Authorities referred to the shooter as a "she" and "her" throughout the investigation; however, the shooter may have been a male.
Although Chief Drake said that this was a targeted attack, he claimed it was too soon to speculate on a potential motivation.
The Covenant School in Nashville, Tennessee, which was the location of the school shooting that occurred on Monday, stated that their community is "heartbroken" as a result of the incident, which resulted in the deaths of three young pupils and three members of the faculty.
Shone Palmer
I've been writing about LGBTQ issues for more than a decade as a journalist and content writer. I write about things that you care about. LGBTQ+ issues and intersectional topics, such as harmful stories about gender, sexuality, and other identities on the margins of society, I also write about mental health, social justice, and other things. I identify as queer, I'm asexual, I have HIV, and I just became a parent.