Gwyneth Paltrow Ski Trial: All Biggest Bombshells From Gwyneth Paltrow's Utah Ski Trial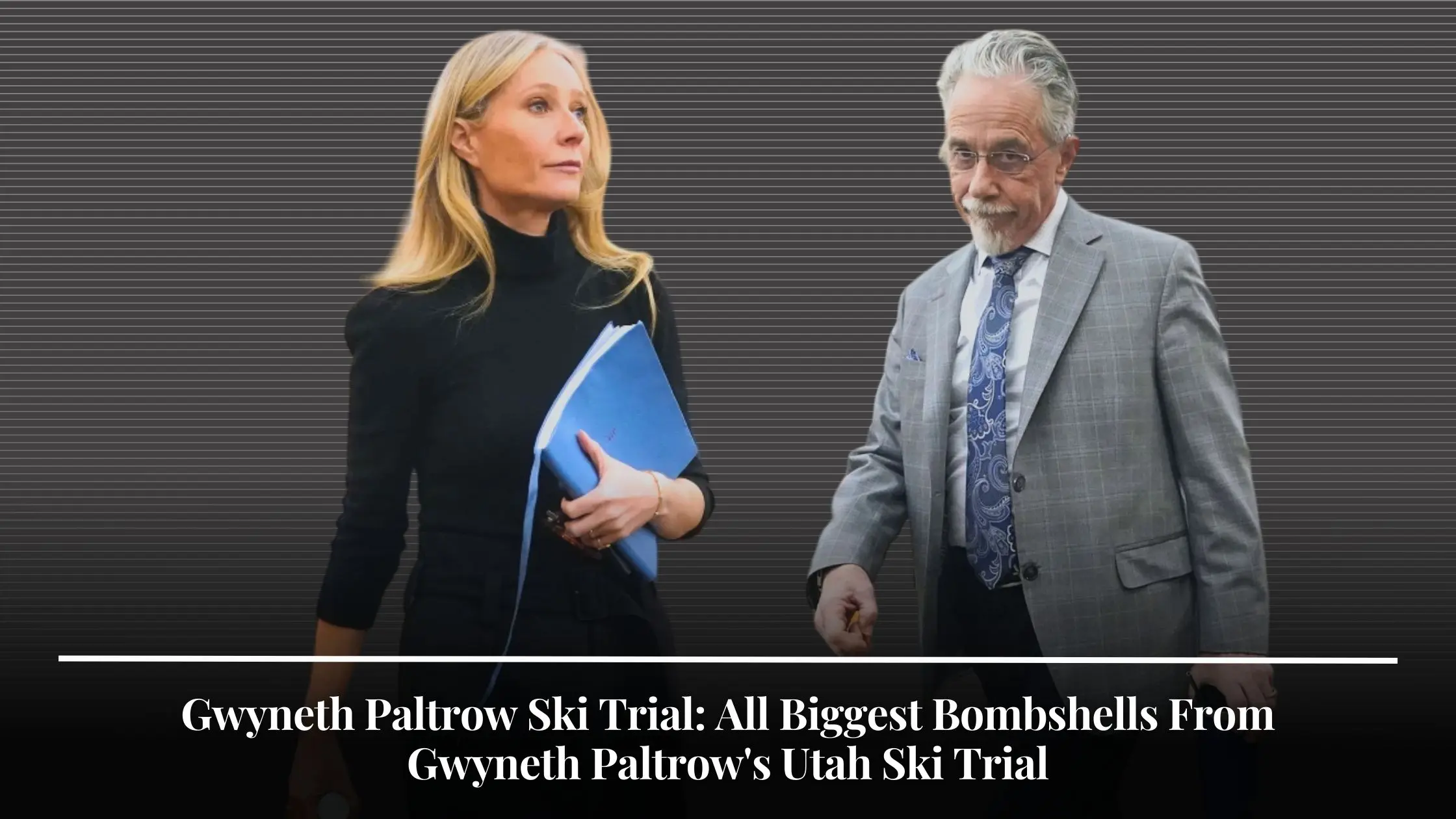 Gwyneth Paltrow attends a 2016 skiing accident civil action in Park City, Utah. The 2016 Utah ski accident trial's first week ended.
After colliding on a novice slope at Deer Valley Ski in February 2016, retired ophthalmologist Terry Sanderson sued Paltrow, 50, in January 2019.
Sanderson claimed in his 2019 case that Paltrow collided with him from behind while skiing with an instructor and that the teacher fabricated a report exonerating Paltrow.
In a countersuit filed the following month, Paltrow denied the claims, claiming Sanderson hit her from behind and is now trying to "exploit her celebrity and money."
Sanderson sued Paltrow in 2019 for $3.1 million, but a judge limited him to $300,000. The actress filed a suit for $1 plus attorney costs.
Before a jury was sworn in on March 21, 2019, Judge Kent R. Holmberg ruled that Dr. Sanderson's first 2019 case's "hit-and-run" claim would not be heard.
Gwyneth Paltrow Testified
Paltrow testified Friday that she thought her accident was a sexual assault.
"While I tried to make sense of what was happening, the idea crossed my head for a split second," Paltrow explained. Two skis separated my legs, then a body crushed me.
"I wondered myself, "Is this a practical joke?" Is someone doing anything perverted?" To make sense of what had happened, my thoughts were racing."
Paltrow said they were "spooning" when they fell, but she stressed that she was not sexually molested.
Paltrow And Sanderson Claim They Skied Downhill
On March 21, attorneys on both sides explained Paltrow and Terry Sanderson's likely participation in the event by discussing ski etiquette, a key issue in the lawsuit.
Sanderson's counsel told the jury that all skiers know they must yield to skiers below them.
Both parties claim they were the downhill skier. Paltrow's attorney, Stephen Owens, said the actress was skiing when she saw "two skis appear between her skis and a man comes up behind her" and thought she was being assaulted.
Buhler said Paltrow "skied out of control" on the beginner's run and hit Sanderson's back.
Sanderson Personality Changes
Sanderson's legal team disputes the plaintiff's claimed personality change due to the vehicle accident's traumatic brain injury.
About Sanderson's personality, Dr. Wendell Gibby was questioned.
Gibby remarked, "Terry was high-functioning, high-energy. Every day he was meeting groups, wine tasting, skiing, and volunteering."
But, after his accident, he deteriorated swiftly and stopped completing most of his prior responsibilities…. He had to sit still and focus on one project instead of several. He would visit Home Depot and forget why.
Read More: Terry Sanderson Net Worth: The Utah Doctor Suing Gwyneth Paltrow
Traumatic Injuries Often Cause Sadness And Deterioration
Attorney Lawrence D. Buhler said that Sanderson's ties with his then-girlfriend and daughters worsened after the incident.
Sanderson's attorney said the retired ophthalmologist became irritated with his grandchild after the ski collision.
Paltrow's Lawyers Dispute Sanderson's "Traumatic" Injuries
Sanderson's attorneys said during the trial's first two days that the retired ophthalmologist had four fractured ribs and a severe brain injury in the 2016 accident with Paltrow, knocking him unconscious for several minutes and leaving him unaware of his location.
Paltrow's attorneys, lead by Owens, contended Sanderson's injury claims were exaggerated because he had been to 10 countries since the occurrence.
They also claimed that Sanderson's neuroradiology expert, Dr. Wendell Gibby, did not evaluate an MRI performed on the plaintiff in 2009, years before the crash, which showed that the retired optometrist suffered brain damage.
Gibby believed Sanderson "was struck from the left side and subsequently fell to the ground" based on eyewitness Craig Ramon.
Inconsistent Memory Recollections
On Tuesday, Sanderson's buddy Craig Ramon was the first witness, although he had trouble recalling the encounter.
Ramon, skiing close, heard a cry before the incident.
"I heard this scream while skiing down the slope," he said. "As I looked back, a skier had slammed into Terry's back.
She gives him a blow to the back of the head. The tips of his skis flip out like this, and he lands on the ground with his arms and legs spread wide."
Stephen Owens, Paltrow's attorney, referred Ramon to his 300-page deposition.
Also Read: Gwyneth Paltrow Net Worth: Personal Life, Career, And More About Her Celebrity Life
Owens said, "Terry was wearing a helmet." Ramon replied, "The man he bumped into was not."
"Was she not wearing a helmet?" he asked. "I don't remember her clothes," Ramon remarked.
Owens asked, "Have you stated under oath that she wasn't wearing a helmet?"
Ramon said that he didn't see her clothes.
Paltrow's counsel reminded Ramon that he "had testified thus on oath" before proceeding.
Paltrow said Ramon is colorblind and 40 feet away, so "what he said is not real."
Paltrow's Team Criticizes The Case's Media Coverage
On the second day of the trial, Paltrow's attorney worried about the throng of reporters outside the Park City court and whether cameras with live video feeds should be pointed at the Oscar-winning actress.
Many media sites are live-streaming the trial, and an Associated Press photographer is in the courtroom.
"We have a new camera directed straight at my client, right there, on the right," Paltrow's attorney Stephen Owens said at the March 22 hearings.
"For example, on Tuesday, while my client was leaving, there were reporters standing in front of her car with their cameras only inches from her face."
"I want to be notified if there are any more developments," he said after Judge Kent. Holmberg said the court was trying to accommodate the defense.
Paltrow Gwyneth's Family Testified
Paltrow's counsel announced on the first day of trial that her husband, Brad Falchuk, and children, Apple, 18, and Moses, 16, will testify for her.
Falchuk and the children were present but did not witness the collision.
Her attorney says 9-year-old Moses arrived with his instructor to find his mother crying on the ground. "He was distressed."
Related: Gwyneth Paltrow kids: Meet Her 2 Kids, Son Moses & Daughter Apple
Owens allegedly stated that Falchuk had looked up to saw Paltrow in the snow after hearing her cry from lower on the mountain.
"They went on this initial trip to "test the waters" to see if the plan would be successful." Owens said.
Paltrow's Counsel Claimed, Sanderson Emailed His Daughter "I'm Famous"
Owen's opening statement revealed that Sanderson emailed his daughter the day of the tragedy to say, "I'm famous," to which his daughter replied that she couldn't believe "[the crash] was filmed on GoPro" (though he emphasized that the footage has not been retrieved).
Owens said Sanderson is "aging" and "obsessed with this lawsuit" (Sanderson is now 76 years old). He claims medical testimony will confirm Sanderson's prior conditions.
In a video deposition, Sanderson's neuropsychologist, Dr. Alina Fong, said her client had been "struggling with concussion symptoms for a year" since May 2017.
She described Sanderson's "huge array of symptoms," including "mood and personality changes, pain, and headaches," and said the tragedy had "impacted him on so many levels" in his personal life, family, and relationships.
Sanderson Explains About Email Begins With "I'm Famous"
On the fifth day of the trial, Sanderson revealed why he wrote "I'm famous" in the subject line of his post-incident email to his children. He said he felt "bewildered" following the Paltrow incident.
Sanderson told the jury that the email's subject line was an attempt to "desperately connect with my children before they learnt from someone else that I had been crushed."
"My attempt to put some fun into a serious situation backfired," he said.
Sanderson said he owned a GoPro camera but "did not have it on that day" to video the Paltrow crash. He said, "That was just what we needed."
Paltrow's Attorney Apologizes For "Being a Ass" During Cross-Examination
On March 23, Owens cross-examined Sanderson's daughter Polly. Sanderson's witness Polly Sanderson.
Owens asked Polly about her father after she told the jury she saw "something horrifically wrong" with him after the incident.
Owens said he questioned Polly about Sanderson's divorces and his friendship with her sister Jenny, who declined to testify for Terry.
Polly said her father "could have done better" with her mother, his ex-wife, but not abusively.
Owens also described a time Terry reportedly punched a man he thought was cheating on his wife. After Polly said she had never heard this claim, the court adjourned for lunch.
Owens apologized to Polly before his cross-examination. He apologized for triangulating you, your father, your sister, and your mother.
After asking Polly if she loved her parents and sisters, Owens got a resounding "yes" and "absolutely true" from her.
Apple Martin Recalls Her Mother Gwyneth In "state of shock" After The Incident
Paltrow's children, Apple (11 at the time of the crash) and Moses (9), were deposed in court on the sixth day of the trial.
Due to time and scheduling constraints, attorney Stephen Owens accepted the passages read into evidence despite her children being "ready, willing, and able" to testify.
Related: Who Is Apple Martin? All About Gwyneth Paltrow's Fashion Star Daughter
Apple, like Moses, "did not see" the crash but heard a woman screaming behind her when attorneys read her deposition. Apple revealed Paltrow's post-crash words.
After lunch, "My mother informed me. She was quite upset, and she told us what had happened…. I saw she was a bit stunned, so I asked her what happened, and she responded, "This guy ran into me. I remember her motioning that he ran into her back and they both fell.
She was in a state of shock, Apple claimed. After that, she decided to call it a day on skiing, something she hardly never does.
She felt uneasy and shocked, so she fled. She never appeared that frightened before. She felt unsettled and uneasy.
Shone Palmer
I've been writing about LGBTQ issues for more than a decade as a journalist and content writer. I write about things that you care about. LGBTQ+ issues and intersectional topics, such as harmful stories about gender, sexuality, and other identities on the margins of society, I also write about mental health, social justice, and other things. I identify as queer, I'm asexual, I have HIV, and I just became a parent.