Who Was Jason Bernard Kennison? Australian Man Died After Climbing Mount Everest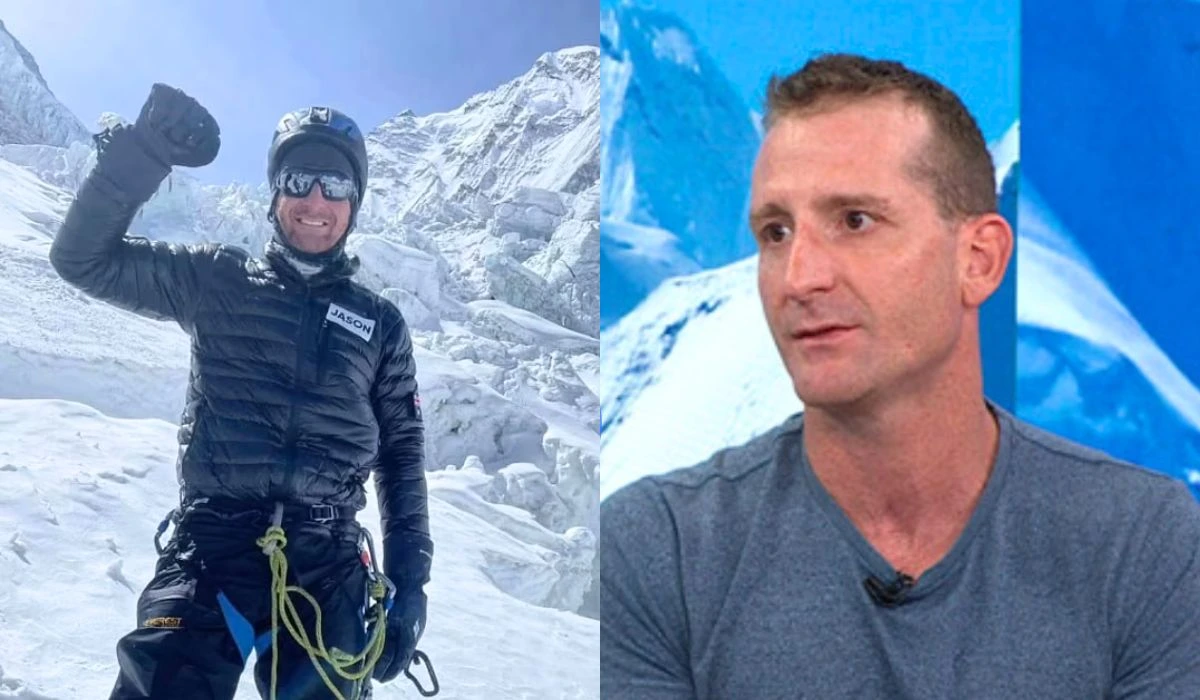 Jason Bernard Kennison, An Australian man who reached Mount Everest after recovering from a car accident has passed away on his way back home from the peak.
On Friday, the courageous Australian man who regained his ability to walk died, his family confirmed. They wrote that Jason had achieved his goal of reaching the peak. He stood on top of his world but sadly was unable to go back home.
Jason Bernard Kennison Death: What Was The Cause?
The 40-year-old mechanic was a member of an Asian Trekking trip, whose managing director, Dawa Steven Sherpa, informed the Himalayan Times that Kennison had begun acting strangely from the south peak.
He was carried down to the balcony area, which is 8,400m above sea level, by the two Sherpa guides who were with him. After Kennison refused to move, the guides descended to camp four.
According to Sherpa, they decided to descend to camp four in hopes of climbing back again with oxygen cylinders to rescue him because their oxygen cylinder supply was running low.
However, the guides were unable to quickly return because of heavy winds and terrible weather.
Must Read: Who Was Frankie Jules Hough? Pregnant Mother Died In A Car Crash
The Accident In 2006
Jason Bernard Kennison always challenged himself dealing with several difficult situations. Climbing Everest and reaching its peak was one of his representations of conquering obstacles and finding fulfillment.
A 2006 car accident left him with spinal cord injuries and despair. Kennison's climb on Everest happened 17 years after he was warned he could never walk again.
The incident gradually undermined his self-esteem to the point where he became overly self-conscious.
He had some similar accidents a few years back before the car crash. Due to the prior accidents, he noticed that a ligament in his back had pulled in between the disc and the nerve.
The outdoor enthusiast underwent a treatment to remove the ligament in order to make space and grind the disc back.
During the procedure, Kennison tripped several times. Then his right leg started to lose sensation, rendering him briefly immobile.
He ultimately returned to the gym to concentrate on his recovery, but he had difficulty both physically and mentally because the nerve damage had left him with no strength.
Once, the dearest friend of Kennison convinced him that he was capable of being able to do what he wanted.
Three years after another spinal treatment that required another round of rehabilitation, the one who convinced him of doing anything he wanted inspired him to climb Everest.
What Inspired Jason Kennison To Climb Everest?
According to Jason Bernard Kennison, receiving a surfboard as a present inspired him to see his life in a different light, to view what he was missing internally, and to admire the challenges that he was capable of overcoming.
After watching movies about mountaineers, Kennison became inspired to take up climbing Everest.
Kennison said that he would travel to Nepal in 2023 to experience Mount Everest in person since he came a long way from his struggles with depression and severe injuries.
Conquering Everest was something that he never dreamt of or thought was possible when he was told that he would not be able to walk anymore after the accident in 2006.
In addition to practicing abseiling and rock climbing, Kennison had flown to New Zealand for mountaineering courses. He had also created training areas in his backyard for ladder crossing, jumaring, and roping.
He wanted to make the people who are suffering from spinal cord injuries known to the world and aimed to help them.
According to Kennison, he was going to make his life, and part of that involves helping and assisting other people who are suffering from spinal cord injury.
As Jason Bernard Kennison's family said about him, he was one of the most courageous, adventurous humans that the world has ever seen.
Also Read: Who Was Micah Meggs? Olivia Plath Brother Died In An Accident
Shone Palmer
I've been writing about LGBTQ issues for more than a decade as a journalist and content writer. I write about things that you care about. LGBTQ+ issues and intersectional topics, such as harmful stories about gender, sexuality, and other identities on the margins of society, I also write about mental health, social justice, and other things. I identify as queer, I'm asexual, I have HIV, and I just became a parent.