Virginia Graduation Shooting: All About The Victim Shawn Jackson And The Tragic Incident
A man with four handguns opened fire into a crowd after a high school graduation ceremony in the American city of Richmond, killing two people and injuring five others.
According to police, they had arrested a 19-year-old man, in connection with the shooting on Tuesday, at a theatre close to the Virginia Commonwealth University campus, where the graduation ceremony had taken place.
Virginia Graduation Shooting Victims
The two men, who were murdered in the gunfire, have been identified as 18-year-old Shawn Jackson and his stepfather 36-year-old Renzo Smith.
The incident left Tameeka-Jackson-smith behind, killing her husband and son.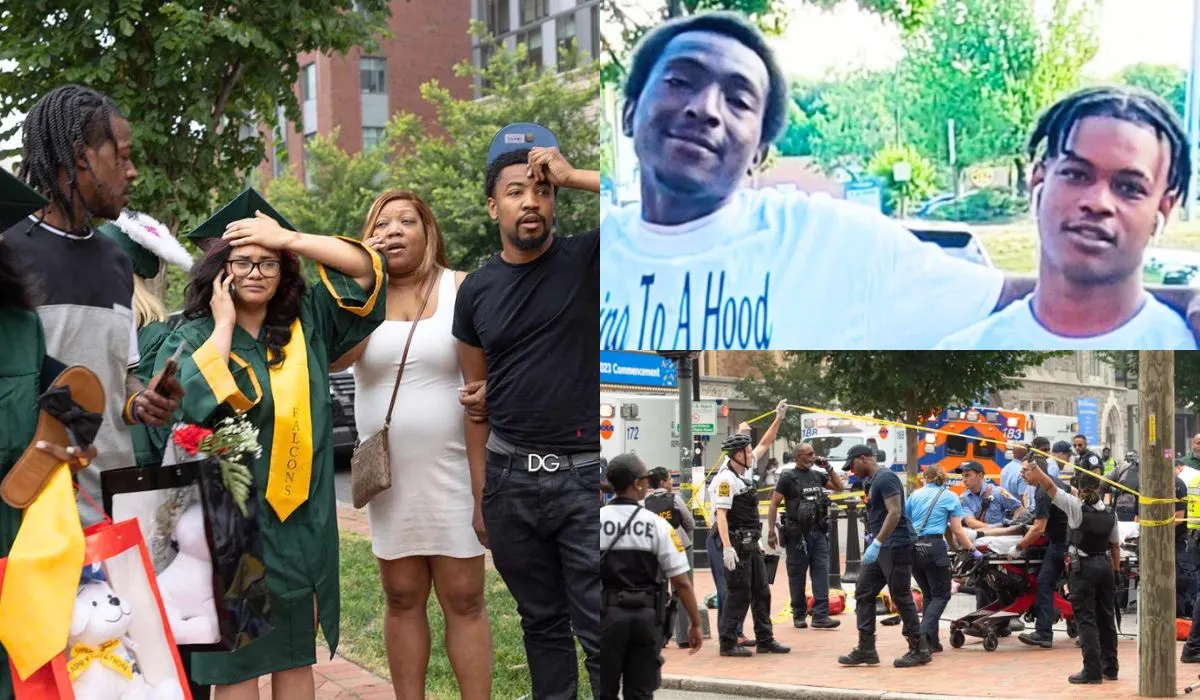 The names of the victims were released by a nearby charity organization called United Communities Against Crime on behalf of the family.
Authorities and the school officials said that the incident happened at 5:13 pm outside the theater where the graduation ceremony occurred.
The gunfire broke out when the students and family took photos after coming out of the theater.
The chairman of Richmond Public Schools in the 5th District, Stephanie Rizzi, reported that she heard the gunshots but thought that it was fireworks at a party nearby.
Rick Edwards, the interim police chief of Richmond, revealed earlier on Tuesday that Shawn Jackson has just taken part in the high school graduation ceremony while withholding the teen's name.
Must Read: Who Was Jermaine Burnett? Columbia Shooting Suspect Died After Self-Inflicted Gunshot
Who Is The Suspect?
According to Rick Edwards, the 19-year-old man was one of the two people detained and implicated in the graduation shooting. He said that the second person was taken into custody by mistake.
According to Edward, the suspect, who has not been officially identified, is charged with two charges of second-degree murder.
The police came to the conclusion that the suspected person is not someone strange to the two who were murdered. According to reports, the suspect knew at least one of the victims.
As per what reports state, Renzo Smith and his family attended the ceremony to see their son's graduation. Unfortunately, it went wrong and took the lives of Renzo and Shawn Jackson.
Virginia Graduation Shooting: Other Casualties
The identities of the five people who were injured were not yet released, and they all are reportedly male from 14 to 58, said Edward.
🚨#BREAKING: Mass shooting at Virginia Commonwealth University's during high school graduation ceremony⁰
📌#Richmond | #Virginia

Currently multiple law enforcements are on scene of a mass shooting that took place during a high school graduation ceremony in Monroe Park on the… pic.twitter.com/18sEoB973z

— R A W S A L E R T S (@rawsalerts) June 6, 2023
According to Police, a 31-year-old victim who was injured in the graduation shooting was in a critical stage, whereas the other four had minor injuries.
Police reported that two people had fallen and nine others were treated for minor injuries and anxiety due to the unexpected tragedy.
A 9-year-old was struck by a car while running in panic when the gunfire started. He was taken to hospital and is under appropriate treatment.
Mayor Lever M. Stoney, who was one of the chief guests in the graduation ceremony, paid tributes to the dead and said that it was both heartbreaking and traumatizing to hear about what happened in the city of Richmond on Tuesday.
Who Was Shawn Jackson Renzo Smith
Renzo Smith worked as a vehicle transport operator in the Army from 2005 to 2006 before serving in the US Army for four years in 2006.
He had been sent to Iraq at the time of his termination after ranking him as one of the Specialists.
Renzo's relatives said that he was a person adored by his cousins and would always have a smile that would light up the room.
According to the family, Renzo and Jackson were very close and the father supported them in every step of their life.
Jackson's graduation made Renzo happy and excited and they wore a custom-made shirt specially prepared for Shawn Jackson's graduation.
A few minutes after getting the graduation certificates, Shawn Jackson was killed when the sudden gunshots broke.
The ceremony with smiles of accomplishment and joy was ripped apart within a few seconds destroying a family's hopes and dreams.
Also Read: New Mexico Shooting Spree: Body Camera Video Released By Police
Shone Palmer
I've been writing about LGBTQ issues for more than a decade as a journalist and content writer. I write about things that you care about. LGBTQ+ issues and intersectional topics, such as harmful stories about gender, sexuality, and other identities on the margins of society, I also write about mental health, social justice, and other things. I identify as queer, I'm asexual, I have HIV, and I just became a parent.