Update: Donald Trump Declares 2024 Run!
For a while, Florida might be the epicenter of the Republican political cosmos even though the state may be a secondary concern for national Democrats. While Sen. Rick Scott launched an improbable campaign to unseat Mitch McConnell as Senate GOP leader, former President Donald Trump launched his quest for the presidency in 2024 from Palm Beach.
While this was happening, Republican governors in Orlando praised Gov. Ron DeSantis for his rebuke of Trump a few hours earlier.
Former president Donald Trump declared Tuesday night that he could run for the Republican presidential nomination in 2024. He hopes to become the second commanding officer to be elected to two terms in office years. Following the revelation made by the former president on Tuesday night, the left-leaning media erupted.
Trump Is Once More Generating Interest!
Despite much hand-wringing among some in the GOP about whether Trump's time has gone, Trump's intention to run for president a third time received most of the attention from the country's political media. Before announcing his most recent attempt to supporters on stage at Mar-a-Lago, he submitted his papers late on Tuesday. Trump's role as president instigating an uprising was mentioned in The Washington Post's headline, published twice.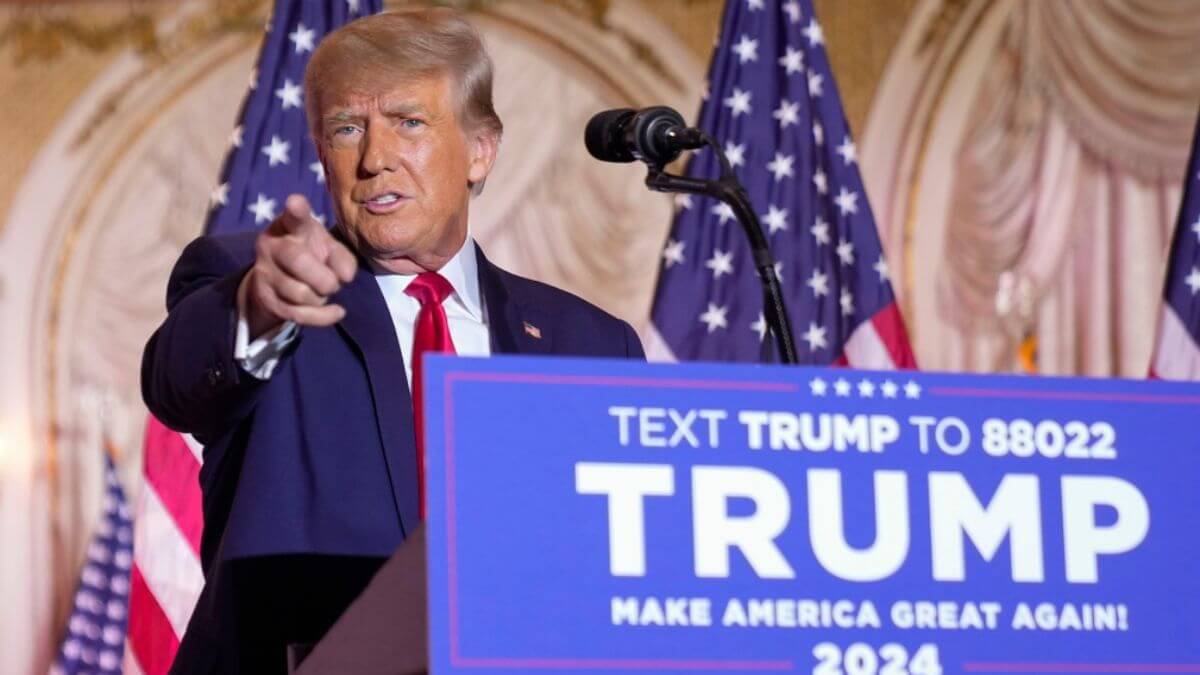 They discussed how Trump was ousted twice and the focus of numerous criminal investigations while refusing to concede loss in the 2020 election. His entry changes the makeup of the GOP field and makes it more likely that Vice President Biden will seek reelection.
Despite coasting across the well-worn ground during his roughly hour-long campaign speech, he was notably more subdued than in previous rallies. In light of this, the former president avoided revisiting the 2020 race. Following more than 5 million early ballots being cast in his chosen home state, Trump did commit to limiting voting to one day. This was made a week before the election. People assumed competitors like DeSantis were not attacked by Trump either.
The Washington Post was brought up on Twitter by Fox News contributor Sara Carter. It was claimed that The Washington Post had weaponized the news for years by publishing lies based on a fictitious dossier and biased sources.
To repeat the deed, it is currently working overtime with Trump's adversaries. An article on the Steele Dossier, later revealed to be a hoax and used to impeach Trump for allegedly conspiring with Russia, was notable among The Washington Post's corrections and retractions.
Long-awaited Campaign Of Donald Trump
Trump's eagerly anticipated campaign comes as he tries to recover the limelight following the GOP's lackluster result in the midterm elections and the attendant blame game that has taken place since Election Day.
The Trump campaign highlights the defeats of several Trump-backed election skeptics. Republicans could not take control of the Senate, and they still lacked a majority in the House. In addition, the Republican party reportedly has trouble because they are failing to win enough contests to fill 218 of the requisite statewide seats.
Currently, they have won 215 of the 218 needed races. Trump and other party officials are now combative due to these developments because they are receiving criticism from their own ranks.
He didn't spend all of his remarks reiterating his lies about the 2020 election, much to the satisfaction of his aides and allies. Instead, Trump sometimes attempted to widen his complaints, even though he supported using paper ballots and compared the American electoral process to that of "third world countries."
During his speech, Trump bemoaned the tremendous corruption and vested interests that, in his opinion, have overtaken Washington. Trump obviously wanted Republicans to view his campaign as a self-sacrificing endeavor throughout the entire hour-long speech.