10 Most Expensive Cars In The World: IMPOSSIBLE TO BELIEVE!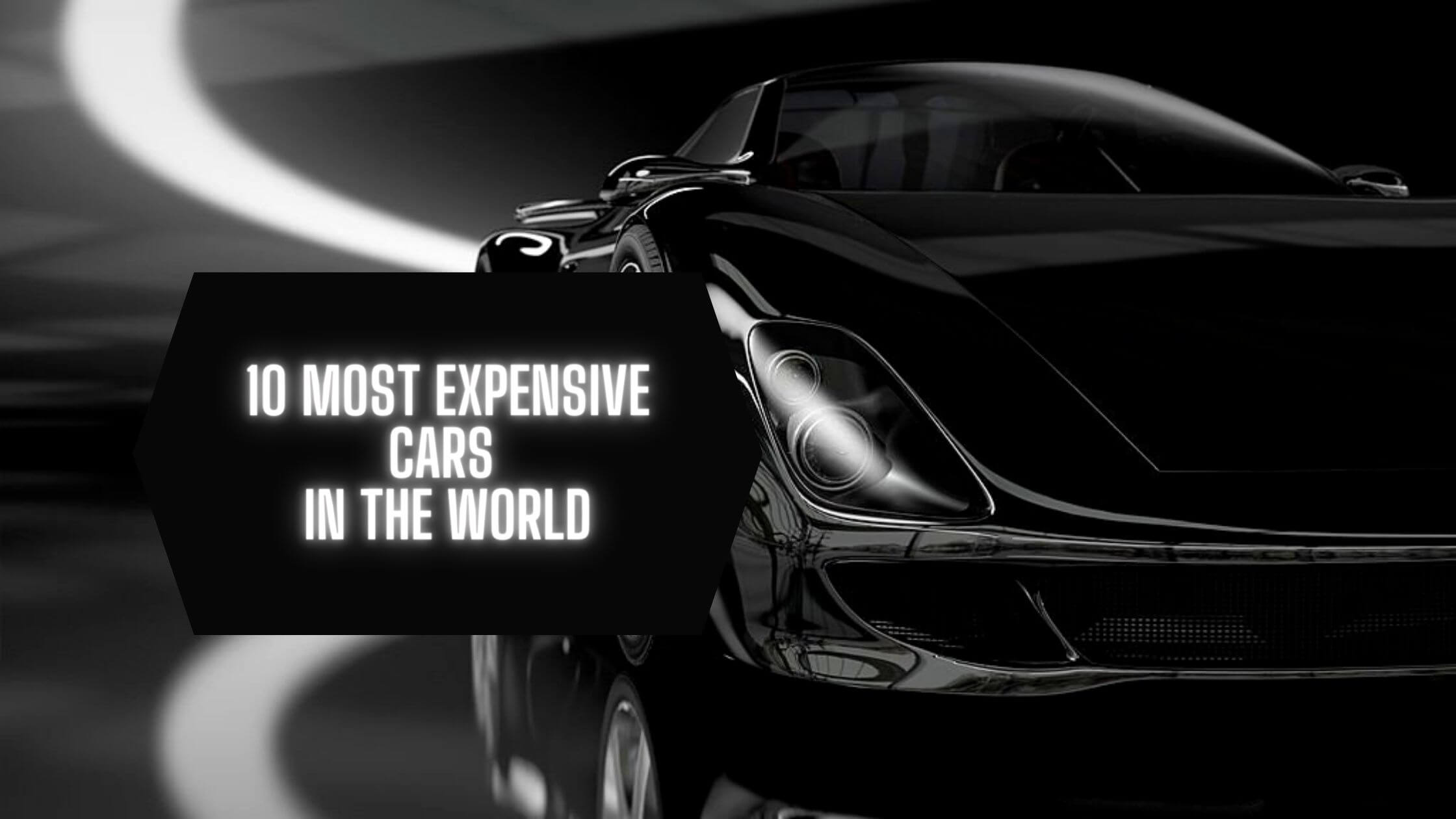 In his modern era, when we hear the word expensive we eventually think about luxurious, super fast, or high-end hypercars. These kinds of cars are indeed expensive in the modern world. The manufacturers of these machines, specifically built using high-quality materials, which attract wealthy clients from all over the world. The manufacturers of these hypercars and luxury cars include Rolls Royce, Ferrari, Bugatti, Pagani, and many more.
For decades, the latest model hypercars have been residing at the top spot of the most expensive cars in the world, until 2018 when a vintage model of Ferrari was sold for several millions of dollars.
These expensive car companies do not practice promoting their products. Most of these manufacturers don't need to. The quality experience of these cars is enough to convince their clients to buy them. These markets highly focus on investing in the product rather than promoting it. In this way, the companies can have some loyal customers.
So These Are The 10 Most Expensive Cars In The World
Well in this article, you will discover the 10 most expensive cars in the world up to this date. Including the models, you will also find out about their features and properties, which makes these cars expensive. The top 10 expensive cars are listed below.
1. Mercedes – Benz 300 SLR Gullwing Uhlenhaut
Only two models of these beauties have been manufactured by Benz. The car was designed as a road-going version of the W 196 R Grand Prix car. The model comes with a 3.0-liter straight-eight engine capable of driving at 288 kph.
It got its name from its engineer, Rudolf Uhlenhaut. These models were made during the thriving time of Benz in the racing course along with the 300 Gullwing, which was also the period when Benz and entire humanity witnessed one of the most horrific accidents of the Grand Prix.
What makes its design unique is its Gullwing doors with the sculpted body of Ultra-light Elektron magnesium alloy body.
With two being built, this car is closer to being the rarest model ever. One of its siblings is residing as a display in the Benz Museum in Bad Cassatt.
While the other one has been sold from the museum in May 2022 to an undisclosed private collector for a whopping $142 million, which makes the most expensive car of the day – breaking the record set by the 1964 Le- Man's 24-hour winner Ferrari 250 GTO.
2. 1963 Ferrari 250 GTO
The production of this race-winning model began in 1962 and produced 36 designs until its production was halted in 1964. Its name 250 represents the cubic centimeters of each of its cylinders, and GTO stands for Gran Turismo Omologato.
This legend is powered by a Tipo 168/62 comp. 3.0 L, V12 engine. Its chassis design was based on its predecessor 250 SWB, with minor differences to reduce the weight, stiffen and lower the chassis. The beast could rush from 0-60 mph in 6.1 seconds and at a top speed of 174 mph, at that time no other could compete with this.
The thing that makes special about this car is its handling and driveability. Moreover, the car is sculpted for the road as well as race. Overall, it has completed and won nearly 300 races worldwide.
In 2018, one of the 36 cars was sold to a WeatherTech founder, David MacNeil for $70 million dollars
3. Rolls Royce Boat tail
This is custom and hand-built based on the design from the 1910s Rolls- Royce Boat tail car. This road boat is inspired by the concept of an aesthetic yacht from the 1920s.
Only three of these luxurious beauty has been crafted in the Rolls- Royce Industries. It shares the same model of engine with its neighbor Phantom. The boat tail is implanted with a 6.5L, N74B68 twin-charged V-12 engine.
The unique feature of this car is, it has an in-house customized deck that holds a parasol that can be extended like a flower by a mechanical system, this includes rotating cocktail tables with matching picnic stools, a complete set of tableware, two fridges, and Armand de Brignac champagne bottles. This entire wood deck is covered by an umbrella This hosting suite gives a nautical design for the bespoke.
The yacht-inspired machine is currently the most expensive modern-build late-model car priced at $28 million.
4. Bugatti La Voiture Noire
The all-black stunning beast was sold for $18.7 million, which makes it the second most expensive latest model car. The rareness of this beauty is unspeakable, as he is only a single child.
It is fitted with an 8L quad-turbo 16-cylinder engine with 1,500 horsepower in each wheel. "La Voiture Noire" could go 62 mph from its idle position in 2.4 seconds.
Its exterior design features are inspired by the iconic Ulta-rare Bugatti Type 57 SC Atlantic. Its body is handcrafted from a single piece of carbon fiber.
Its unique design of the exposed backbone, customed headlight design, and aesthetic front and rear fascia were all combined perfectly for this elegant beast.
5. Pagani Zonda HP Barchetta
Currently, only three models of Pagani Zonda HP Barchetta have been manufactured by the company. The name Barchetta resembles a little boat. This model itself is relatively small and stands at only 21 inches. Its body is made of carbon fiber to provide lightweight and speed.
The "Little Boat" is powered by a 7.3L V12 engine with 800 horsepower. It is one of the most powerful versions of supercars that are allowed to drive in the public. One of its three siblings was sold for $17.6 million, to an unknown buyer.
6. SP Automotive Chaos
Many of you might not have heard about this underrated beast, except if you are a car maniac. This modern enigma comes with an insane engine. It is believed that the engine fitted on the car powers up o 3,000 horsepower at 12,000 RPM.
It mounts on a twin-charged 4.0 liter V10 engine with the hybrid assist. The company claims that it can turn to 100 km in 1.8 seconds and thrive at a speed of 310 miles per hour. This potent version is priced at $14.4 million
However, a lighter version of the model with the same engine but tuned to run with just 2,000 horsepower has also been unveiled for an expensive price of $6.4 million. Its wheel is 3D printed.
The demand for the car has been rising ever since the unveiling of this gorgeous beast.
7. Rolls Royce Sweptail
This on-off luxury car was custom-made for the hong-kong based billionaire Sam Li, son of the real estate billionaire Samuel Tak Lee for $13 million.
The exquisite design is based on its parent model Phantom Coupe and inspired by coachbuilding of the 1920s or 30s. The oval-shaped sunglass roof deepens the view of the interior when viewed from above.
It is built with a 6.75 liter V12 engine with a power output of 338 KW. its body style comes with a two-suicide door coupe.
It is a fusion of the old and new Rolls Royce car designs. It is blended with modern luxurious interiors and exteriors with 1920s touch. It remained the most expensive vehicle for many years.
8. Bugatti Centocedeci
All of the 10 models of the Centocedeci have found their owners. This vehicle is the perfect example of beauty meets power. The limited supercar is a reinterpretation of the former veteran Bugatti EB110 and a touch from its earlier version Chiron.
This sports car comes with an 8 L quad-turbocharged W16 engine, that can go from 0-100 km/h in 2.4 seconds and to 200 km/h in 6.1 seconds.
The design for the machine was also built in a short span of six months using computer-assisted 3D designs and virtual technology.
Another fascinating fact about this model is all of its 10 members were hand-built in the Bughati Molsheim factory.
The entire collection has been sold for $9 million each.
9. Mercedes-Maybach Exelero
This spectacular standout was commissioned by a german subsidiary of Goodyear Fulda, to test their new tire. Its design was inspired by the Maybach SW 38. In order for the tire to be efficiently tested, Fueda instructed the designers for the car to speed up to 350km/h.
It is fitted with a twin-turbo V12 engine, that produces 700 PS at 5000 rpm combined with a 5G- Tronic automatic transmission.
The highlight of the vehicle was its wheels and tires. The frame is mounted in alloy wheels with 23 in diameter and Carat Exelores tires on both front and rear.
According to reports, it was previously purchased by rapper Birdman for $8 million in 2011, however, it was later owned by Mechatronik. This mammoth has featured in Jay-Z's music video "Lost one". It is believed that Exelero could be worth more than $10 million if it is put on sale.
10. Pagani codalunga
As we all know, Pagani excels at creating super and hypercars. This new edition exhibits a modern exotic exterior and a luxurious interior with premium leather patches. Only five of these Le Man's long tails inspired has been manufactured. It has a minimalistic exterior body with butterfly wing doors.
The 1,280 kg machine sits on AMG sourced twin-turbocharged 6.0 liter V12 engine which fires at 840hp.
The interior design of the car brings a similar vibe to the cockpit of an aircraft. All the controls of the car are customized in the wheel and in and around the driving seat.
The entire design and manufacturing of the ubiquitous model are designed, collaborating with a client. And all of its five models have been sold for more or around $7 million.
Summary
This exquisite car collection is based on the latest data available. As we all know, as the years pass by more expensive vehicles top the list.
However, currently, the top two positions have been claimed by the vintage models as it seems that if owners of the rare and vintage models of the cars decided to put them on sale, then the top spots of the list will be claimed by the oldies.
Though the manufacturing companies such as Bugatti, Pagani, and Rolls Royce seem to be the leading companies for delivering expensive vehicles, not only expensive these cars are definitely worth the money. In the coming years, we can expect a wide range of collections to be added to this list.
Checkout More: Top 5 World's Richest YouTubers In 2022: Inspiring Persons To Follow!
FAQ
Which is the most expensive car in the world right now?
Mercedes – Benz 300 SLR Gullwing Uhlenhaut.
Who bought the Benz 300 SLR?
The collector of the car was not disclosed, however, it was bought for $142 million.
How many Bugatti " La Voiture Noire" has been manufactured?
Only a single model is available
Which is the rarest model of Pagani?
Pagani Zonda HP barachetta.
Is it SP automotive chaos that could break the speed records?
It is believed that it will attempt to break Porche 911 GT2 RS's Nurburgring time (6:43:30) and SSC Tuatara's 286.1-mph top speed run
Shone Palmer
I've been writing about LGBTQ issues for more than a decade as a journalist and content writer. I write about things that you care about. LGBTQ+ issues and intersectional topics, such as harmful stories about gender, sexuality, and other identities on the margins of society, I also write about mental health, social justice, and other things. I identify as queer, I'm asexual, I have HIV, and I just became a parent.