As Fans Speculated, Kendall Jenner Went Completely Pantless In New Photos!
When everyone is getting ready for the winter, Kendall is out there turning heads with her flawless pantless ensemble. The well-known Kardashian sister, model, and businesswoman Kendall Jenner was spotted on Sunday leaving a photoshoot for FWRD. Kendall debuted a daring new look as she left the Los Angeles location, ditching the pants entirely and displaying her stunning long legs.
Kendall looked incredibly stylish with her sheer black Calzedonia tights, black knit sweater, and lack of pants! Being a great model, Kendall has always had the ability to make daring fashion statements. She chose to do it again, but this time, she wore pants, yet she still slayed that as well!
Kendall Jenner was spotted on Sunday leaving a photoshoot
Kendall was spotted walking around in a pair of sharp, black slingbacks. In addition, she completed her ensemble with a stitched top-handle backpack from Bottega Veneta and a couple of blocky black sunglasses. Kendall complemented her otherwise minimalistic appearance with a floral arrangement of vivid yellow sunflowers that she carried in her hands.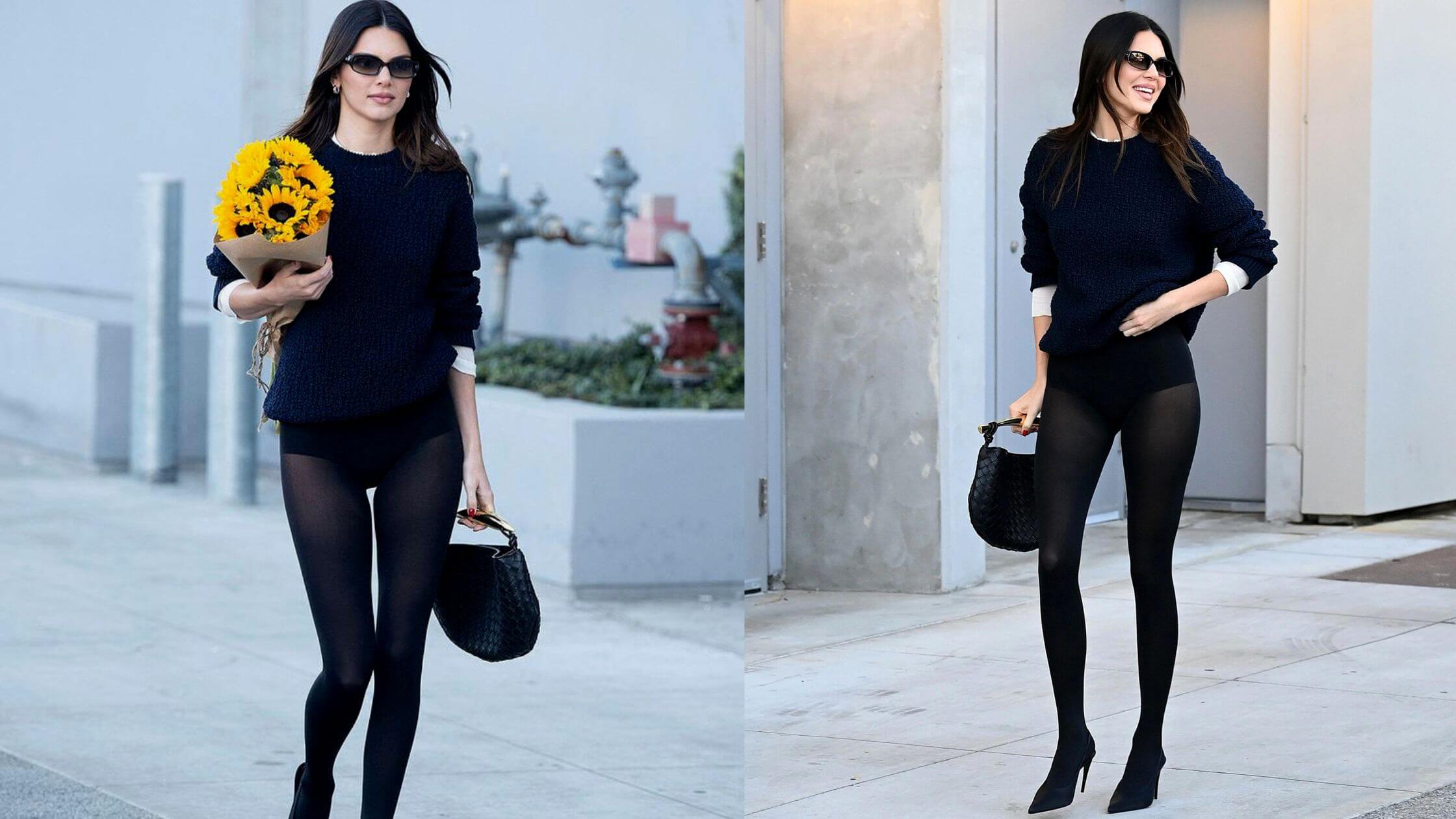 Kendall held up a huge bouquet of sunflowers while beaming widely. Do you notice anything unusual about her cheeks while talking about her smile? Recently, there have been rumors and conjectures regarding Kendall's potential for cosmetic procedures or the possibility of getting cheek fillers.
Rumors surrounding Kendall getting under the knife
Because of various factors, Keeping Up With The Kardashians fans adore Kendall Jenner. But she is loved most for having a face and body that appear naturally beautiful. However, if people examine the supermodel's before and after photos, they might detect evidence of purported facial surgery. Despite Kendall's denials, fans have once more conjectured that she may have chosen to have plastic surgery.
Following the Hulu star's sharing of a recent picture with her horse, more online investigative reporters asserted that her cheeks emerged fuller than before. A view of the supermodel grinning and wrapping her arm around a dark horse attracted criticism from users on a well-known Kardashian Reddit page.
Kendall is smiling with her eyes closed and her cheeks full. The reality star has frequently sparked speculation about plastic surgery in the recent past. She has yet to respond to recent rumors. Similar to how she did in 2017 when fans suggested Kendall had her lips enhanced, she denied the rumors.
Kendall Jenner is unquestionably a beautiful woman in her own right. The fact that Kendall didn't get any plastic surgery, however, is difficult to understand, given that most of the Kardashian siblings did. She may have undergone puberty, which would explain her altered appearance.
However, many experts believe that she may have had several plastic surgery procedures to enhance her beauty. Her Cheeks appear fuller and plumper in recent photos than in earlier ones. Cosmetic procedures or a particular photographic angle typically cannot produce such a pronounced difference. People first began noticing her nose's sharper, sleeker appearance a few years ago, which suggests she has also undergone a nose job.
Kardashians and their history of plastic surgery
The Kardashians and Jenners always impress the world with their flawless appearance when it means looking your finest. Although they had to undergo numerous surgeries to alter their original appearance, they had to pay the price. However, the sisters now look more intricate and beautiful due to the surgeries performed on them.
Kim Kardashian, Kanye West's ex-wife, underwent a Brazilian butt lift to give her a recognizable appearance. Notably, Lip Injections by Kylie Jenner have to be the surgery that has been most successfully imitated. She might not have been recognizable if the surgeries hadn't been performed. Kendall has asserted that she has maintained her natural beauty and innocence, unlike her sisters.
Shone Palmer
I've been writing about LGBTQ issues for more than a decade as a journalist and content writer. I write about things that you care about. LGBTQ+ issues and intersectional topics, such as harmful stories about gender, sexuality, and other identities on the margins of society, I also write about mental health, social justice, and other things. I identify as queer, I'm asexual, I have HIV, and I just became a parent.