Christine McVie's 12 Essential Songs – A Musical Tribute!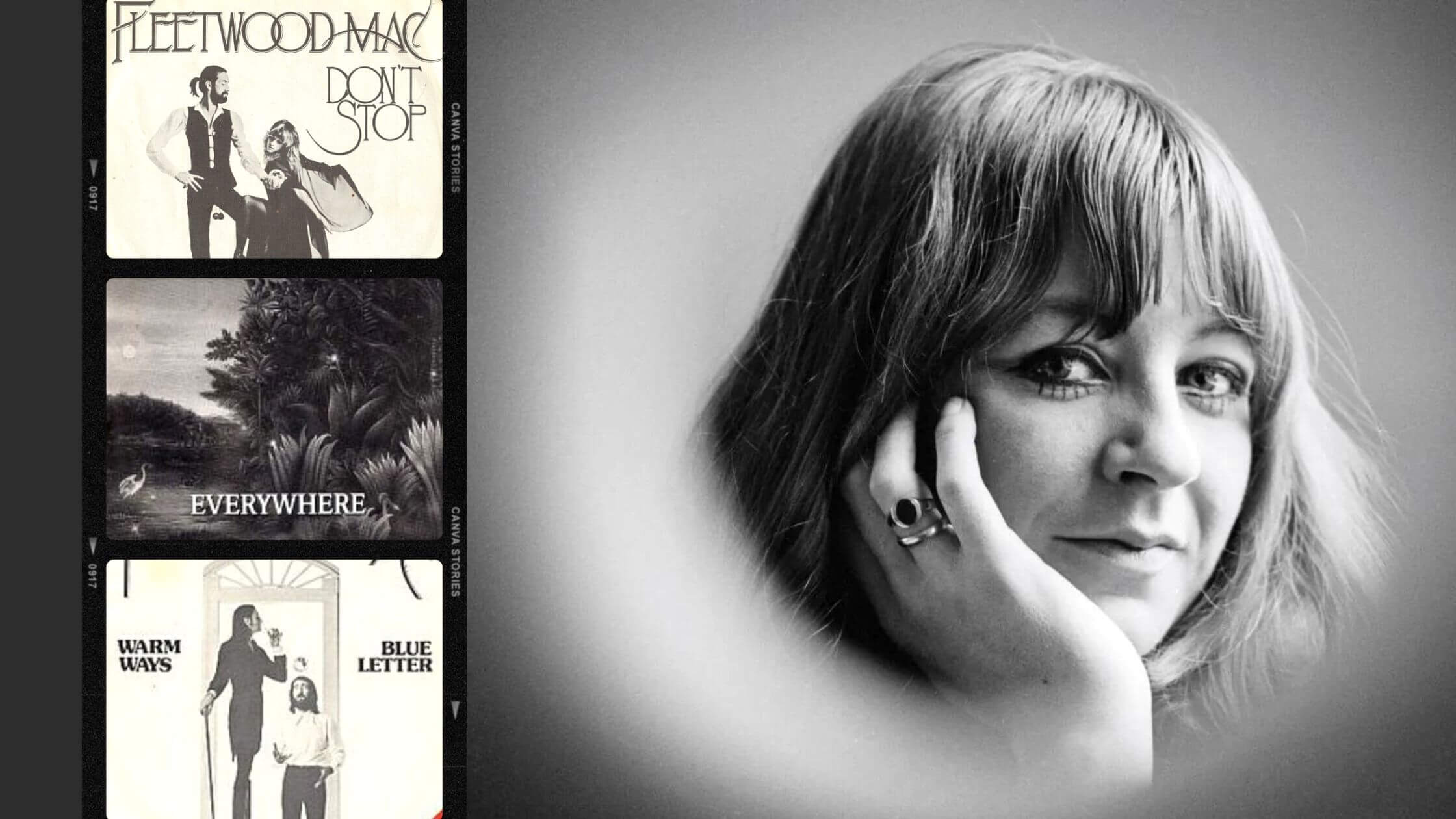 Christine McVie, a singer, songwriter, and keyboardist for Fleetwood Mac, one of the most turbulent and adored bands in rock history, passed away on Wednesday at the age of 79. She also served as the group's unifying force throughout radically different periods, joining in 1970 after the departure of blues guitarist Peter Green, the band's founding member, and supporting it during its second, more commercially successful phase after Lindsey Buckingham and Stevie Nicks joined.
When McVie, who frequently shied away from the limelight, did enter it, she always provided precise melodies and uncomplicated lyrics.
Top 12 Songs That Miss McVie Composed For The Band
12. Songbird (1977)
This gorgeous and moving ballad, written and performed by Miss McVie, was frequently played as the encore of many Fleetwood Mac performances. One of the four tracks from the wildly successful Rumours album. American singer Eva Cassidy covered the song from Bowie, Maryland, whose posthumous album of the same name was released in 1998 and peaked at No. 1 in Britain.
11. Love in Store (1982)
Following the overly ambitious Tusk, the first track of 1982's Mirage sets the tone for the somewhat scaled-back album by coasting over a warm and comforting McVie tune. Although "Love in Store" features lovely harmonies from Lindsey Buckingham and Stevie Nicks, it is primarily McVie's song, right down to her warm, well-worn singing.
10. Think About Me (1979) – From the album's overall epic breadth to its meticulous production, Tusk, Fleetwood Mac's double-record follow-up to the career-defining "Rumours," is typically seen as a Lindsey Buckingham project. With Buckingham providing the backing, McVie's "Think About Me" is a tight, compact, and shockingly tough rocker. Typically, McVie would softly sweeten her bandmate's sharp, sour tones.
9. Little Lies (1987)
Like "Everywhere," "Little Lies" exhibits the ultra-polished production style that was popular in the middle of the 1980s. 
8. Over My Head (1975)
This Top 20 single from Fleetwood Mac's self-titled 1975 reboot, which was the group's first Top 40 hit, essentially marked the beginning of their superstar era. Lindsey Buckingham and Stevie Nicks gave the seasoned British blues band the pop sensibility is required. Still, McVie's "Over My Head" ignited the group and cemented her place in the illustrious singer-songwriter trio as the one who wrote the group's best soft rock songs.
7. Hold Me (1982)
On "Hold Me," the first single from the band's 1980s first album, as well as a few other songs on our list of the Top 12 Christine McVie Fleetwood Mac Songs, Lindsey Buckingham lends Christine McVie Fleetwood Mac a lot of assistance.
6. Say you love me (1975)
Fleetwood Mac Mach 5 may have been introduced by "Over My Head," but "Say You Love Me" established its place as pop icon. Fleetwood Mac's second single, "Rhiannon," by Stevie Nicks, peaked at No. 11 and was the group's biggest hit to that point, but McVie's track, which also peaked at No. 11, helped the No. 1 album attain multi-platinum status.
5. You Make Loving Fun (1977)
Rumours' third single, "You Make Loving Fun," was released when the album was already on its way to becoming one of the best-selling records of all time. The song praises McVie's relationship with a tour staff member, which undoubtedly delighted her former bass-playing bandmate. But this kind of conflict was the foundation of Rumours.
You Might Also Like To Read: Top 10 Songs That Reached No. 1 On Spotify In 2022
4. Everywhere (1987)
The band's most renowned and successful lineup is represented on Lindsey Buckingham's final album, which features some of its most polished pop tunes despite its distinctly 1980s sound. Their final Top 20 hit was McVie's "Everywhere," released as the album's fourth single and peaked at No. 14. The band, which at the time was irreparably fractured, created a typically dazzling piece of music with this one.
3. Warm Ways (1975)
This lovely song was the album's lead single in Britain but was not made available as a single in the United States.
2. The Chain (1977)
John McVie and Mick Fleetwood came up with the bass progression that opens the song's concluding section. Stevie Nicks and Christine McVie rewrote the first part of the song after Stevie Nicks realised the lyrics would work well together.
1. Don't Stop (1977)
Only "Dreams," the band's lone No. 1, was bigger than McVie's biggest hit with Fleetwood Mac, which is actually a group song. At least during performances, Lindsey Buckingham is primarily responsible for the lead vocals. Nevertheless, McVie is credited as the song's author, and her influence can be heard in every aspect of it, from the upbeat piano melody to the cleverly timed (and incredibly catchy) interaction of the verse and choruses.
>> When looking at a list of Fleetwood Mac albums, it's simple to concentrate on Lindsey Buckingham and Stevie Nicks, but the band's legacy goes far beyond that.