James Gunn's DC Universe Plan Revealed: 10 Movies & Shows Beginning 2025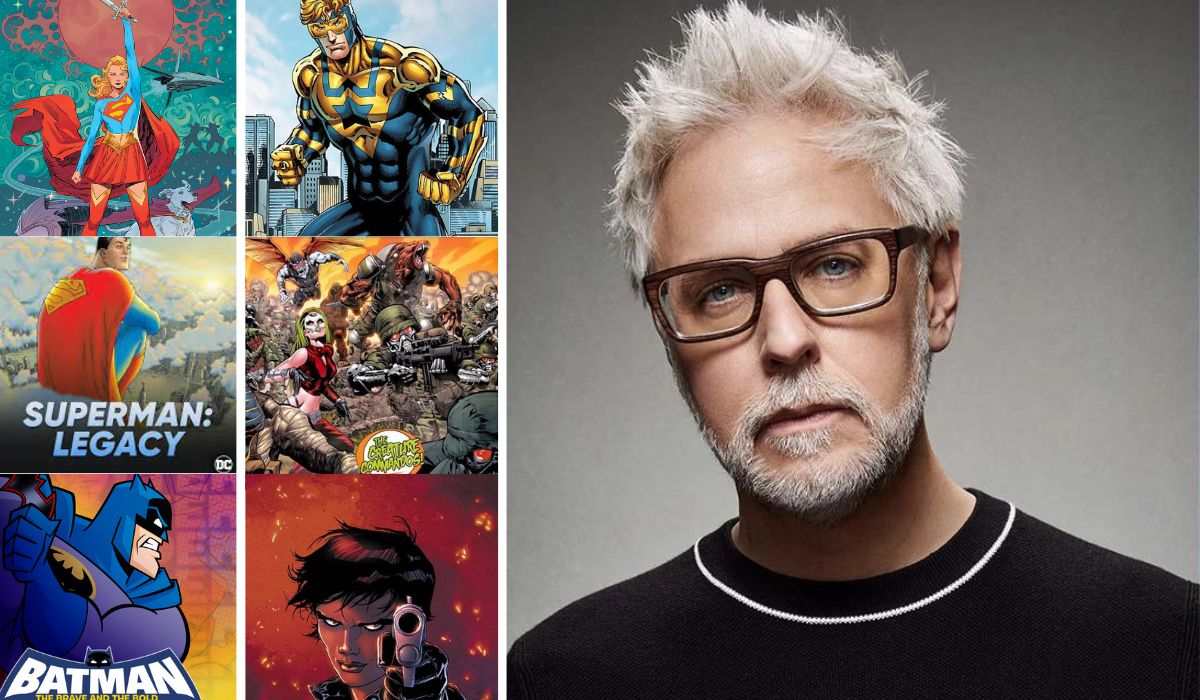 It is indeed a piece of massive news that James Gunn has let the cat out of the bag by announcing the upcoming umpteen plans for the new DC Universe that would come from the DC studios. As we all know, the past couple of months has been indeed a rough patch for the DC brand with Warner Bros. it was back in November 2022 that James Gunn and Peter Safran were appointed as the co-CEOs. So after James Gunn was entitled to such a big role he was teasing the fans on social media that they would reveal the DCU plans as soon as possible. Now he has proved his words and the DCU plans is been revealed, so let us dive into it and know more about what is waiting for us in the sack of DCU.
James Gunn's DC Universe Plan
James Gunn and Peter Safran were appointed as the co-chief executive officers of the DC Universe, they have been running the movies, tv shows animations and video games for the massive DCU franchise. Several media outlets and press attended a special event and James Gunn revealed their upcoming plans.
James Gunn and Safran revealed the first phase plans of the DCU, and half of Chapter 1 is called Gods and Monsters and will be kicking off in 2025. With their announcement, we could narrow down the list of movies to ten. And the interesting news is that each of the movies and television shows would be interconnected in this new universe. As per sources, according to their plans, they would release two movies and two HBO Max shows per year. So let us have a look at this long list that follows.
The other half of the plan of the DC universe would be revealed later, at the right time and this method would give a strong idea of how connected the massive DCU would be with other multiple mediums. Also, they have explained their stance that their plan of slate can be moved around if that is appropriate for the movie or the show at that time.
List of Movies
James Gunn is currently pursuing this single movie and he is rapidly writing the screenplay for this movie. And hopefully, Peter Safren would be the likely director of this movie. This resounding movie would be set to release on July 11. 2025.
Even though its name alludes to its original version, this particular movie will not be an origin story, but somehow it will mainly focus on Clark's tremendous struggle to find a balance between his superhero life and his human one. Moreover, to make it more appealing, the story will also demonstrate superman being an epitome of a beacon of kindness in a world that believes kindness is antiquated.
James Gunn is the most versatile and powerful paradigm of being a filmmaker and throughout his career, he has been pretty much occupied with his passion. So he is in a way of outlining this particular movie, and the movie will be loosely based on Wildstorm characters. So as per sources, this live-action movie in the DC universe would explicitly explore the good qualities and intentions of antiheroes, and explain the reason to have to go to extremes due to how broken the world is.
This distinguished movie would be a Batman and Robin story. But a new riveting star would be set to play the Dark Knight. So as we understood, Robert Pattinson and Ben Affleck will not be starring in this single movie.
As already stated this movie is based on Grant Morrison's Batman run, the plot would see Bruce realizing that his son is none other than Damian Wayne. Moreover, we could see other members of the Bat family in this movie. But who will be the leading stars in this movie has not been decided yet or they have not revealed anything about it.
Supergirl: Woman of Tomorrow
Since Tom King is also one of the architects of the movie, this movie will be loosely based on his recent DC run, and the Girl of steel would get her first solo movie, which could be a great exposure to her career in the upcoming years.
The DC universe is persistently working on this movie that indeed explores the dark origin story of Swamp Thing and would come up with a totally different medley of feats.
The List of Television shows
This show would be regarded as the only animated one that has been announced as a part of their plan. James Gunn is pretty fast when it comes to writing and he has already written seven episodes of the show. The Creature Commandos will center Rick Flagg Sr, and others including, Nina Mazursky, Doctor Phosphorous, Eric Frankenstein, Bride of Frankenstein, G I Robot and Weasel will be in the show.
The Amanda Waller spinoff series would be streaming in the upcoming year and luckily Viola Davis would be the leading star, and this riveting show will trace its origin between Peacemaker seasons 1 and 2. This sort of approach to this television series is that James Gunn is already occupied with several other projects. This series would be headed by Jeremy Carver and Christal Henry.
Some facts about this television series are pretty obscure, but most probably it will focus on Hal Jordan and Jon Stewart. As per DC, this show would be kind of a detective mystery with the Green Lanterns serving as super cops on the limits of the earth, and this show will lead us to an overall ancient horror.
This particular show would be the definite prequel to Wonder Woman and will follow the style of Games of Thrones. This television show focuses on the origin of Themyscira before Diana Prince's time and thus explores the political game that would be played in Themyscira in order to gain power, and what a society of women does.
This show would be a different one as it works on a future tech superhero with imposter syndrome and who will be the lead actor to pull off such a role is unspecified.
Also Check: Nick Cannon and Moroccan Monroe's Viral TikTok Video: A Family Bond That Will Warm Your Heart
Shone Palmer
I've been writing about LGBTQ issues for more than a decade as a journalist and content writer. I write about things that you care about. LGBTQ+ issues and intersectional topics, such as harmful stories about gender, sexuality, and other identities on the margins of society, I also write about mental health, social justice, and other things. I identify as queer, I'm asexual, I have HIV, and I just became a parent.