Simone Biles And Jonathan Owens: Are They Married? Relationship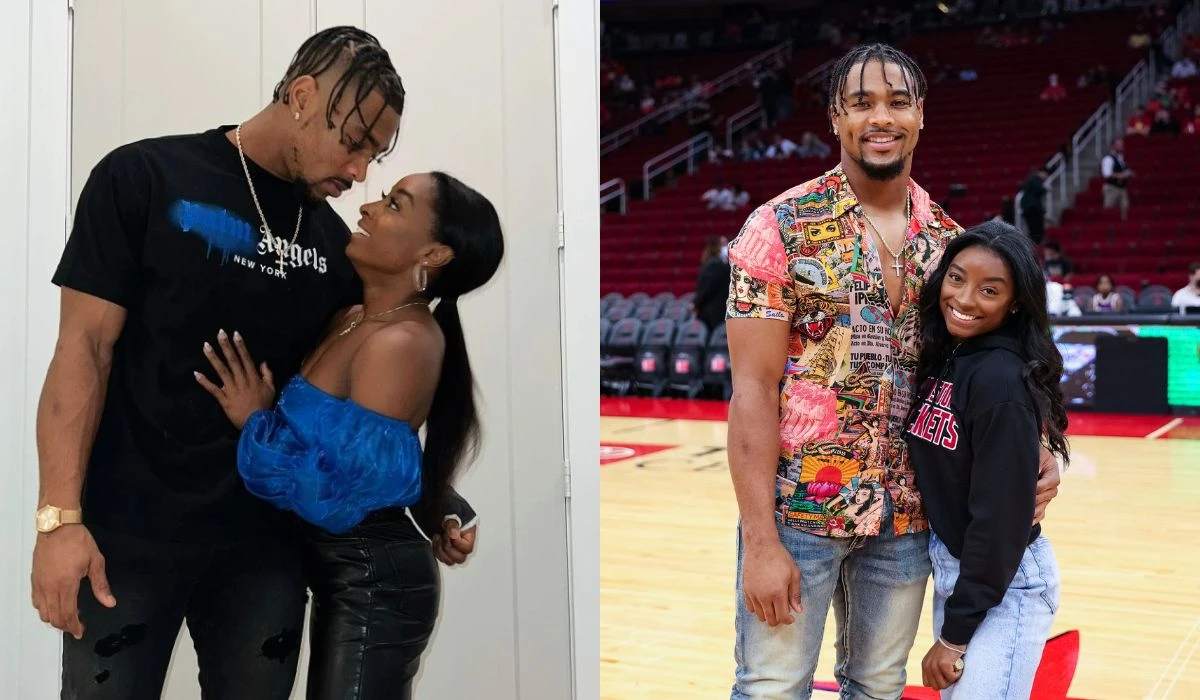 The American gymnast, Simone Biles, and Jonathan Owens, who plays for the Houston Texans in the NFL, have become the talk of the town ever since the couple announced their wedding. The couple publicized their marriage quickly after they tied the knot.
Simone Biles And Jonathan Owens Relationship
Prior to the wedding, Simone Biles And Jonathan Owens have been updating their status on their Instagram, constantly, showing their friends and family how happy they are. Both of their latest pictures in the feeds were immediately bombarded with pictures of their special day, along with lots of positive comments from their friends and family.
They have been busy sharing several pictures from the bridal shower held at The Juliana in Houston Heights ahead of their big day as well as in one post they showed off their wedding document and captioned it, "Almost time to say I do."
The bride also celebrated her bachelor's party with her girls in a matching white t-shirt that read,
"Bride and Boujee." in another picture, she was seen wearing a pair of jeans with "Mrs. Owens" embellished across the back pockets
Must Read: Don Lemon First Wife: Is Don Lemon Married To Stephanie?
The Beautiful Wedding
On their wedding day, the 26-year-old Simone Biles is wearing a beautiful white gown, whereas, the 27-year-old Jonathan Owens is well groomed in a tan-colored suit accompanied by a white shirt and white shoes. They look like a picture-perfect couple who's been together for years, even though they have been engaged only for a year.
On their most memorable day together, Simone Biles and Jonathan Owens posted pictures of them exchanging their vows and celebrating their most perfect day together. In the pictures, the couple looks happier and more in love than ever before.
Among the recent pictures, Simone has pinned another series of pictures dating back to 15 February 2022, which was the date he asked his girlfriend to marry him. In the caption, she wrote: "THE EASIEST YES. I can't wait to spend forever & ever with you, you're everything I dreamed of and more! Let's get married, FIANCE,"
The text is followed by emojis of a ring, two teary faces, and a brown heart, which implies feelings of love, affection, and close relationships. the picture, she is bursting with excitement when he gets down on the knee to propose.
At the end of the attached pictures, she posted a video showcasing the beautiful and expensive ring she received from her fiance. The ring – is an oval-shaped diamond glittering while it stands on a diamond band designed by ZoFrost.
How Did They Meet?
Like ‌most modern-age couples, Simone Biles And Jonathan Owens also connected through a dating app right before the pandemic. Jonathan Owens revealed that he didn't even know her when she slid into his dm. They got instantly occupied together.
After dating for a couple of months, the couple made their relationship ‌ official; she posted a selfie together and captioned it, "It's just us."
Simone Biles And Jonathan Owens were spotted together on multiple occasions, including at his game, where she was captured visiting. She keeps updating their status on each occasion. It has now been three years since the couple first met each other.
Recently, they've been spending more time together than ever before. They've even started celebrating the holidays and their anniversary together, showing how much they love and care for each other.
Unlike others, the couple is pretty happy and comfortable with publicizing their relationship. While other celebrities are giving ‌a hard time to their fans in figuring out their dating life.
The couple is more than open and honest about their relationship. The two athletes have done so much to ease the troubles and frustrations of fans.
For more information about Simone Biles And Jonathan Owens' post-married life, all you have to do is keep updated on their social media profiles.
Also Read: Who Is Irina Shayk Husband: Is Irina Shayk Married?
Shone Palmer
I've been writing about LGBTQ issues for more than a decade as a journalist and content writer. I write about things that you care about. LGBTQ+ issues and intersectional topics, such as harmful stories about gender, sexuality, and other identities on the margins of society, I also write about mental health, social justice, and other things. I identify as queer, I'm asexual, I have HIV, and I just became a parent.