ImmutableX ($IMX) Price Prediction – 2023, 2025, 2030: Can IMX Lead To Increasing?
Are you excited to know about the price prediction of a crypto token closely associated with gaming and NFTs? Then this token might be an interesting one to consider.
The gaming industry has evolved a lot in recent years, attracting more gaming companies and developers into the crypto space. Thanks to blockchain technology.
The major factor that played a crucial role in the quicker adoption of web3 gaming and NFTs are the rewards provided to the gamers. With the help of price prediction, you can plan and execute long-term investment strategies.
Before going into the price prediction, let's understand the Immutable X project and its IMX token.
Stay tuned!
About ImmutableX (IMX)
ImmutableX is a prominent layer-2 scaling solution platform that can be used to build NFTs. Anyone can build an NFT using this scaling solution with the help of the Ethereum blockchain.
Immutable X ($IMX) Analysis
🪙 Cryptocurrency – Immutable X
💱 Ticker Symbol – IMX
🏆 Rank – 84
ImmutableX provides all the necessary infrastructures required to build gaming platforms on Ethereum. Moreover, the support provided by the platform can help a developer to build high-quality games.
One of the major advantages of using ImmutableX is that the speed of the transactions will be faster. In addition, gamers can enjoy a seamless gaming experience. Another great benefit is that this platform provides gas-free transactions. Here the developers can create their games on a low budget.
ZK rollups power ImmutableX to provide the best transaction speed. With the support of these rollups, the transaction speed of ImmutableX can reach as high as 9,000 TPS. The higher transaction speed helps founders and developers to create multiple gaming platforms in a limited period.
ImmutableX plays an important role in solving the issues faced by Ethereum. The increased throughput helps web3 games significantly in scaling their gaming potential to another level.
The in-house infrastructure of ImmutableX is very helpful for developers in the web3 gaming industry. The developers can now access REST APIs and software development kits.
This platform's simplicity and user-friendly nature will help ImmutableX become a go-to platform for all web3 gaming and NFT projects.
Along with providing support for building web3 games, ImmutableX equally provides importance to developing NFT infrastructure. In the case of web3 games, NFT has a pivotal role.
The gaming assets such as an avatar, weapon, and properties are available as an NFT.NFTs, add value to gaming assets. As the demand for an NFT asset increases, its price also increases.
Gamers can purchase NFTs to improve their gaming performance. For example, let's take the case of a web3 car racing game. In this case, you can pay more money to buy a better car.
Here the car will be an NFT. The price of the car depends on its performance. That's why ImmutableX is said to be providing value to gamers and developers.
Earlier crypto game developers used to create wallets separately to allow their users to store assets such as NFTs and cryptocurrencies. But with ImmutableX's software development kit, users can enjoy smooth wallet integration.
Simply put, you can connect your wallets, such as MetaMask, Magic Link, and GameStop Wallet, with ImmutableX to store and trade your NFTs.
As you now know about ImmutableX, let's get straight to IMX price prediction.
IMX Price Prediction
At the time of writing, IMX is trading around $0.43 with a trading volume of $4,628,908. The market cap of IMX is around $315 million. The all-time high of IMX was $9.50 on 26th November 2021. IMX's current price is 95.5% below the all-time high price.
While considering all the factors mentioned above, the price of IMX can be expected to increase in the coming years. The strong fundamentals of ImmutableX will play an important part in the rise in IMX price. Moreover, the services provided by the ImmutableX platform add more user base to the platform helping the growth of their project.
Price Prediction for 2023
The average price of IMX is expected to be $0.95 by the end of 2023. The price surge can double the current price. In addition, the maximum price can cross the one-dollar mark and reach $1.09. The minimum predicted price in 2023 is $0.87.
Price Prediction for 2025
During 2025, the average price of IMX tends to reach $1.83. This price is almost five folds the current market price of IMX. The maximum price can be expected to be just below $2. There is less chance for the market price to go below $1.74 in 2025.
Price Prediction for 2030
IMX's average price is expected to surpass the $4 mark and reach $4.09 in 2030. Compared with the current market price, it's a whopping ten times the return. The price can surge further to $4.27. Also, you can expect the lowest price at $3.92.
What is an IMX Token?
IMX is the native utility token of ImmutableX. This token was built using the ERC-20 standard in 2021.
As we discussed earlier, ImmutableX doesn't charge any gas fee from the developers. Developers can trade and mint NFTs for free. But the developers need to pay a protocol fee for every blockchain transaction.
ImmutableX currently charges a 2% protocol fee from the developers. From the total collected protocol fee, 20% is rewarded to the stakers.
| Date | Market Cap | Volume | Open | Close |
| --- | --- | --- | --- | --- |
| 2022-12-25 | $313,517,623 | $3,373,959 | $0.428631 | N/A |
| 2022-12-24 | $315,651,326 | $4,547,742 | $0.431537 | $0.428631 |
| 2022-12-23 | $321,038,762 | $5,736,706 | $0.439250 | $0.431537 |
| 2022-12-22 | $324,683,187 | $6,610,807 | $0.443810 | $0.439250 |
| 2022-12-21 | $335,675,669 | $14,207,024 | $0.459090 | $0.443810 |
| 2022-12-20 | $314,113,881 | $12,222,913 | $0.431018 | $0.459090 |
| 2022-12-19 | $309,719,400 | $2,972,947 | $0.423090 | $0.431018 |
| 2022-12-18 | $308,909,685 | $5,674,416 | $0.422305 | $0.423090 |
Immutable X ($IMX) Last 7 Days Historical Data
ImmutableX also provides flexible options using IMX tokens. You can swap any cryptocurrencies with IMX instantly. This swapping feature helps to save money, energy, and time. Moreover, this swapping helps NFTs buyers and sellers use the cryptocurrencies in their wallets.
Staking is another way an IMX holder can benefit. One-fifth of the protocol fee is used to reward every IMX token holder. The value of IMX distributed directly depends on the number of IMX staked.
Once the staking period is completed, ImmutableX allows the stakers to re-stake their IMX tokens for more staking rewards.
Being an IMX token holder allows you to participate in governance decision-making. Decision-making is essential to the project as it determines future growth. As an IMX holder, you can vote, and your decision will impact the major decisions of ImmutableX.
The token holder with a larger number of tokens has a high potential to impact the governance policies.
How to Buy IMX?
You can buy IMX from any major crypto exchange. The exchanges with high token volume and liquidity are Binance, Coinbase Exchange, KuCoin, Kraken, OKX, and Huobi.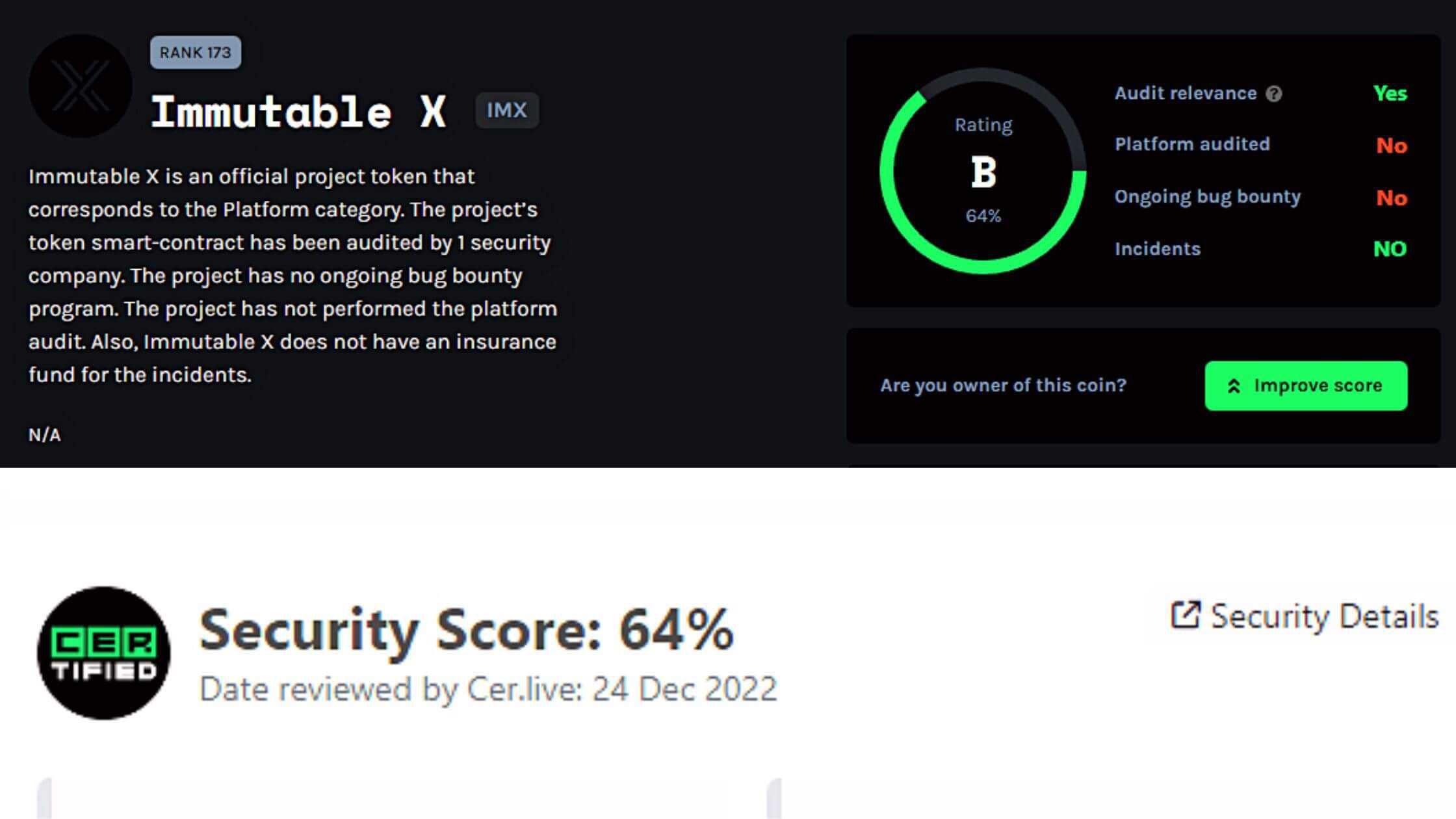 Here let's take Binance as an example:
Visit the official website of Binance or install their mobile application.
Log in using your Binance user credentials. New users can create a new account.
Go to the Binance "Spot trade."
Select a trading pair with high liquidity. Popular IMX trading pairs in Binance include USDT/IMX, BUSD/IMX, and BTC/ IMX.
Load your Binance wallet with USDT/BUSD/BTC.
Select USDT/BUSD/BTC as the primary token.
Then select IMX as a secondary token.
Finally, execute the trade.
After completing the trade, your Binance wallet gets credited with an IMX token. A similar process applies to other centralized crypto exchanges.
Final Thoughts on Immutable X Prediction
Immutable X is an impressive crypto project that will help thousands of web3 game developers in the coming years. The developmental features and support will attract more developers to the platform. With the demand for Immutable X, the value of IMX also surges.
As per the price analysis, IMX tends to cross the $ 1 mark in 2023 and will cross $4 on reaching 2030. The speed of achieving these price milestones can also get quicker based on the faster development of Immutable X.