John Motson: a Famous Commentator, Has Died at The Age of 77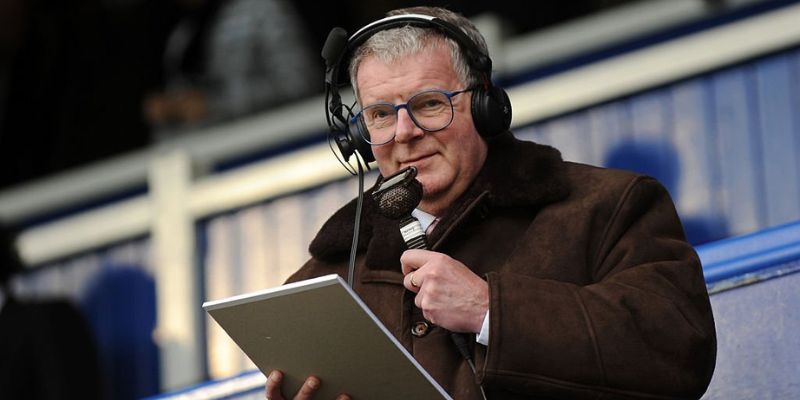 John Motson, a renowned football pundit who spent his whole illustrious 50-year career with the BBC, has passed away at the age of 77. He was a legend in his field. Before his retirement in 2018, he worked for BBC Sport and was widely known by the nickname "Motty." During his time there, he covered 10 World Cups, 10 European Championships, and 29 FA Cup finals. The footballing community as a whole, including his former teammates, fans, clubs, and organisations, has expressed their deepest sympathies and paid their respects following the news of his passing.
The loss of John Motson, one of the most influential commentators in the annals of football, has created a hole that will be challenging to fill in the future. Many people will be saddened by the loss of someone who was the voice of football for multiple generations. Let's take a moment to reflect on his legendary career and the profound influence he had on the graceful game of soccer.
John Motson was born on July 10, 1945, in the city of Salford, which is located in England. Before becoming a freelance reporter for BBC Radio Sheffield, he worked as a reporter for the Barnet Press and the Sheffield Morning Telegraph during the beginning of his career in media.
In 1968, he began working for the BBC on a permanent basis and began his career there as a sports reporter for Radio 2. His big break came in 1972 when he covered the memorable FA Cup rematch between Hereford and Newcastle. The game was played at Newcastle's stadium. His coverage of Ronnie Radford's legendary 30-yard strike made him a sensation overnight and positioned him as a significant analyst for the BBC. His coverage also placed him as a key figure at the BBC.
A Defining Voice in The Sport of Football
It is impossible to overstate how much John Motson has contributed to the sport of football. He was both an innovator in the field of sports broadcasting and a person who served as a model for commentators all around the world. Because of his unique speaking style, encyclopaedic football knowledge, and uncanny ability to convey the intensity of pivotal moments, he is widely regarded as one of the most iconic individuals in the sport of football.
The sound of his voice became inextricably linked with the game itself for a great number of spectators, and listening to his analysis while watching football on television was inextricably linked with his presence.
Gary Lineker, host of Match of the Day, referred to him as a "very brilliant commentator" and called him "the voice of football in this country for generations." BBC Director-General Tim Patten referred to him as "the voice of a footballing generation." Moreover, the English Football League, the Football Fans' Association, and the Football Association all issued statements honouring his career-long contributions to the sport.
Even though John Motson has died away, his legacy will live on in the hearts and thoughts of football fans all around the world for a very long time. His contributions to the sport have been enormous, and the legacy he leaves behind in sports broadcasting will continue to have an impact for many years to come. Although he is no longer with us, his words and memories will live on in our hearts and minds forever.
Also Read TikTok Influencer Kylie Strickland Got Arrested For Exposing Herself To Minor Boys
Shone Palmer
I've been writing about LGBTQ issues for more than a decade as a journalist and content writer. I write about things that you care about. LGBTQ+ issues and intersectional topics, such as harmful stories about gender, sexuality, and other identities on the margins of society, I also write about mental health, social justice, and other things. I identify as queer, I'm asexual, I have HIV, and I just became a parent.