Who Is Taylor Schabusiness? Woman Accused In Dismemberment Slaying Attacks Her Attorney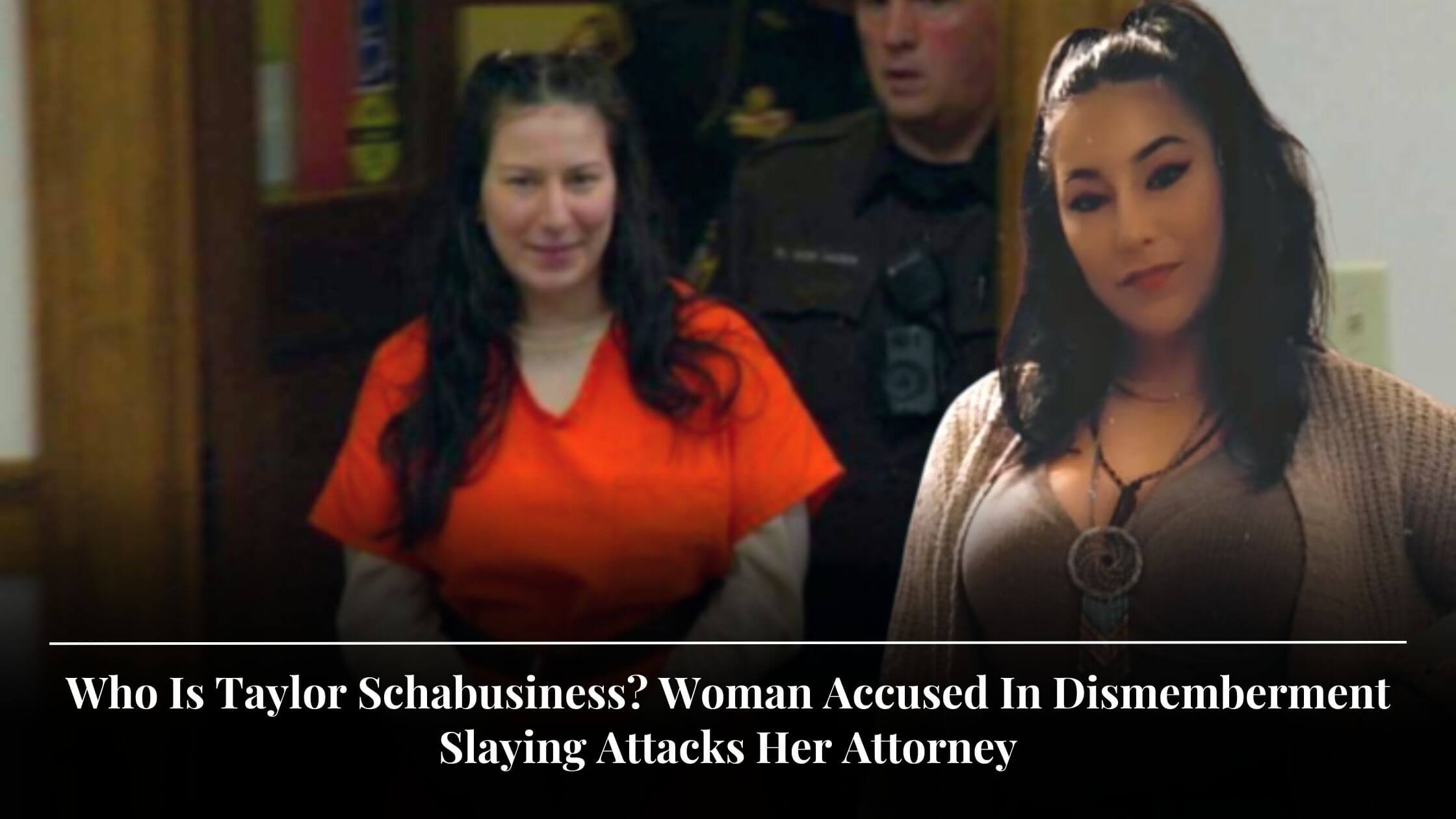 The Wisconsin woman could be a very familiar name to all as she has committed something horrifying last year.
Taylor Schabusiness, the 25-year-old Florida woman, was charged with first-degree deliberate homicide, mutilating a corpse, and third-degree sexual assault after she murdered and dismembered her 25-year-old sex partner.
A year after the horrific incident she physically attacked her lawyer in court during the competency hearing held on February 14.
The attack was caught on camera and displayed the young woman in shackles trying to knock down her attorney Quinn Jolly as he tries to fend off the spontaneous attack.
Who Is Taylor Schabusiness?
Taylor Schabusiness is a married woman from Green Bay, Wisconsin, who was accused of choking down her sex partner after drug-infused sex.
She even mutilated the corpse of the 25-year-old Shad Thyrion, which was later discovered by the police as they got a call about some suspicious death.
It was Thyrion's mother who informed the police as she found her son's severed head in a bucket in the basement of her home.
She was married to a man named Warren and is also a mother to a son, Mateo. She pleaded not guilty in July after she was charged with first-degree intentional homicide, mutilating a corpse, and third-degree sexual assault. Also, she was held on a $ 2 million cash bond.
On February 14, 2023, she maliciously bashed her defense lawyer, Quinn Jolly which was caught on camera. Later she pleaded not guilty for any reason of mental disease or defect.
She was tackled by the court officers while attacking her attorney as the Wisconsin judge reluctantly delayed her March 6 trial.
The trial date was postponed to May 15 and if convicted, Schabusiness will be spending the rest of her life in prison.
What Happened To Shad Thyrion?
Shad Rock Thyrion is a 25-year-old man from Green Bay, Wisconsin who was murdered on February 23, 2022.
He was said to have attended the Bay Port High School with Schabusiness, the one who murdered him. According to the reports collected from Schabusiness, she and Thyrion were together from February 22.
And on the day the incident occurred, they smoked meth before leaving for his mother's house in order to have sex using chains.
While engaged in sex it turned violent at a certain point that led to the murder of one.
Schabusiness described that they were having sex which included chains and because of the effect of drugs, she stated that she blacked out at times and even went crazy that she started to choke her sex partner.
She claimed that she never meant to kill him but rather enjoyed choking him and continued to do it which resulted in his death.
As per the statement given out by the police, it is said that Schabusiness presumedly told officers that they'll have fun trying to find all the organs since she has dismembered the body.
Thyrion's mother, Tara Pakanich, was the one who found his body part(head) in a bucket in her basement on February 23, 2022.
And it was the police who found the rest of his body parts upon searching Schabusiness' vehicle. They discovered a crock pot box that had additional human body parts including legs.
The victim's male organs were discovered in a bucket and parts including his upper torso and other internal organs were found in a storage tote bag.
Schabusiness disclosed all information regarding the murder and stated that she used the breadknife for dismembering the corpse and even commended that it worked the best because of its serrated blade.
She even informed the police that she was planning on taking all the body parts with her. But since she was on the effects of the drugs, she got lazy and could only take the leg in the van and forgot the head that was left in the basement which was later discovered by his mother.
Also Check: Who Are The Michigan State Shooting Victims?MSU Shooting Victims Identified