'Your Pull-Out Game Is So Weak': Tracy Morgan Trolled Eddie Murphy At Golden Globe Awards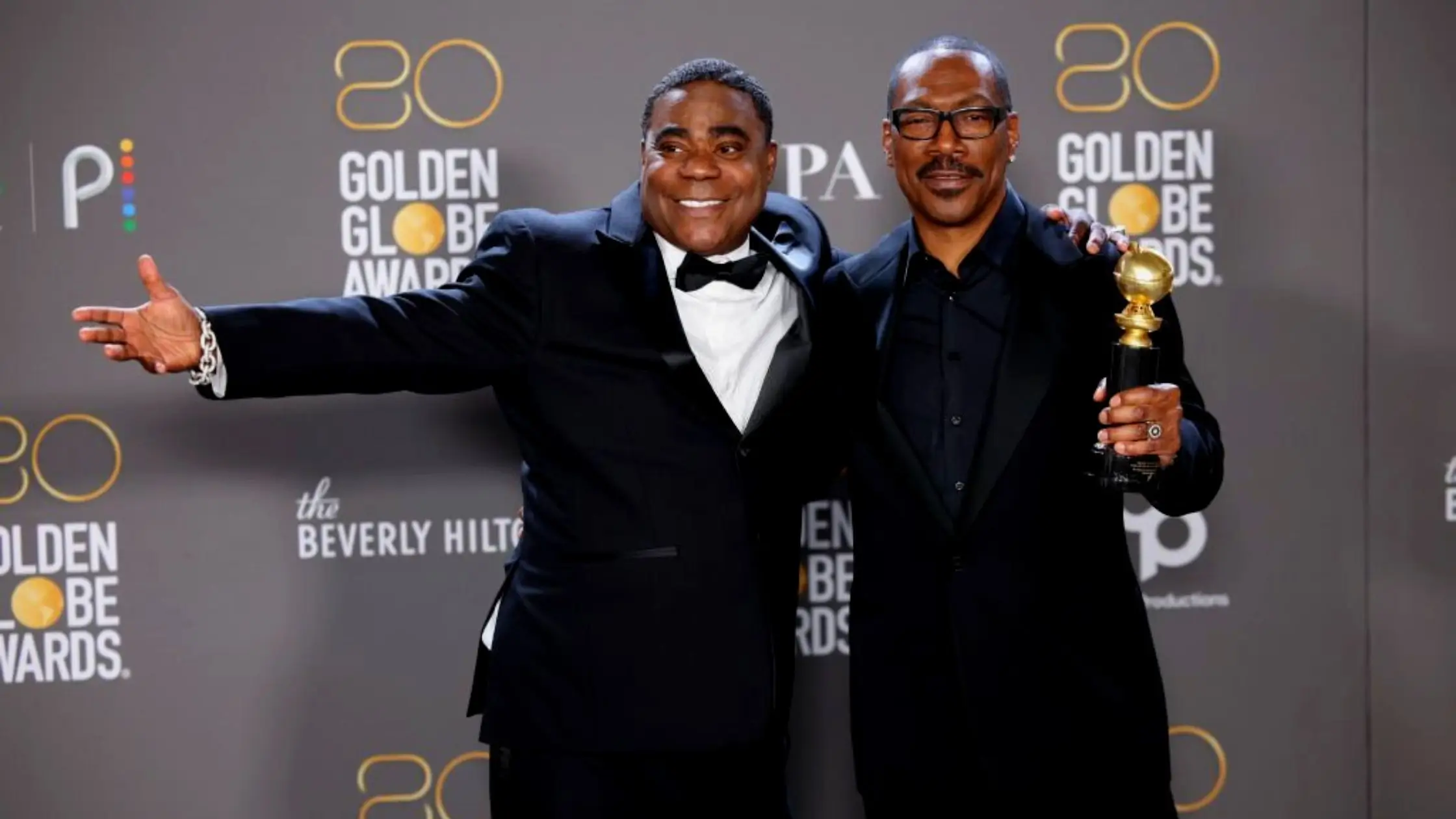 African American comedian and actor Tracy Morgan trolled Eddie Murphy at the occasion of the Golden Globe Awards by saying one of his most important jobs is being a dad and he is not good at his pull-out games.
The 30 Rock star roasted Eddie Murphy in the name of the father of 10 children. And also commented that Murphy is good at many things. He proved his ability in many fields but his pull-out game is so weak.
Eddie Murphy an American comedian, actor, and singer was also enriching the 2023 Golden Globe Award occasion with his presence. Eddie Murphy was presented with the Cecil B. DeMille Award.
Morgan Trolled Eddie Murphy For Having 10 Children
Morgan said at the award function, he knows that the most important role you play is being a dad. You got ten children, 10! Your pull-out game is so weak Eddie. This comment from Morgan made the audience laugh.
Eddie Murphy has ten children with five women. The audience was listening to morgans words that he talked about Murphy emotionally. His 46-year career, achievements, and life were also honored and a sudden laugh burst out while he spoke out that Eddie's most important job is being a dad.
Morgan has commented that Murphy is trying to break Bob Marley's record by having children. Bob Marley has 11 children and it going to break after one movement from Murphy. And also said that Murphy look at her girlfriend Paige Butcher and she get conceived.
Murphy thanked all of his children in his acceptance speech for supporting him. Don't feel any joke for having 10 children instead of feeling shame he considered it as a blessing and thanked his children.
Murphy showed his love and care toward his kids on many occasions. He told many times that he enjoys his fatherhood along with his ten children. He blessed his all children. He even didn't feel sad about it. And he added that he doesn't have any bad seeds. And he also said that his children are so great and like normal people. He even didn't feel any negative thoughts about his kids yet.
He also said last year that there must be a blueprint that you can follow all your life. It will help you to achieve success, longevity, peace of mind, and prosperity. You can also practice it by doing three things. First of all, just pay your taxes, mind your own business, and finally keep Will Smith's Wife's name out of your mouth.
Also Read: Meet The 3 Daughters Of Comedy Legend Carol Burnett 
Eddie Murphy's relationships and children
Eric, 33 with ex Paulette McNeely
Bria, 33, Myles 30, Shayne, 28, Zola, 23, and Bella,20 with ex-wife Nicole Murphy
Christian 32, With ex Tamara Hood
Angel,15, with ex Melanie Brown
Izzy, 6, and Max 4, with Paige Butcher.
Murphy showed his strong support for Nick Cannon by giving thumbs up when asking about fathering of Cannon to a Dozen children.
Nick Cannon's relations and children
Monroe and Moroccan, 11, with Mariah Carey.
Zion and Zillion, 1, with Abby De La Rosa. and recently a child named Zeppelin
Golden,5, Powerful and Sunrise,2, Brittany Bell
Legendary with Bre Tiesi
Onyx with Laneshia Cole
Zen, and Halo mary with Alyssa Scott
Son Zen dead before two years by affected by brain cancer. Zen was born in April 2021 as the son of Alyssa Scott and Nick Cannon.