Ryan Reynolds Dating History- Scarlett Johanson, Melissa Hart, And More
Over the course of long years of acting career, Ryan Reynolds has made headlines about his dating life. As we all know Ryan Reynolds is one of the phenomenally handsome and talented Canadian-American actors who has hordes of fans across the globe. Before reaching his true love in life, he had his share of past relationships. So let us have a vast look into this unbearably handsome man's dating history.
Ryan Reynolds Dating History
As we all know he is happily married to his love of life Blake Lively and is the father of her children. Before being forever with the right one, Ryan Reynolds was married and also had several relationships. When we dig a little deeper, he was romantically involved with many women including Scarlett Johanson and Melissa Hart, etc.
Melissa Joan Hart
As per sources, the duo met back in years, while they were filming Sabrina the Teenage Witch. Back in 1996, their romance rumors sprouted and they were really a beautiful couple at that time. It was during an interview in 2013 that the beautiful actress Melissa asserted how Ryan Reynolds tried to win her heart.
So when the filming of Sabrina the Teenage Witch got wrapped up, Ryan Reynolds gifted a luxurious Beluga watch and that seemed super cool for both of them. In that interview, she just recalls that day and said they both were too young for such a relationship like she was nineteen and he was seventeen. But everything took a back seat and she kissed him so passionately and naughtily added that if one gets a luxurious piece of jewelry from a boy, then you ought to make out with that guy.
Moreover, Melissa Joan Hart in her memoir titled she explains it All: Tales From My Abnormally Normal Life, describes, that the now-wife of Ryan Reynolds knew about their brief relationship and even at that time Blake Lively even helped Melissa with a birthday present for Ryan. This sounds pretty weird, right? Blake Lively would have never anticipated that she would find true love in Ryan Reynolds as time flies.
Traylor Howard
Within a matter of days or weeks after the split from Melissa, he found interest in Traylor Howard. Their relationship budded at the time of shooting together in the ABC sitcom Two Guys, a Girl and a Pizza Place in 1998.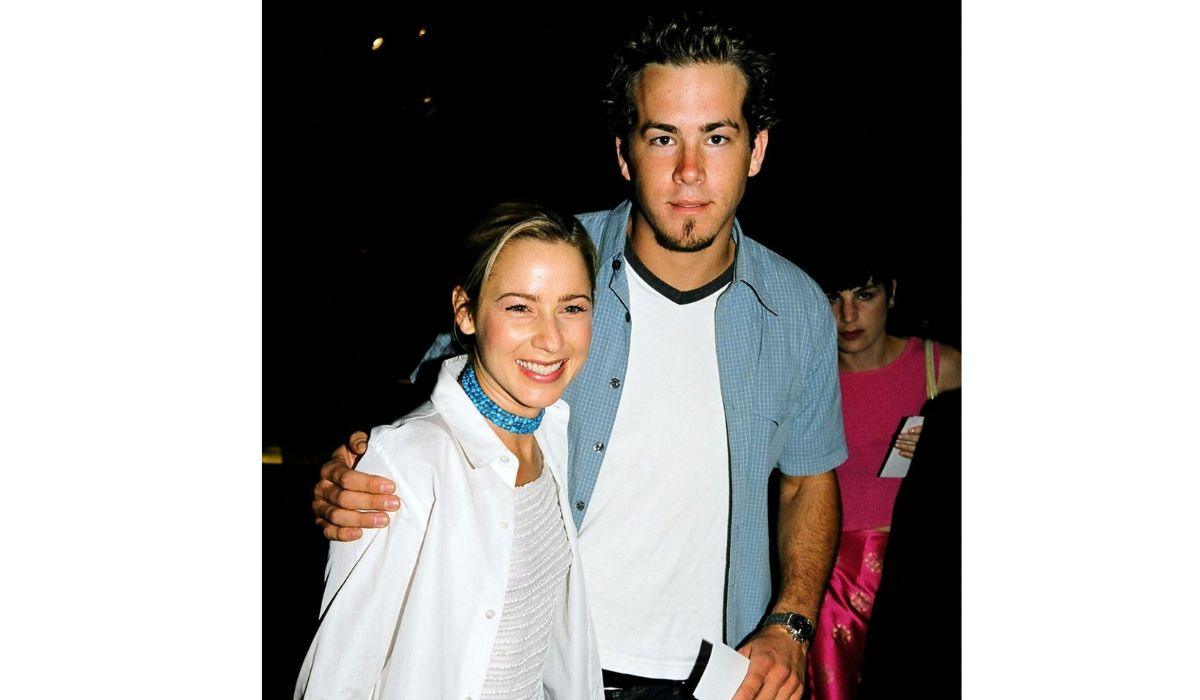 So before calling it quits, the duo dated for eight months, and after their split, the actress was not at all visible to the hawk-eyed people and stepped away completely from the unwanted spotlight.
Kristen Johnston
This relationship bloomed back in the year 1999, after his break up with Traylor. Kristen Johnston was the riveting actress in the 3rd Rock From the Sun. This relationship lasted for a year before they decided to bid adieu. As we all know, Kristen Johnston is best known and acknowledged for her television sitcoms. She has even won Primetime Emmy Award for Outstanding Supporting Actress twice.
Rachael Leigh Cook
Back in 2001, the resounding actress was at her steep career, and she garnered wide recognition and fame in acting films like She's All That and The Baby-Sitters Club. At the same time, Ryan Reynolds was fresh out of his one-year-long relationship with Kristen Johnston. So as per several media outlets, Ryan Reynolds flew to London to look out for the possibility of being in a relationship with Racheal Leigh Cook.
So they never come along as a couple, and their dating life was so brief back in 2001.
Alanis Morissette
These two riveting stars were a match in Canada, and some outlets even claim that the duo even got engaged back in 2004, but lasting their relationship for three years, they called it quits. They spent together from 2002 to 2007. As Alanis Morissette is a good singer she even made her split with Ryan Reynolds as an inspiration for her album titled Flavors of Entanglement. Also, her another song named Torch was also written about her lost love, Ryan.
Scarlett Johansson
After his break up with Alanis in 2007, Ryan Reynolds was smitten by the prolific actress who pulled off the role in Black Widow, Scarlett Johansson. At that time, Scarlett Johansson just broke up with the actor Josh Hartnett.
Ryan Reynolds was absolutely head over heels in love with Scarlett Johansson and they tied the knot in 2008. The Internet was crammed with the news of their union at that time and people were really thrilled to bits to see such a lovely couple.
Even though their wedding photos were never released, netizens rooted for this couple, but unexpectedly completing only two years together, they fall out of love, and their divorce was finalized in 2011. Both of the actors issued a joint statement and announced publicly their split.
The reason for this split is unknown, but the actress told in an interview that " I mean, the first time I got married I was twenty-three years old. I didn't really have an understanding of marriage. Maybe I kind of romanticized it, I think, in a way".
Agnes Fischer
After his divorce, Ryan Reynolds never took any time to get back into the dating market. He was soon romantically involved with German model Agnes Fischer, but as usual, their relationship just lasted for a couple of months.
Blake Lively
It was on the set of the movie Green Lantern in 2010, that the couple first had an encounter. Even though they met on the set, they were not romantically linked to each other as they were seeing different people at that time. At that time Blake Lively was seeing her Gossip Girl costar Penn Badgley.
So after both of them split from their respective partners of that time, they started to feel the invisible connection they had for each other. Blake Lively and Ryan Reynolds were best buddies for a long their romance rumors sparked in 2011. After making headlines over the internet for a long, the couple tied the knot in 2012.
The couple shared the big news that they are about to be parents in 2014 and welcomed their beautiful daughter James in 2015. And their baby number 2 joined them in September, and in 2019, the pair announced that baby number 3 is on board.
So finally both of them are leading a wonderful life together with their children and they have proved that love is worth fighting for.
Also Check: Is Jessica Simpson's Mystery Man Mark Wahlberg? Jessica Simpson's dating history
Shone Palmer
I've been writing about LGBTQ issues for more than a decade as a journalist and content writer. I write about things that you care about. LGBTQ+ issues and intersectional topics, such as harmful stories about gender, sexuality, and other identities on the margins of society, I also write about mental health, social justice, and other things. I identify as queer, I'm asexual, I have HIV, and I just became a parent.