Phoebe Bridgers And Bo Burnham Dating Rumors Confirmed By Keith Urban Video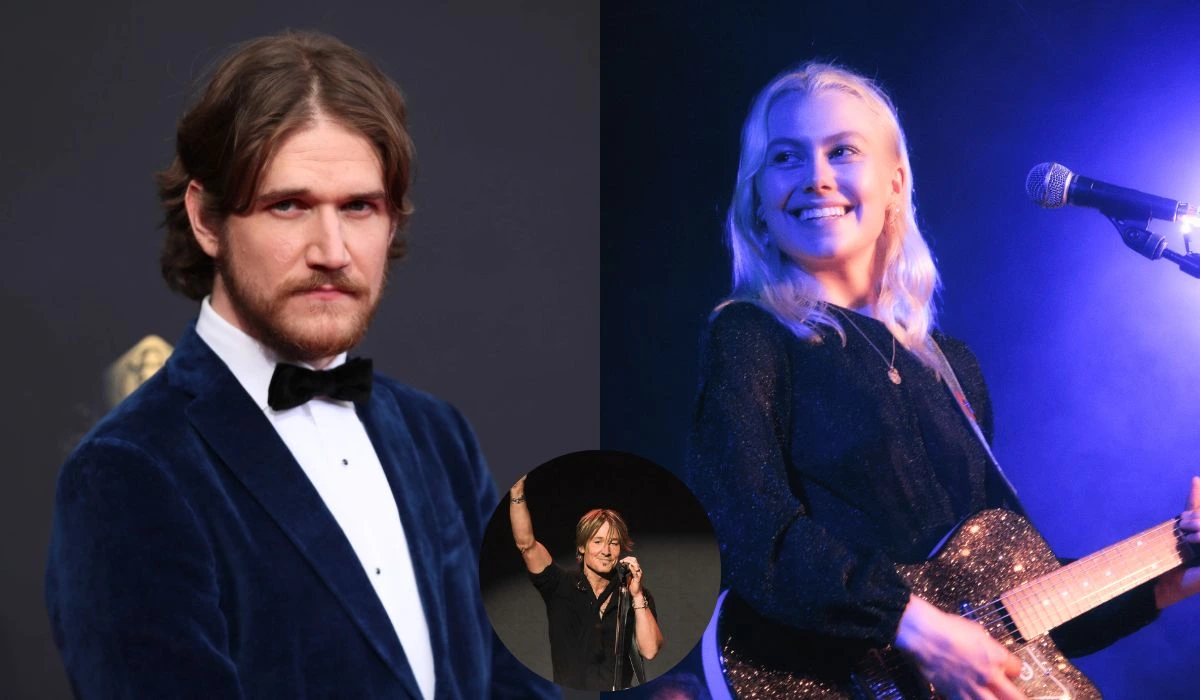 Guitarist Keith Urban unknowingly confirmed singer Phoebe Bridgers and comedian Bo Burnham were dating amid relationship rumors.
The internet seems to be loving all the chaos that has followed since the video was released.
To learn more about what happened and how online users are responding to the video that confirmed the rumors, continue reading this article.
Is Phoebe Bridgers And Bo Burnham Dating? What Is The Truth?
On Monday, musician Keith Urban uploaded a video to TikTok of himself and his wife, actress Nicole Kidman, taking in Taylor Swift's Eras Tour.
However, internet users weren't very interested in their fun-filled dance moves at the show. The Internet hasn't stopped buzzing since Phoebe Bridgers and Bo Burnham were spotted making out in the VIP area behind the married pair.
At Swift's performance on Sunday in Philadelphia, Bridgers was one of the opening bands, and the country singer and his wife, Oscar-winning actress Nicole Kidman, were among the concert's thousands of guests.
Immediately after Urban posted a TikTok video of himself and Kidman dancing to the song "Style," viewers noticed the "Motion Sickness" singer cuddling up with Burnham in the background.
Bridges can be seen dancing in the background before she encircles Burnham and kisses him.
Must Read: Selena Gomez And Zayn Malik Dating Rumors Singers Spotted In NYC
Accidental Confirmation By Keith Urban
The innocent and sweet Urban was unaware that he was unintentionally changing the course of rumors. Bo Burnham, a well-known millennial comedian who purportedly broke up with his decade-long finance to be with Phoebe Bridgers, an indie pop musician who has been opening for Taylor on tour, is also visible in the background of his TikTok Video.
Urban simply confirmed the pair's relationship and gave the internet something to talk about, even though it wasn't what he intended.
Phoebe and Bo Burnham initially sparked dating rumors six months ago when they were seen out on hangouts and casual dates together.
The fans and followers, who admired the rumored couple has thanked Urban for spotting Phoebe and Bo, even though he wasn't intended to.
People praised Urban for finally responding to their questions, despite the fact that his intention was to showcase his enjoyment of the concert.
Keith Urban was having a great time with Nicole while unaware of the chaos he had just caused online.
Phoebe Bridgers And Bo Burnham Dating Rumors: Explored
Bo Burnham and Phoebe Bridgers' TikTok video confirms rumors that have been going around since January of this year. They appear to have started dating soon after Phoebe Bridgers broke up with her purported fiance, actor Paul Mescal.
In November last year, Phoebe Bridgers and Bo were reportedly seen cuddling up at Magic Castle, a Los Angeles-based hotel. This report was merely the beginning of what would eventually come to light.
Rumors of a breakup between Paul and Phoebe started spreading after this post because it was obvious that something wasn't right between them.
A few days before Christmas, Phoebe and Bo attended a comedy program "KATE" in New York. Several reports claimed that the exchanges between Bo Burnham and Phoebe Bridgers felt flirtatious. Thus, rumors that they were making out and cuddling began to spread again.
In January, one week after revealing her father's demise, the singer was seen strolling through the Los Angeles International Airport with Burnham in January.
Bo Burnham was seen in January in London having coffee with Angelina Jolie and her 16-year-old daughter Shiloh amid split rumors.
Several people believed the two were going out on a date, but a source revealed that the meeting was a friendly coffee and nothing more than that.
The fact that neither Bridger nor Burnham has ever publicly acknowledged their romance contributes to the significance of the Keith Urban TikTok video.
Also Read: Shawn Mendes And Sabrina Carpenter Dating Rumors-Are They Really In Relationship?
Shone Palmer
I've been writing about LGBTQ issues for more than a decade as a journalist and content writer. I write about things that you care about. LGBTQ+ issues and intersectional topics, such as harmful stories about gender, sexuality, and other identities on the margins of society, I also write about mental health, social justice, and other things. I identify as queer, I'm asexual, I have HIV, and I just became a parent.