Michelle Rodriguez Calls Co-Star Jason Momoa 'Hot' For His "Fast And Furious 10" Role
Michelle Rodriguez who plays the character Letty in the Fast and Furious franchise, has called the newcomer Jason Momoa "Hot", who is playing the antagonist in the upcoming film.
In an interview when she was asked about Jason Momoa, she outburst that "oh, hot damn, right? Like, what's up with that? It's something primal that happens to me when I see that boy.
It's some ooga-chaka that comes out of me," she burst out laughing. Michelle continued that she "becomes a barbarian. Like, my D&D character comes out, like, ', 'Yo.,  what's up with that?" 
Jason Momoa has been introduced in the franchise as the new antagonist who is coming for Dominic Toretto's family with everything he has.
When she was told ‌Momoa's character was "evil, sadistic and androgynous." she responded that "Well, I don't know about the androgynous part. I can't picture him in drag, but we can try. But that aside, he does it all with a smirk, which is interesting."
Jason Momoa Is Excited About The Role
It seems that Michael Rodriguez was thrilled by his professional attitude on the field. She confessed that she didn't get any good scenes to work with him: "Just a couple of scenes where I'm chasing after him and I miss him, but let me tell you — that guy's hot," she added while laughing.
It seems that even Michelle Rodrigues is confused by her obsession with Jason Momo's hotness.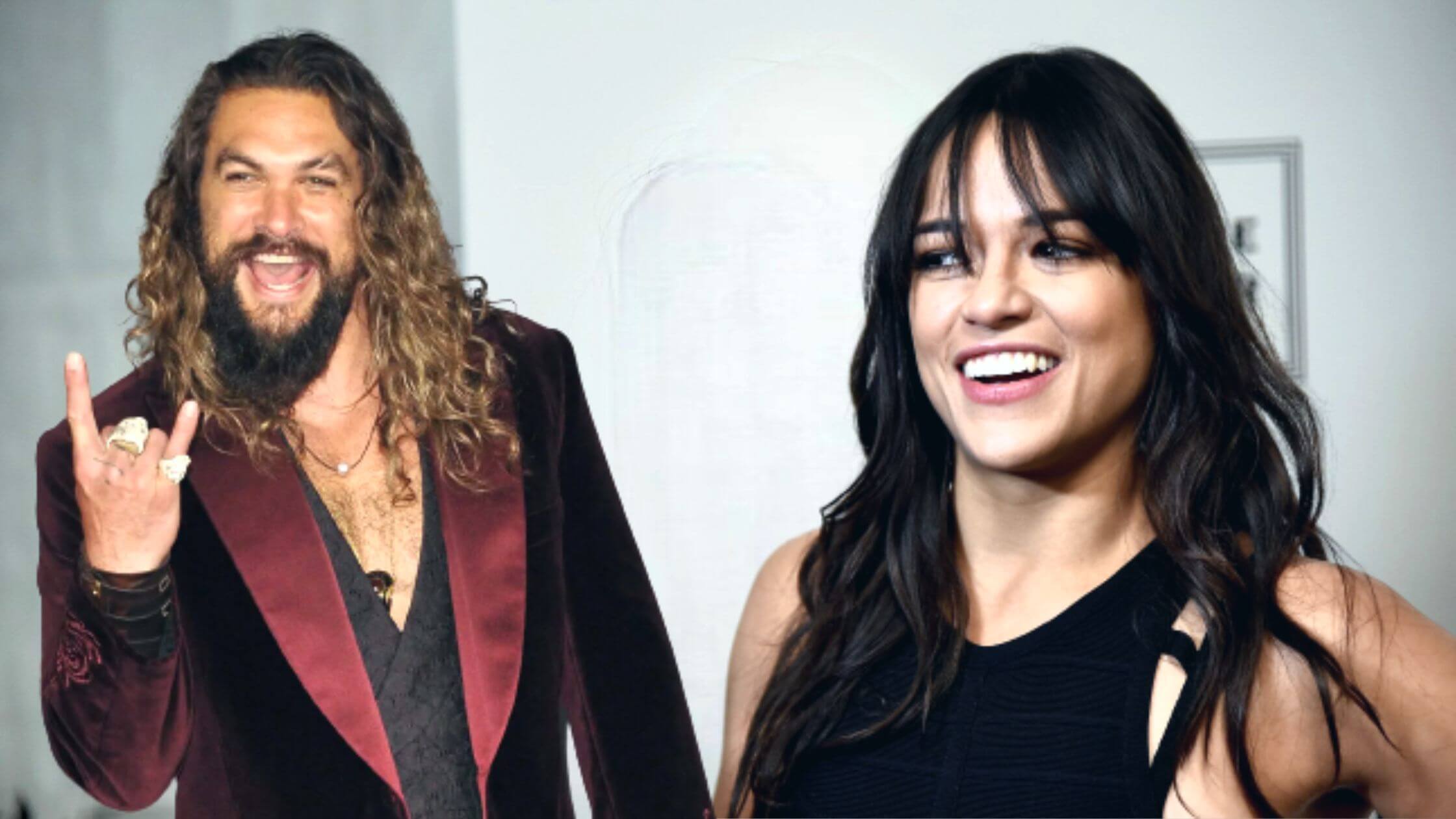 On the other hand, the Aquaman actor was excited to play the antagonist role in Fast 10, which he has not done for a while in the film industry.
In an interview at the world premiere, he revealed that "I'm gonna do Fast 10. Yeah, I'm gonna go do this small independent over in London," he teased for his role.
He added that "It's fun; I get to play the bad guy, which I haven't got to do for a while. Now I'm gonna be the bad boy – the very flamboyant bad boy. You know, a little panache."
Maybe it is his flamboyant nature in the role that captured the dark brown eyes of Michelle Rodrigues.
Along with Jason Momoa, another installment of the cast of the franchise is Charlize Theron, who plays ‌the Cipher. She has previously worked on Hancock (2008) alongside Will Smith, Mad Max: Fury Road (2015).
As well as the introduction of the new character, Tess will be featured by Brie Larson. However, the role of Tess in the movie has not been disclosed yet, for the time the fans of the franchise are left with the question of whether she is alongside Dante (Jason Momoa) or part of Dom's team
Jason Momoa said that "I get to shoot with some really cool people that I have never – I get to work with Charlize first up, which I'm really excited about,"
Other actors who are returning to the upcoming movie include Michelle Rodriguez, Vin Diesel, Sung Kang, Jordana Brewster, Tyrese Gibson, and Nathalie Emmanuel. along with Cardi B, who has previously appeared as a cameo in Fast 9.
In the 10th installment of the franchise, Jason Momoa plays the role of Dante, who is the son of Brazilian drug kingpin Hernan Reyes, whom Dom and his team brought down his entire ‌empire on a bridge in Rio De Janeiro.
From the trailer, it seems that Dante has spent his entire life planning to get his revenge on Dom and his family for making him lose his family.
Discover More: Channing Tatum Reveals An Awkward Incident During An Appointment At His Dentist
To witness the stunts of helicopters dragging down by Dom's beast and Dante's ultimate price for bringing down his family in brazil. The fierce battle between Jason Momoa and Vin Diesel will premiere on 19 May this year.
Shone Palmer
I've been writing about LGBTQ issues for more than a decade as a journalist and content writer. I write about things that you care about. LGBTQ+ issues and intersectional topics, such as harmful stories about gender, sexuality, and other identities on the margins of society, I also write about mental health, social justice, and other things. I identify as queer, I'm asexual, I have HIV, and I just became a parent.