Waves ($WAVES) Price Prediction – 2023, 2025, 2030: How Will Be The Move?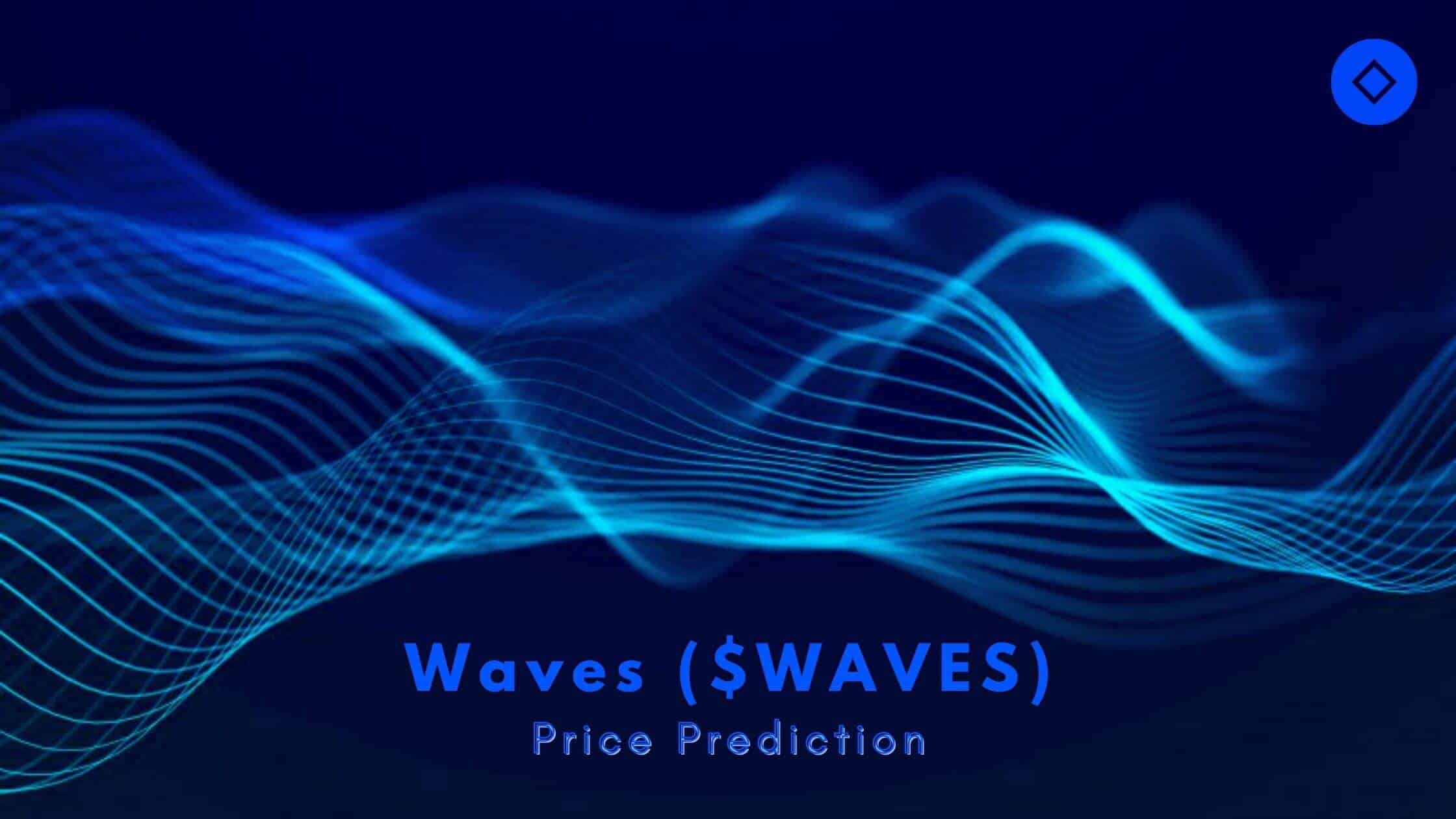 Are you interested to know the price forecast of WAVES? If yes, let's look at the token's futuristic price in 2023, 2025, and 2030.
The popularity of creating new crypto projects has led to the development of decentralized platforms for developers. With the help of these platforms, new entrepreneurs in web3 and crypto space can build interesting platforms and tokens.
If used properly, price predictions can be very effective while investing in innovative projects with massive potential. The returns generated by crypto investors in the last few years are a great example of a lucrative return.
Before getting into the WAVE price prediction, let's understand the Waves crypto project.
About Waves (WAVES)
Waves is an eco-friendly open-source blockchain platform developed for DApps ( decentralized applications). Launched in 2016, this platform promotes the development of blockchain-based apps with a low carbon footprint.
🪙Cryptocurrency – Waves
💱 Ticker Symbol – WAVES
🏆 Rank – 125
💸 Market Cap – $166,677,281
🚀 Trading Volume – $52,091,686
The consensus mechanism followed at Waves is according to Proof-of-stake (PoS). Following this mechanism is not only good for the environment but also pocket-friendly. This feature can be a great deal for developers with a limited budget.
You only need to pay a minimal gas fee for transactions using the PoS mechanism. WavesNG is Waves' PoS algorithm. This algorithm plays a crucial role in securing Waves network security.
Moreover, Waves also benefit from its open-source nature. As a result, the maintenance process across Waves' network is simplified. In addition, these impressive features attract individuals and businesses. They can build and deploy DApps in a very secure way.
Waves also allow you to stake your crypto assets stored in cold wallets. This option is a win-win situation for users. Here, your crypto assets stay secured in your wallet. Moreover, you will receive staking rewards.
Why Is Waves Unique?
Few words cannot describe the uniqueness of the Waves platform. For a better understanding, it's important to understand the major features of the Waves platform.
Programming Language
Ride is the native programming language of Waves. For this reason, developers find it easy to build crypto projects. Using this language with high proficiency in business intelligence, quantitative learning, and machine learning is a great advantage.
Developers also find it easy to create smart contracts using Ride language. Finally, developers can deploy these smart contracts in the Waves network instantly.
Consensus Mechanism
As mentioned earlier, Waves uses proof-of-stake(PoS) as its consensus mechanism. Unlike proof-of-work(PoW) mechanisms, PoS allows token holders to participate in the node validation process. Moreover, holder's don't require complex computing devices.
Once you stake your WAVES tokens, you will be earning your staking reward proportional to the value of the token staked. Interesting right? Also, the PoS mechanism is essential in improving the throughput of the blockchain network.
Multiple Crypto Products
The availability of various products is important to attract more users to a crypto platform. Waves platform offers different products to users with different investing and trading interests.
Waves provide trading features such as options, futures, and spot trading. You can trade millions of tokens from the whole crypto market. In addition, you can also benefit from the yield farming opportunities available on the platform.
Algorithmic trading is another impressive feature of the Waves platform. Moreover, you can trade using multiple trading pairs.
Ease Of Token Creation
Waves make token creation look simple. Along with the ease, token creation costs are also very low.
For instance, the fee to create a token's smart contract is just one WAVES. Considering the current market price, it costs only around $1.6. The minimal token creation cost allows developers to create numerous tokens for their crypto projects without impacting their budget.
WAVES Price Prediction
Now that you have understood Waves let's look at WAVES's price analysis.
| Date | Market Cap | Volume | Open | Close |
| --- | --- | --- | --- | --- |
| 2022-12-23 | $164,330,732 | $152,795,541 | $1.64 | N/A |
| 2022-12-22 | $154,096,705 | $44,066,825 | $1.54 | $1.64 |
| 2022-12-21 | $159,737,085 | $50,139,625 | $1.60 | $1.54 |
| 2022-12-20 | $149,722,326 | $46,433,098 | $1.50 | $1.60 |
| 2022-12-19 | $154,072,633 | $31,175,308 | $1.54 | $1.50 |
| 2022-12-18 | $160,918,201 | $67,177,356 | $1.61 | $1.54 |
| 2022-12-17 | $154,734,623 | $62,625,298 | $1.54 | $1.61 |
| 2022-12-16 | $175,996,916 | $63,705,599 | $1.76 | $1.54 |
Waves ($WAVES) Last Week's Historical Data
Since its inception in 2016, the price of WAVES rallied to $62.36 on 31st March 2022. The ICO price of WAVES was $0.188. Considering this ICO price, WAVES created a massive return of 33070.2% in almost 6 years.
At the time of writing, WAVES is trading around $1.6, an almost 97.5% decline from the all-time high price. While looking at the all-time low ($0.1227) created on 2nd August 2022, WAVES' current price is still trading 1175% high.
Now, let's look at the future pricing of WAVES:
Waves ($WAVES) Price Prediction For 2023
The average price of WAVES is expected to be $5.67 in 2023. The minimum price can go to $5.52, whereas the maximum price expected is $6.56.
Waves ($WAVES) Price Prediction For 2025
The average price of WAVES tends to reach $11.97 in 2025. That same year, the maximum price is expected to be $ 13.66. Also, the minimum price tends to be $11.64.
Waves ($WAVES) Price Prediction For 2030
WAVES token is expected to reach an average price of $73.81 in 2030. In the same year, the minimum price can be $71.72 and the maximum price at $87.93.
About WAVES Token
WAVES is the native token developed on the Waves blockchain. You can use this token to pay the transaction fees for the services provided by Waves platforms. In addition, you will also receive the rewards for staking in WAVES.
Once you receive WAVES tokens, you can swap them with other cryptocurrencies. The easiest way to swap your WAVES token is using Waves' crypto exchange, WX.Network.
Apart from the reward and transactional benefits, the WAVES token provides security to the entire Waves blockchain. In addition, WAVES acts as a fuel that helps to function the Waves decentralized exchange.
WAVES token holders are also provided with governance rights. These rights allow the WAVES holders to participate in the major decision-making process. The value of the decision depends directly on the value of the total WAVES tokens.
Where To Buy WAVES?
Waves have its crypto trading exchange, WX.Network. This exchange is a decentralized exchange that helps users to trade various crypto assets.
To buy WAVES at WX Network, follow these simple steps:
Go to the official website of WX.Network. You can also install a mobile application from Google Play or App Store.
Sign Up with the exchange. If you already have an account, then log in using your WX. Network user credentials.
Select your preferred WAVES trading pairs. The popular trading pairs available in the exchange are WAVES/USDT, WAVES/USDC, WAVES/ BUSD, and WAVES/BTC.
Load your WX.Network wallet with preferred cryptocurrency. Suppose you choose WAVES/USDT; in this case, add enough USDT to your wallet.
Then go to the spot trading section.
Select the number of WAVES required.
Finally, click "Buy WAVES."
Once the trade is executed, your wallet will get credited with a WAVES token. Also, note that a minimal exchange fee is also charged. The fees charged will be mentioned on the trading platform before the execution of the trades.
You can also buy WAVES from those exchanges if you are already using any other centralized exchanges. The mainstream exchanges supporting WAVES trading include Binance, Huobi, Kraken, Okex, and Bithumb.
Conclusion
The price of WAVES is expected to move upward in the future. Once the bearish market conditions are over, a huge price surge can be expected.
WAVES price is expected to cross double digits around 2025. With the increase in the customer base and listing on prominent crypto exchanges, the demand for WAVES is predicted to reach the price level mentioned in this article.