The Power of Pride: How Gay Celebrities Are Making a Statement with Their Eyewear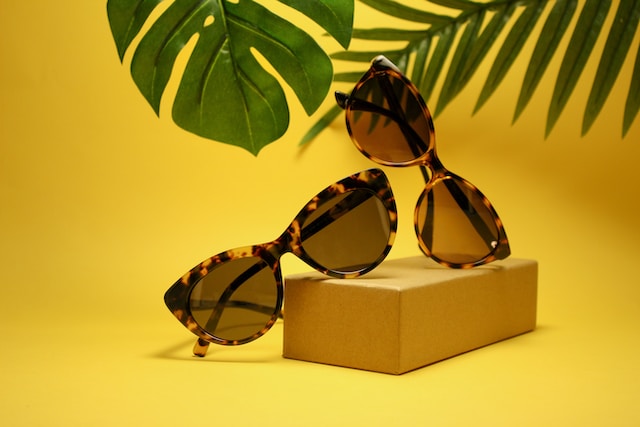 Have you ever noticed how some celebrities use their fashion choices to make a statement? From red carpet gowns to streetwear, fashion has always been a way for people to express themselves. But what about eyewear?
Gay fashion icons have been making bold and daring fashion choices for decades, and eyewear is no exception. In fact, many gay celebrities have become known for their signature eyewear styles, which have inspired countless fashion trends.
Eyewear has become a powerful symbol of self-expression for the LGBTQ+ community, and gay celebrities are leading the charge when it comes to pushing the boundaries of fashion. From colorful frames to oversized shapes, these stars are proving that glasses and sunglasses are more than just a functional accessory – they're a way to express your unique identity and style. In this article, we'll take a closer look at how gay celebrities are making a fashion statement with their eyewear.
Elton John Set The Trend
At the top of our list is none other than Elton John, the singer who set the stage for wearing funky eyewear. You hardly ever see Elton without a pair of blinged-up sunglasses or shades with orange lenses.
He often sports bright colors, unique frames, and oversized styles, making him stand out wherever he goes. For Elton John, glasses are a way to show off his individuality. His statement-making glasses help him make an impact and become part of his signature look.
Elton's eyewear collection reflects his vibrant personality and sense of style; it's a way for him to express himself with confidence and create an impression.
George Michael With His Cool Sunglasses
The late George Michael had always been a fashion icon, especially when it came to eyewear. His signature look made a bold statement on the red carpet. George's sunglasses featured genuine vintage frames and gold detailing with wide lenses and a browline detail that gave off an unmistakable regal vibe.
He also wore various other styles, such as aviator glasses, clear glasses, tortoiseshell frames, round lenses, dark lenses, and more. Because of George's timeless style, his eyewear aesthetic is still admired today and continues to be a popular choice among fans.
Neil Patrick Harris Loves Wearing Various Styles of Shades
Neil Patrick Harris is an American actor, comedian, and producer known for his roles in popular TV shows like How I Met Your Mother and Doogie Howser, M.D. He's also known for his work on Broadway, including his Tony Award-winning performance in Hedwig and the Angry Inch.
In terms of eyewear, Neil Patrick Harris is often seen wearing a variety of glasses styles, including classic rectangular frames, round frames, and even funky, colorful frames. He's been known to wear spectacles in various movies as well, such as The Matrix, to give him more of a sophisticated look.
Sam Smith Looks Sophisticated with His Specs
Sam Smith is an internationally renowned singer-songwriter and five-time Grammy Award winner. He has a signature style that mixes classic with contemporary, often seen wearing eyewear from Ray-Ban's range of sunglasses. His signature style includes round frames in classic black or gold, as well as aviator-shaped frames, which are popular in many of his music videos.
Additionally, Smith prefers brown tortoise frames for a more vintage look which is seen regularly at his concerts and red-carpet appearances. Smith also has some unique pairings, including luxe gold frames paired with yellow lenses for a bold statement look.
Adam Lambert's Two-Tone Shades
Adam Lambert is an American singer, songwriter, and actor who rose to fame after finishing as the runner-up on the eighth season of American Idol in 2009. He has since released several successful albums and singles and has also acted in various television shows and movies.
When it comes to eyewear, Adam Lambert is known for his bold and daring choices. He often wears unique and creative sunglasses and glasses that reflect his personality and style. Lambert has been seen wearing everything from oversized aviators to futuristic, geometric-shaped frames and his signature two-tone lens shades.
He is not afraid to experiment with different colors, materials, and designs and often incorporates eyewear into his stage costumes and performances. Lambert's eyewear choices are a reflection of his confident and eclectic personality and add an extra element of flair to his overall look.
Andy Bell Still Rocks 80s Style Eyewear
Andy Bell is an English singer and songwriter. He's best known as the lead singer of the synth-pop duo Erasure since 1985, which has sold over 25 million albums worldwide. Andy Bell has become widely recognized for his signature style of eyewear.
He often wears statement sunglasses that he styles in unique ways, such as with bright colors, mirrored lenses, or color-blocking designs. In addition to sunglasses, he's also known for wearing colorful glasses frames that feature bold shapes and patterns.
Final Thoughts
As you can see, there are many iconic gay celebrities on our list with eyewear looks that will inspire a generation! From Elton John to Adam Lambert, these celebrities show how eyewear can transform your look into something memorable.
Shone Palmer
I've been writing about LGBTQ issues for more than a decade as a journalist and content writer. I write about things that you care about. LGBTQ+ issues and intersectional topics, such as harmful stories about gender, sexuality, and other identities on the margins of society, I also write about mental health, social justice, and other things. I identify as queer, I'm asexual, I have HIV, and I just became a parent.