The Legendary Footballer Pelé Has Died At The Age Of 82
Brazil legend Edson Arantes do Nascimento popularly known as Pelé, died on Thursday after battling cancer for the past few years.
Pelé is widely known as the wunderkind who rose from barefoot in the slums of brazil to become one of the greatest-known athletes in the history of football.
The former Brazil striker was hospitalized on November 29 with health complications related to colon cancer. Pelé was undergoing his cancer treatment in Sao Paulo's Albert Einstein Hospital, reports suggest that on Thursday he passed away due to multiple organ failures, resulting from colon cancer. Players, clubs, and supporters from the football world responded with condolences to the three-time world cup winner, Pelé.
Condolences To The Legendary Player
The news of his demise was confirmed on the official Instagram page of Pelé with a deep caption "Inspiration and love marked the journey of king Pele, who peacefully passed away today.
On this journey, Edson enchanted the world with his genius sport, stopped a war, carried out social work all over the world, and spread what he most believed to be the cure for all our problems: love. His message today becomes a legacy for future generations. Love, love, and love, forever."
As one of the greatest of football has passed away, the rest of the modern best athletes in the world have pondered their condolences.
The 2018 world cup winner Kylian Mbappe tweeted that "the king of football has left us but his legacy will never be forgotten. RIP KING". Following by condolences from Cristiano Ronaldo and current Brazil's 10 Neymar.
Pele's Achievements
Pele, born on 23 October 1940, debuted his first game at the age of 15 to his boyhood country club Santos and his international debut against fierce rival Argentina at the age of 16, resulting in a 2-1 defeat.
He scored his first international goal in that match, making him the youngest goalscorer for his country, he then went on to score his first hat trick in the 1958 world cup against France, making him the youngest ever to do so.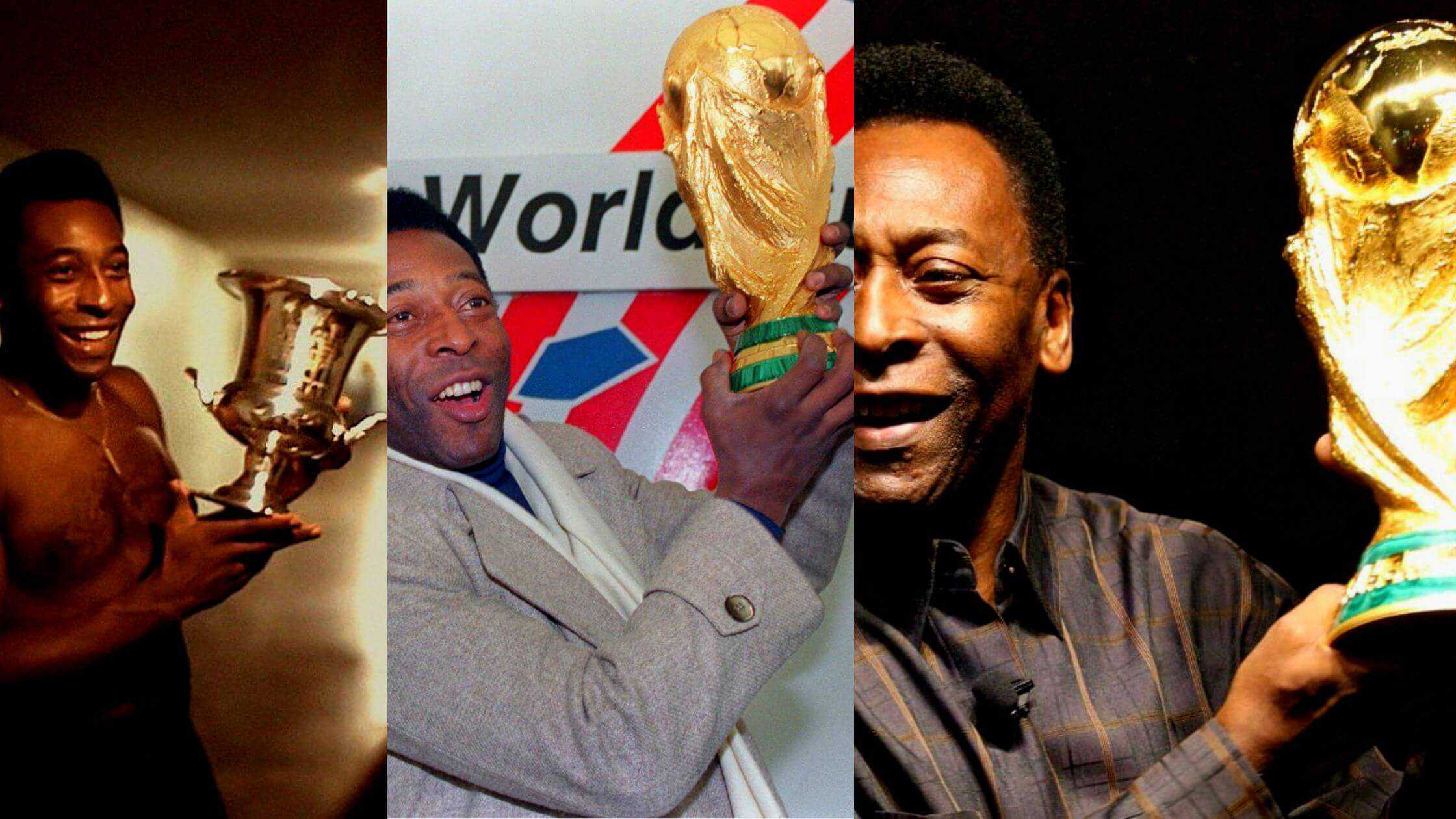 In the same world cup, Pelé became the youngest player ever to score in a final at the age of 17 years and 249 days, scoring two goals against Sweden, Pele's first goal where he volleyed a strike into the corner of the net after flicking from a defender was selected as one of the best goals in the world cup history.
His second goal in that final went on for brazil scoring the fifth and defeating Sweden by three goals. He won his first world cup in his debut world cup, making him the only player to do at a such young age up to this date.
In the latter part of 1958 world, he was nicknamed O Rei which meant The King. He eventually went won the rest of the world cup in 1962 and 1970. Adding three world cup collections to his gallery.
Upto this "The King" and three-time world cup winner remain the top goalscorer for the Selecao with 77 goals in 92 games, following Neymar equalling his count with the greatest-ever athlete in the field, in 124 games.
Checkout More: Reason For Tina Turner's Son, Ronnies' Death Revealed
The greatest player in the world played his entire career, marking 14 years of his football life in Santos from 1956 – 1974. He appeared in 636 games for Santos, scoring 618 goals and another 37 goals for the New york cosmos, after departing from his hometown club in 1975.
In total Pele has scored 655 club goals in 700 games of professional football. Pele currently resides in the 5th position for top scorers in the history of football even after 45 years of his retirement
Pele led his boyhood club Santos to success in the 1962 and 1963 Copa liberties and the Intercontinental Cup in the same consecutive years. This was a golden era for the players and fans of Santos.
As he departs, he now joins with the "hand of god."
Shone Palmer
I've been writing about LGBTQ issues for more than a decade as a journalist and content writer. I write about things that you care about. LGBTQ+ issues and intersectional topics, such as harmful stories about gender, sexuality, and other identities on the margins of society, I also write about mental health, social justice, and other things. I identify as queer, I'm asexual, I have HIV, and I just became a parent.