How WWE Superstars Celebrate Pride Month in 2023? From The Ring To The Community
Pride Month is around the corner, and LGBTQs worldwide are coming together to celebrate this occasion with each other. However, many celebrities and stars are emerging this year to support this movement.
Different WWE wrestlers took to social media platforms to come out in support of the members of the LGBTQ community. It is an excellent achievement for this community which is already struggling for acceptance over the years.
However, it was recently during a WWE match that the wrestlers such as Sonya Deville, Finn Balor, Seth Rollins, Raw Women's Champion Bianca Belair, and many others came together for a photo shoot to celebrate the pride movement.
The main objective behind this photoshoot was to show solidarity with the LGBTQ community and accept them for who they are.
WWE Wrestlers Support The LGBTQ Community
This is not the first time the WWE wrestlers have joined hands with the LGBTQ. Two years ago, the Wrestlers Association of the WWE decided to participate in Pride moments every year.
The Wrestlers congratulate the members of the LGBTQ community for all their efforts, struggles, and victories. They acknowledge that it wasn't easy for this community to get accepted worldwide.
The battle is over, and there is a long way to go. Sonya Deville, a well-known wrestler, took to Instagram to express that this LGBTQ community needs much support and assistance only when all the people unite for them and provide them with the fundamental rights they deserve.
Must Read: How Famous Celebs Embrace Pride Month 2023? Making Huge Waves
How Did The Transit Happen?
WWE was known for portraying a very wrongful image of gays and bisexuals. Various wrestlers used to mock this community by addressing them as nincompoops.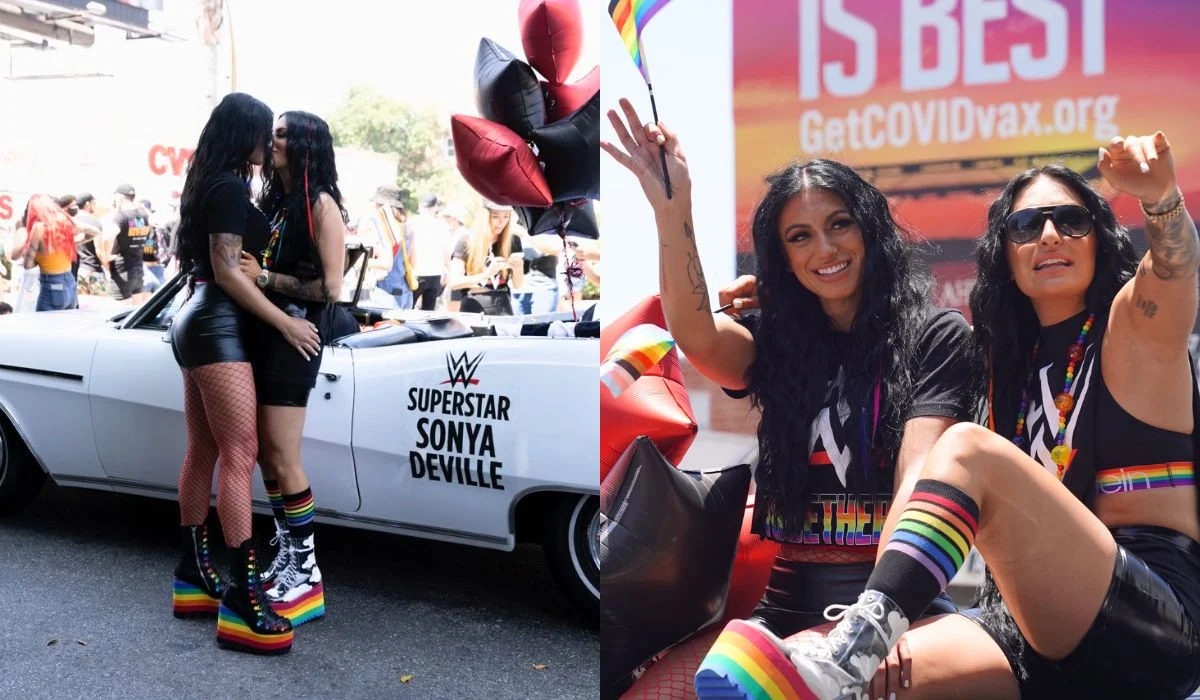 However, almost all the federation wrestlers have agreed that the time has come to give these LGBTQs the space they deserve. It is high time to launch full-fledged LGBTQ wrestling superstars to the ring. This will help to achieve a sense of accomplishment over time.
Various wrestlers believe the time has come to accept them and provide them equal opportunity in every field they venture into. Mere legislation and precedents cannot fructify until equality is provided to them for real.
Deville even explained in an interview how things normalized over some time. Notably, a community of Wrestlers is set to welcome LGBTQs into their group.
She has also urged all the professionals currently against including LGBTQs in their groups to change their mindsets over time.
It is just a matter of acceptance. There is a need to normalize everything as soon as possible so that the LGBTQs even have the chance to explore their real talent. She went ahead to state that their sexuality must never obstruct their career. Welcoming them with open arms has become the need of the hour.
What Has The WWE Planned To Do Next For LGBTQs?
The wrestling federation has decided to admit even LGBTQs into their union. Almost every wrestler has actively participated in the pride moment.
WWE Superstar @SonyaDevilleWWE was all smiles at the LA Pride Parade. #LAPride2022 pic.twitter.com/8hGDB21W7g

— WWE (@WWE) June 12, 2022
One exclaimed joyfully that supporting such a noble cause gives them satisfaction. They have urged the world to provide ample space to everyone so that it is feasible for them to explore themselves thoroughly.
On the other hand, there is still a significant distance to travel. But all the wrestlers are sure that one or the other day, this community will be liberated in the real sense.
Such efforts will definitely help these people to gain recognition throughout the world and excel in every field over the period of time.
Also Read: Kesha Delivers Inspiring Pride Month Message To Fans About Unity And Acceptance
Shone Palmer
I've been writing about LGBTQ issues for more than a decade as a journalist and content writer. I write about things that you care about. LGBTQ+ issues and intersectional topics, such as harmful stories about gender, sexuality, and other identities on the margins of society, I also write about mental health, social justice, and other things. I identify as queer, I'm asexual, I have HIV, and I just became a parent.