Dennis Rodman Attends Pride Month Rally: Bold Support For LGBTQ+
The month of June is dedicated to celebrating the victories of the LGBTQ community. This community has fought its struggles over time. It was in 1969 that this community fought the first battle to demand rights and liberties for themselves.
Pride month rallies are happening in different countries to mark their identity and uniqueness of personality.
However, this movement is not only led by gays, lesbians, queers, bisexuals, and transgender people; in fact, it now enjoys the participation of leading industrialists, social media influencers, celebrities, and activists. The collaboration with these artists has given wings to the movement over time.
Dennis Rodman And Pride Month 2023
On 25th June 2023, the former Chicago Bulls star Dennis Rodman appeared in the pride march, which was being held in New York City.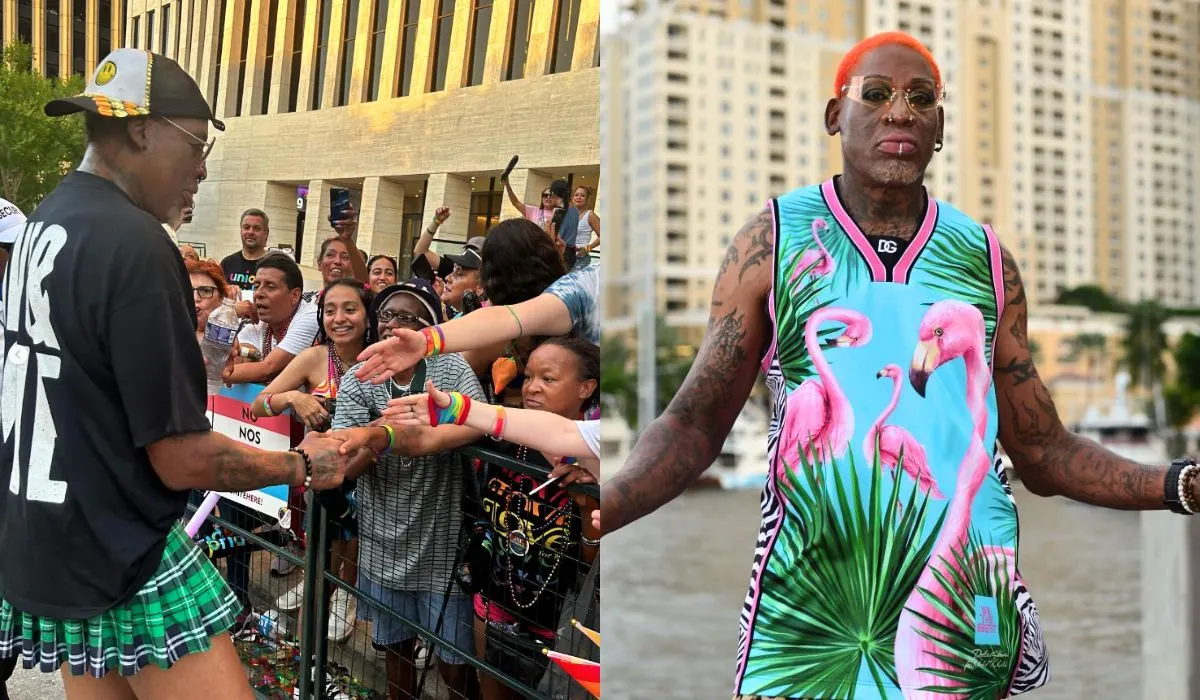 His fans and followers learned about his participation in the parade after he took to his Instagram account and shared a snapshot with the other community members. He captioned this picture with the famous quote, 'Love Will Always Win. Happy Pride'.
Dennis Rodman is a well-known personality and has played an important role in promoting the rights of this community over time.
He has participated in this parade for the second time. In a recent interview, he expressed the satisfaction he has obtained over the period of time after contributing to their growth.
Must Read: The Fascinating History Of Pride Month? Beyond Rainbows
How is Dennis Rodman related to the LGBTQ community?
Dennis Rodman has been associated with the LGBTQ community for a long time. He has taken part in this parade and staged protests to demand the rights of adoption and marriage for homosexual couples.
The famous NBA star has never disclosed his sexuality over time. While he has been in a relationship with many high-profile women, critics doubt his sexuality.
However, he has preferred to remain quiet about this and has requested the media agencies to respect his privacy regarding these issues.
Despite not identifying as one of them, Dennis has become an active influencer in promoting this pride movement. He wants to celebrate the kind of struggle this community has fought for recognition and acceptance across the length and breadth of the country.
He has dedicated himself completely to this community over time. Even while attending this parade, he was seen wearing a quirky T-shirt with a slogan stating 'Love and Love.'
Keeping his stardom aside, he interacted with everyone in the parade and got himself clicked beneath the rainbow.
His efforts towards the community have been very commendable over time. His warmth and affection have touched the hearts of the queers to a great extent.
Pride Movement And LGBTQ Issues
Dennis Rodman is not the only star linked with this pride movement. Many others are also working together to participate in this movement to make this a great success.
Rodman is also known for running his blog to spread awareness about the rights of this community. His blogs are very interesting and take up hypothetical situations to teach people the importance of acceptance.
His reading enjoys a great readership from different parts of the world. He is contributing every bit of himself to make this world a better place to live for these people, as they have already gone through their share of struggles.
It will be interesting to witness how this pride movement takes place across other countries over some time.
Their efforts will surely yield fruits, and it is only with the help of these small achievements that they will be identified at par with others. This is definitely a long struggle and it is only with the help of consistent efforts that success can be achieved.
Also Read: LGBTQ+ Pride Month Came To Climax On City Streets From New York To San Francisco
Shone Palmer
I've been writing about LGBTQ issues for more than a decade as a journalist and content writer. I write about things that you care about. LGBTQ+ issues and intersectional topics, such as harmful stories about gender, sexuality, and other identities on the margins of society, I also write about mental health, social justice, and other things. I identify as queer, I'm asexual, I have HIV, and I just became a parent.