D'Sean Perry, Devin Chandler, And Lavel Davis: Virginia Campus Shooting Victims
The NFL honored the three University of Virginia football players D'Sean Perry, Devin Chandler, And Lavel Davis, who lost their lives in a campus shooting last November before the first round of the draft on Thursday night.
NFL Honored The Virginia Campus Shooting Victims
With the honorary first picks in the 2023 draft, NFL Commissioner Roger Goodell formally selected Devic Chandler, Lavel Davis Jr., and D'Sean Perry. In the event, Goodell gave the player's families a No.23 jersey from one of their favorite teams.
A Raven Jersey was gifted to the family of South Carolina wide receiver Davis. A 6-foot-3 Miami linebacker named Perry was wearing a Dolphins Jersey. Chandler, a transfer from North Carolina, had his name on a teal Jaguars jersey.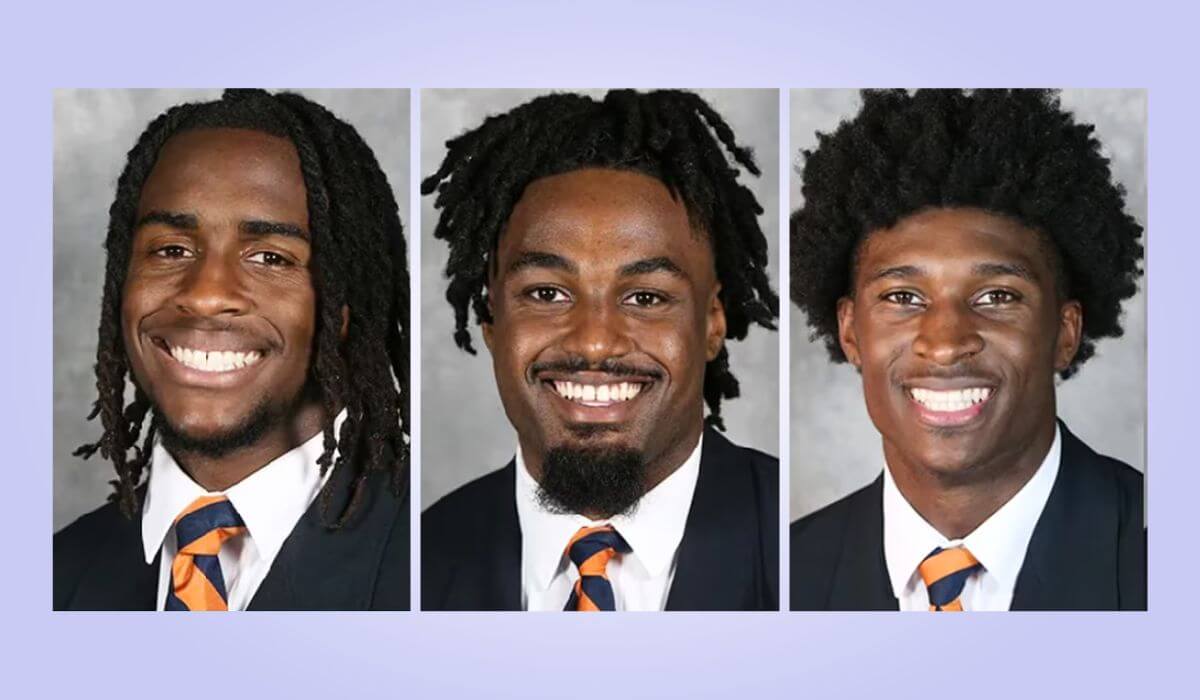 Perry, Chandler, and Davis Jr. were on the bus back to school after a field trip when Christopher Darnel Jones Jr., a 2018 Virginia Cavaliers football player, started shooting.
The three were killed in the shooting, and two other students were hospitalized due to severe injuries.
Must Read: Louisville Shooting Victims: 5 Killed And 8 Injured In Louisville Bank Shooting
D'Sean Perry, Devin Chandler, And Lavel Davis: The Virginia Football Players Killed In Shooting
D' Sean Perry
D'Sean Perry was one of the three Virginia football players killed in a shooting last year and served as a linebacker for the Cavaliers.
D'sean was born and brought up in Miami and later moved to Virginia. Notable positions for him to play for his high school squad at Gulliver Prep included Linebacker and tight end.
199 tackles were recorded by him during his high school career. He played basketball for his high school as well as football.
D'Sean had nine appearances for the UVA Cavaliers during his University studies. He didn't participate in any games during his first year of college in 2019, but he did in the 2020 campaign. D'sean participated in seven games in the 2021 season.
In a statement, D'seans's parents, Sean and Happy Perry, called their son a caring, loving, and religious young man who was full of life and potential. They said that D'Sean made their family proud to be a professional football player.
He loved football and art, they claimed. His sincere dedication to his family, friends, and community, made his parents more proud.
Lavel Davis
Lavel Davis Jr., a wide receiver for the UVA Cavaliers, was shot and died along with two other football players last November while riding a school bus home from a field trip. Davis was also an alumnus of the Woodland High School in Virginia.
According to the latest reports, the part of Highway 78 will bear the name of Lavel Davis, the Dorchester County resident in South Carolina.
The representative of District 98, Chris Murphy, was one of the sponsors of the bill. He stated that Davis was an individual that everybody could talk to and was one of the nicest people on earth.
Davis always had a smile on his face, and many people said that the sudden demise of Davis at a very young age was an incredible tragedy.
According to the former coach of Davis in high school, Eddie Ford, the months following Davis' death was difficult for everyone, and all are getting better gradually.
Devin Chandler
Devin Chandler, a 20-year-old football player killed in the Virginia shooting last November, was a native of Virginia.
He has appeared in six games and his debut game was in 2019. He played as both wide receiver and defensive back in the games he appeared in.
Devin's mother, Dalayna Chandler, said that he lit up the room with his bright smile and personality. She added that her son loved to sing, dance, and play football.
Devin was very helpful to others and motivated others to have big dreams, his mother claimed. Some of his friends said that Devin used to sleep at the athletic training center so that he could get up early and begin training. He was very dedicated and determined to his dream to be a professional football player.
In 2020, Devin was a wide receiver freshman at the University of Wisconsin at Madison. Devin was recalled by the team's wide receiver coach, Alvis Whitt, as an exceptional player.
Also Read: Nashville School Shooting Victims: 3 Children, 3 Adults Killed In Shooting At Nashville School
Shone Palmer
I've been writing about LGBTQ issues for more than a decade as a journalist and content writer. I write about things that you care about. LGBTQ+ issues and intersectional topics, such as harmful stories about gender, sexuality, and other identities on the margins of society, I also write about mental health, social justice, and other things. I identify as queer, I'm asexual, I have HIV, and I just became a parent.